Women's Tennis Recap: From Washington to Georgia
The Whitman College women's tennis team traveled to Rome, Georgia last week to battle some of the best teams in the nation. The team started out the 2018 ITA (Intercollegiate Tennis Association) Cup against the number three ranked Emory. The Blues doubles team of junior Andrea Gu and senior Mary Hill unfortunately could not hold on as they fell to Emory on Thursday in the quarterfinals.
Gu and Hill bounced back to sweep NYU in the consolation bracket of the main draw of the tournament on Friday. This win was Hill's 100th career win in a Whitman uniform. Hill entered the week with a lot of confidence in herself and her team.
"Our team goal going into Georgia was to enjoy ourselves, compete well and carry ourselves with confidence," Hill said. "By doing this, we knew we would have a shot at beating any team that we faced off against."
Gu was happy with the results of the weekend and looks forward to their spring season with this preview under their belt.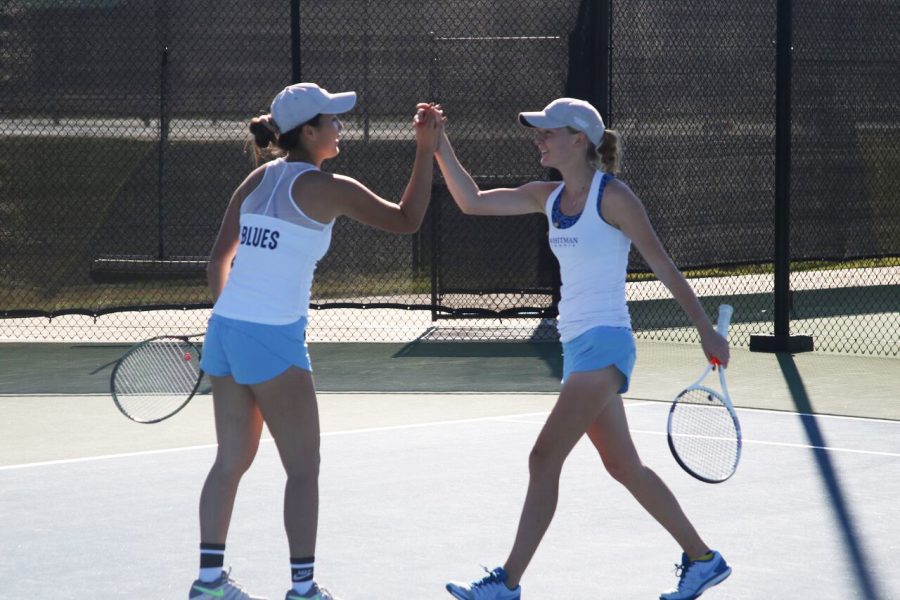 "We are all coming back with great satisfaction about our results, especially given all the work we have put in to get to this point," Gu said. "We went in with confidence knowing that we would have good matches with some of the top ranked teams in the nation. And the tournament itself has given us great confidence as a doubles team."
The trip in itself was a highlight for the team as they not only got to play tennis, but also do a little exploring.
"The experience was really the best part," Gu said. "I loved getting to travel across the country with Mary and John and see and eat around Rome, as well as getting to visit Nashville."
Now a member of the century club with 100 wins, Hill also really enjoyed the not-tennis aspect of the trip with her team and coaches.
"We both had so much fun playing high level tennis, exploring a new town and sampling southern cuisine," Hill said. "We placed sixth in the country and made tons of memories in the process."
The matches and the experience in Georgia as a whole proved to be a great start to the 2018-19 year for the Blues, who start their regular season in the spring.
Next up on the schedule, the Blues will host the University of California, Santa Cruz on October 20.