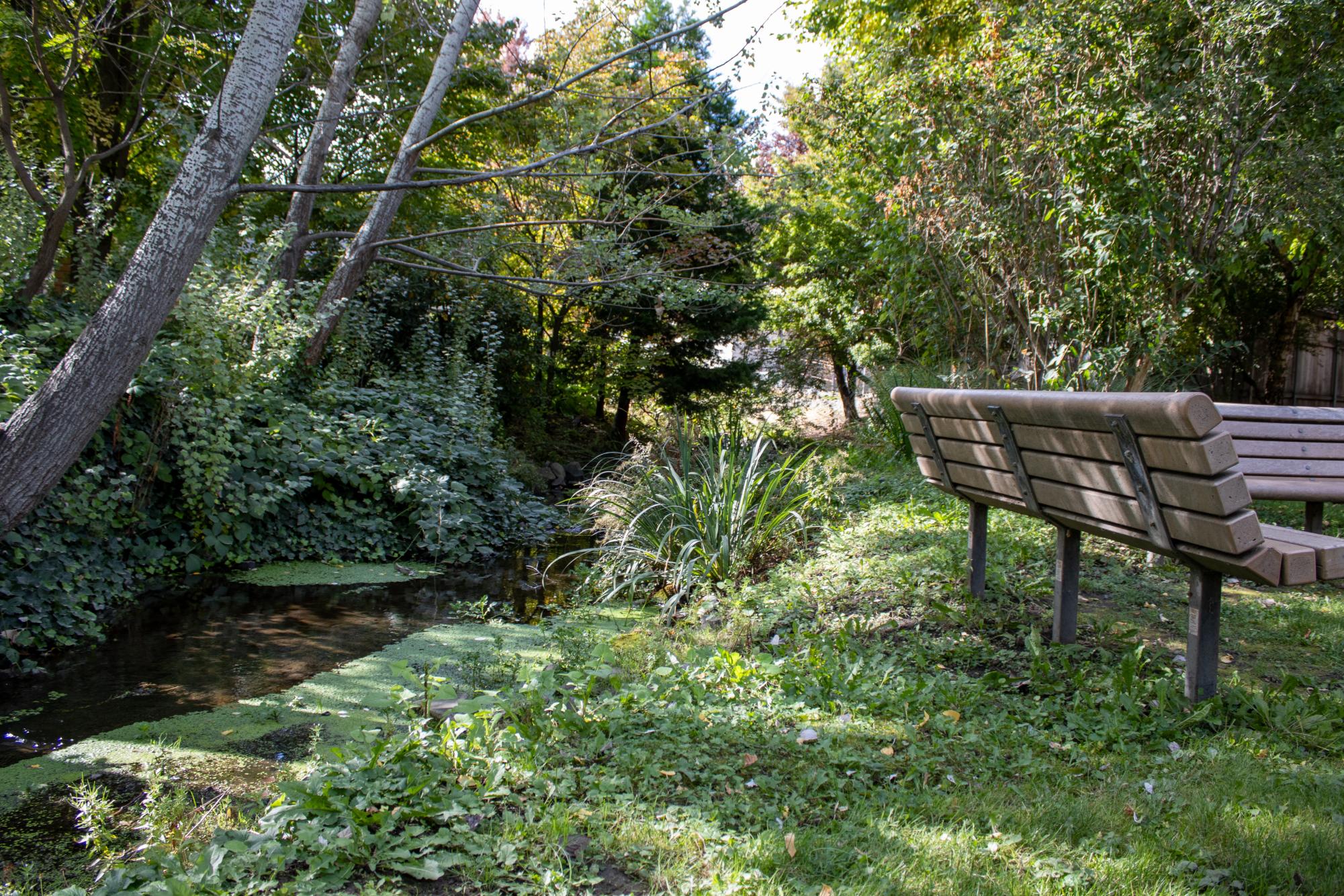 If you walk around campus enough, you will eventually run into a sprinkler, perhaps even get sprayed by one. The small circular heads pop out of the ground with no warning, spraying water indiscriminately across grass, landscaping, sidewalks and people. I've had my fair share of nighttime run-ins with sprinklers on Ankeny, dancing through the irrigation obstacle course to avoid getting soaked. 
Sophomore Anya Millard has also been ambushed by sprinklers. She was walking along the sidewalk in front of the Baker Center one evening when the sprinklers struck. 
"I just fully got blasted in the side, like soaking wet in a second," Millard said.
Being sprayed while taking an evening stroll is not Millard's only gripe with Whitman's irrigation system. Many times when she sees sprinklers in action, they are spraying asphalt or concrete, not the sprinklers' intended target. Millard is also concerned about the sprinklers' schedule. 
"I walk outside on a 75 degree day at 1 p.m., and the sprinklers are going," Millard said.
Watering at the wrong times of day can result in significant water loss due to evaporation, which Millard considers a waste. 
Sprinklers hitting the wrong surfaces at the wrong times of day is one of the most visible landscaping and sustainability issues on campus right now. Students yell about it when they get sprayed, members of ASWC bring it up at their Senate meetings and campus community members inundate Facilities Manager Tony Ichsan's inbox with sprinkler questions. 
Inside the Whitman Physical Plant, where Whitman's facilities and landscaping crews are based, the same questions and concerns are circulating. When Facilities Services Grounds Manager Jeff Jensen started working at Whitman over 17 years ago, the problems were even worse. The sprinklers were on a 24-hour schedule due to water availability constraints, meaning the cycle through the different sprinkler stations would never stop. 
"At noon, the [sprinkler] station in front of Memorial would kick on, which never made any sense to me. You've got students walking to lunch [at noon]. We've made improvements over the course of the last 10 years to be more efficient with our water," Jensen said.
Sidewalk pavement getting hit with sprinklers is also old news. When the original irrigation pipes were laid in the late 1980s and 1990s, they were placed in uniform grids, designed to spray the entire area they were placed in. 
"When the sprinklers were put in, they didn't take into account the sidewalks. If the sidewalk was there, it would get sprayed … Over the years we've tried to eliminate that because the sidewalks don't need to be watered," Jensen said. 
One of the challenges Jensen and the Whitman grounds crew face when trying to address irrigation issues is just how large and unwieldy Whitman's sprinkler network is. According to Jensen, there are over 50 outlying properties in addition to the main campus that Whitman irrigates. The outlying properties have six to 12 different stations, and the main campus has 15 different zones with as many as 34 different stations and each station has approximately 10 individual heads. That adds up to thousands of individual sprinkler heads spread across campus, each one needing its own calibration and maintenance. 
Landscape Specialist and Irrigation Technician Mike Swenson was hired in September of last year to help manage the sprawling network. For Swenson, Whitman's sprinkler system was initially overwhelming.

"There's tons of irrigation here, so it was a learning curve. It's pretty steep at first," Swenson said. 
At the start, Swenson spent much of his time fixing leaks and trying to learn where all of the irrigation control boxes and sprinkler heads were around campus. As the weather warmed up and he gained a better understanding of the system, he started to fine-tune the system and calibrate each head to the way he liked it. 
"When the hotter part of the summer came around, the dry spots were a way of finding out where the problem was. That's a matter of maybe changing out a nozzle, a certain head will put out so many gallons per minute and then you can even fine-tune it by changing the nozzle size," Swenson said. 
Swenson's arrival on campus is just the latest in a series of improvements to Whitman's irrigation program since the beginning of Jensen's tenure at Whitman. About 10 years ago, the 24-hour irrigation regime transitioned to a nocturnal cycle, beginning to water at 8 p.m. and finishing before 7 a.m. This change reduced both evaporation loss and sprinkler ambushes on unsuspecting students walking to class. 
Jensen and Swenson still face significant challenges when it comes to perfecting the sprinkler system. Almost as fast as Swenson can fine-tune a sprinkler head, the head can be thrown out of alignment by normal wear-and-tear or interference by mischievous critters. 
"Squirrels come and chew away at [sprinkler heads], and gears and stuff will wear out and then they'll get out of adjustment. Even people will mess with them [when they see a sprinkler they don't like]," Jensen said. 
That's right, you can blame squirrels for throwing the sprinklers out of alignment so they hit the sidewalks. You can also blame the sprinkler heads themselves; in many places, the rotating angle needed to avoid hitting asphalt or concrete is below the minimum angle the sprinkler rotor can handle. 
"When sidewalks [intersect], if you've got a 10, 15 degree corner, a big rotor can only go down to 40 degrees, so you have a sidewalk covered," Jensen said.
"You can only micro-adjust those heads so much," Swenson said. 
At some point, Swenson and Jensen have to play with the cards they are dealt, and that means some sidewalks will get watered. The same thing can be said when students see sprinklers running during the heat of the day. Sprinklers get their water from a deep well behind the Hall of Science that pumps water up from an underground aquifer.
When Swenson is dispatched to fix a broken sprinkler or realign a zone, he needs to turn on more zones than the one he is fixing because the pump has to maintain a minimum amount of water pressure. If Swenson only turned on one zone, he would risk cavitation in the pump, where air bubbles form inside the pipes due to low pressure and exert extreme strain on the valves and hardware inside the well. 
"If we have broken sprinklers or repairs, we have to have other stations running. We try to keep outlying stations like Cordiner running, but at times you'll see water running during the day. The other scenario is if we just seeded an area [with new grass] and we need to keep that area moist," Jensen said. 
Swenson and Jensen are optimistic about future changes that will further improve Whitman's sprinkler systems. As we spoke, Jensen took out his phone and showed me the new sprinkler control app he uses.
Whitman alumnus Richard Hunter '65, who donated $2 million to renovate Hunter Conservatory, is the former CEO of his family's irrigation technology company, Hunter Industries. According to Jensen, Hunter has donated irrigation equipment to Whitman over the years for various projects. Recently, Whitman has begun to transition away from its old irrigation grid management technology that could only be operated on specific computers to Hunter's web-based technology, Hunter Central Controls. 
"It will pull weather station data, so we can program in parameters and it can shut the system off [if it rains too much]. The current central control that we have can do that too … but it's not web-based. You can't just be at home and do it like the newer controls," Jensen said. 
The app Jensen showed me had several stations around campus already up and running on the web-based controllers, with weather tracking and remote monitoring technology so Jensen could manipulate the system with the touch of a button. As more funding becomes available, Jensen and Swenson plan on integrating as many stations as possible so they can more flexibly adapt to changing weather conditions. 
While exciting things are on the horizon for sprinklers on campus, there are deeper questions to be asked about why the sprinklers are here. Having grown up in scorching Southern California, Millard hopes Whitman will consider landscaping that requires less consistent watering. 
"[In California], we've gone through huge periods of drought, so it's sort of ingrained in my mind that you use water limitedly, and if you can replace grass, you do it with stuff like xeriscaping. So my hope is that we can lean more towards stuff like that with better water usage. I don't think we need as much grass as we have," Millard said. 
Walla Walla is not suffering a drought like Southern California, but Whitman is focused on water conservation to hit its lofty sustainability goals. Whitman recently received a silver certification from the Association for the Advancement of Sustainability in Higher Education (AASHE), but only scored 2.2 out of six possible points in the water use section, and one out of two points in the landscape management category. 
Jensen and Swenson's irrigation efficiency projects will go a long way toward improving the issues currently plaguing Whitman's sprinkler system, even if it's impossible to fix every problem. With such a sprawling network of control boxes, pipes and sprinkler heads, something will always be going wrong somewhere, and there's only a few people who can fix it. When you're taking your next evening stroll and encounter a wayward sprinkler, think about telling Jensen or Swenson about it so the next unsuspecting student stays dry.