Free bird
The n-word was tweeted over 500 percent more than usual on the day Elon Musk bought Twitter. Musk spent $44 billion (which is 26,666 times what the average American makes in a lifetime) to purchase the app. Since this purchase, the app has tanked, just like Tesla's stock and Elon Musk's hair count. Thousands have been laid off, major advertisers have pulled out, regulation of content seems to be nonexistent or targeted and a new subscription service has been announced that Musk's own Twitter poll showed nobody wanted. Potential federal government involvement has been reported on national security grounds due to Musk's disastrous management. The Federal Trade Commission declined to comment in response to The Wire's inquiry into their involvement. In short, Elon Musk is single-handedly burning down one of the world's largest social media platforms.
It seems that lack of censorship is Musk's primary concern. Despite claiming that the algorithm and process for moderation hasn't changed, hate speech is up. Musk made headlines on the same day he bought Twitter for posting a conspiracy about Paul Pelosi, claiming the assault Pelosi experienced was actually because he was gay, drunk and victimized by his own prostitute. Musk also commented on a tweet and agreed with a known right-wing troll who falsifies images. Some scary aspects about his plans include removing the section regarding misgendering or deadnaming as part of the hateful speech policy of Twitter. After a surge of parody Elon Musk accounts, Musk announced on Nov. 6 that all such accounts would be banned unless it was made explicit that the account was a parody. This supposed free speech on Twitter is no longer free as well, thanks to Twitter Blue.
For only eight dollars a month, you can have your "freer" eight-dollar-speech on Twitter. Musk has stated that those who don't cough up the eight bucks will have their content algorithmically suppressed: "You'll have to scroll very far to see [unpaid] users." Musk reportedly told investors that this is intended to solve the platform's extensive hate speech problem. This seems to be an attempt to gouge as much money out of the product as possible, as Twitter's finances crumble.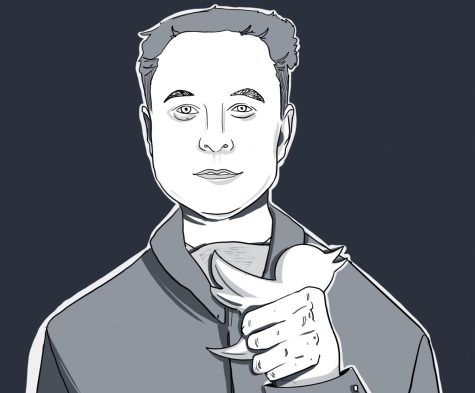 Twitter normally enters into the next fiscal year with 15 to 20 percent of its annual revenue already obtained. These come from essentially preemptive ad buys; a company will buy a year's worth of ads for a fixed amount of money. For 2023, Twitter has nearly zero of these ad buys. These previous purchasers had basic questions about the platform, including content regulation and brand image, which Musk had months to respond to. Musk claims a different story, that this entire drop in revenue comes from activist groups — according to him in a tweet — whose supposed goal is to destroy free speech. This is consistent rhetoric deployed by Musk, borrowed from the likes of Fox News and Donald Trump. For Musk and his lackeys, free speech is simply unprincipled deregulation. Twitter Blue allows Musk to monetize this bastardized idea of "free speech" and at the same time censor speech via its monetization. 
Another part of Musk's push for extra cash (for a business deal that has already cost the company a fifth of its annual revenue) is a mass, illegal layoff. Within the first few days of Musk's reign, he fired around half of Twitter's employees via email without notice. Employees that were lucky enough to stay on are now being expected to work 84-hour work-weeks, with zero days off. These firings were targeted; amongst those that got fired are the ethics committee, ERGs who protect the employees, pregnant people, "Twitter Women" and "Blackbirds" (women and black advocacy within the company, respectively). Musk also fired the entire team that identified and fixed algorithmic amplification of right-wing extremist voices. Apparently, Musk's Twitter wants extremism to be amplified. Musk also wants to change the search engine and add options for longer tweets, but then he fired the whole team who had already been developing both. 
Twitter is based in California and must follow their labor laws, including the WARN act. This act requires 30-day notices for mass layoffs, which didn't happen. The WARN act requires violators to pay each employee 500 dollars a day for the violation, mandatory back pay and medical expenses. In addition to a brewing anti-discrimination lawsuit, the fact that this violates the contract terms of the purchase spells more trouble for the company.
Elon Musk is turning Twitter into an unregulated platform with extensive layoffs, which former executives say will lead to misinformation. This, combined with Musk's own tendency towards bigoted speech, shows a disconcerting shift towards turning the blue bird violent.  Musk wants the platform to become a right-wing playground. He is slashing moderation at its core, firing black employees, women and those that resist unethical practice. Musk is a billionaire playboy who somewhat accidentally bought a social media account just to run it into the ground in a matter of days, just so racists can be racist and conspiracy theories can't be removed — just in time for midterms. The wings have been clipped; the beak is spouting slurs; the shit is flowing and the bird is dying.