Letter to the editor: Preserving the present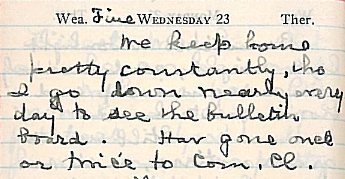 Ben Murphy, Archivist and Head of Digital Services at Whitman College and Northwest Archives
April 28, 2020
The COVID-19 pandemic has disrupted daily life at Whitman, but it is not the first time that the college has experienced significant disruptions of in-person gatherings and classes. In 1918, during the Spanish Influenza pandemic, classes were held on campus, but only students living in campus housing were allowed to attend. As Professor of History William Denison Lyman noted on Oct. 15, 1918: "Influenza not yet gone, tho it is not bad here. Interferes with Coll. [college] work, for only those in Coll. buildings can come to classes." Possibly experiencing the feelings of restlessness now familiar to many of us who are stuck at home, Lyman later wrote on Oct. 23, "We keep home pretty constantly, tho I go down almost everyday to see the bulletin board." At least today we have a more robust set of digital diversions and news sources than Lyman's bulletin board!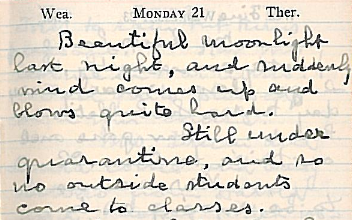 We know about Lyman's routines and observations because he wrote them down in a daily diary that is preserved in the Whitman College and Northwest Archives. The diary is partially digitized here. The diaries of ordinary people are important primary sources for historians and other scholars. They provide insight into how significant historical moments were experienced and perceived by "normal" people. In the fall of 1918, Lyman observed the influenza outbreak and its impacts on Walla Walla, but more of his daily musings were devoted to the events surrounding the end of the first World War. Between the two entries quoted above, Lyman wrote on Oct. 17: "Such tremendous events are happening in Europe that it is hard to follow them … I believe that peace is near."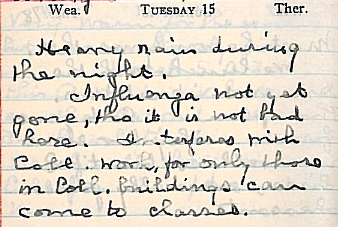 Keeping diaries is perhaps not as common today as it was in 1918, but many are advocating for the importance of this sort of personal record-keeping as we live through extraordinary times. See this piece in the New York Times, for example. In this spirit, the Whitman College and Northwest Archives have launched an initiative called Whitman Coronavirus Stories, which aims to collect the stories and experiences of the Whitman community in any format, diary or otherwise. These can be writing, photographs, or audio or video recordings. Contributions can be reflective, creative or academic. Archives exist to document the experiences of the communities that they serve. By participating in the project, you can help the Archives ensure that the Whitman community in the future will have a record of our lives and experiences during this scary and unusual moment. Because archives exist to be used by researchers, submissions to the project will be retained in the Whitman Archives and made available via the library's digital repository ARMINDA under a Creative Commons license. 
For more information, you can see examples of submissions, read more about the project and see our submission form. We hope you will join us in preserving this moment for the future, both the difficulty and pain we are experiencing, as well as the glimmers of hope and positivity.