Blue Zones Project encourages nutrition at Whitman
On Thursday, Feb. 9, The Blue Zones Project and Bon Appetit Chef Jon Sodini collaborated to host a healthy cooking demo for Whitman staff and faculty on campus in Cleveland Commons.
The event followed another Blue Zones Project event held on Feb. 2, featuring LaDonna Sanders Redmond, a nationally-recognized speaker and advocate for food justice. Redmond researches the intersection of racism, colonialism and economic inequality within food justice. Along with other local nonprofit organizations, the Career and Community Engagement Center's (CCEC) Food Justice Project and Blue Zones Project sponsored the Feb. 2 event.
Sophomore Margaret Kanyoko is the co-leader of the CCEC Food Justice Project. One of the key parts of her job is helping to connect students to community partners, such as the Blue Mountain Action Council (BMAC), which holds food drives and distribution events through their food bank.
Kanyoko wanted the Feb. 2 event to foster a conversation around the local and national effects of food injustice, with a focus on the Walla Walla Valley. 
"I think it was great that we were able to [have] this large, nationally-recognized speaker," Kanyoko said. "We also had contributors from BMAC and local Walla Walla-based food organizations, so that they were able to give local and national perspectives on the same issue."
The Blue Zones Project's mission is to improve community wellness through a list of objectives called the Power Nine. Among these is "eating wisely," which was a key focus of the Feb. 9 event. 
Katie DePonty is the organizational lead for the Blue Zones Project in Walla Walla. She cited better nutrition as one of the most approachable goals in the Walla Walla Valley.
DePonty explained that the abundance of farms within 10 to 15 miles of Walla Walla provides a boon to the Blue Zones Project's efforts to coordinate with local farmers' markets, grocery stores and chefs.
"We are so fortunate here in the Walla Walla Valley to have incredible, local growers," DePonty said. 
She described the importance of eating with a "plant slant," which places an emphasis on local produce. 
"We're also really fortunate that Chef Jon is passionate about plant-based cooking. He's passionate about sharing his craft with others, and he's done some fantastic cooking demonstrations and classes for student groups," DePonty said.
Sodini is the executive chef at Bon Appetit and has been involved with a number of cooking classes and demonstrations. He described how changes in his diet have fueled his enthusiasm for cooking projects.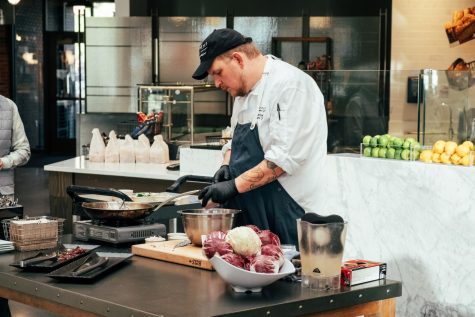 "Last year, I was a much bigger chef. I made some changes over the summer and into the fall, and so far, I've lost 75 pounds just by changing my diet. It seems like a really positive project to try to get people to look at more healthy options and eat more vegetables," Sodini said. "[It's] something I kind of relate to."
Sodini was particularly excited to use radicchio, a nutrient-rich chicory that looks like a red cabbage, in the demonstration. 
"It grows almost like a weed out here in Walla Walla," Sodini said. "People are usually terrified because it's super bitter; that's the nutrition in it, but you can cook it and do things with it to take away the bitterness. Then it's just really flavorful and bright. It's a superfood; it's awesome."
Sodini hopes that a key takeaway from the event was that making good choices when picking what to eat is possible.
"I know, as a person who's slinging smash burgers every day, that sometimes it's nice to have a good alternative too," Sodini said.