Tri-College Community Service Day returns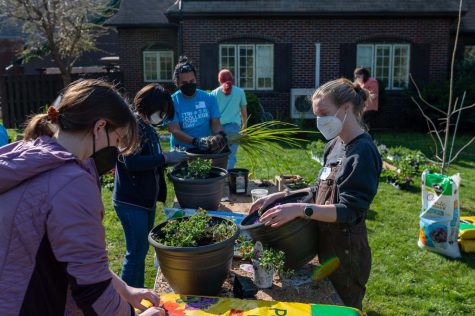 On April 24, 146 students from Whitman, Walla Walla Community College and Walla Walla University gathered to support 15 local organizations for the Tri-College Community Service Day. 
The event started at 8 a.m. with an opening ceremony at the Fort Walla Walla Museum. Volunteers then broke into groups and went to different locations to work with the organization of their choice. The day ended with a reflection and lunch around noon. 
Senior Community and Career Engagement Center (CCEC) interns Julia Hess and Jackie Jones helped organize and participated in the service day. Hess is the student leader of K-12 educational partnerships and Jones is the student leader of nonprofit and community partnerships. Whitman's part of the planning process was led by the CECC's Assistant Director for Community Engagement Abby Juhasz.
Jones participated in trail maintenance for the Rempel Nature Trail in tandem with the local chapter of the Audubon Society, where volunteers spread bark over a heavily-trafficked trail. 
"It was really fun to see so many students, and the weather was very nice. It was all very connecting and unifying, which was really cool," said Jones. 
First-year Zoe Perkins heard about the service day through the students digest listserv and volunteered for the Hope Street Planting Day. Volunteers planted potted plants to sell at a fundraiser for women battling substance abuse issues. The fundraiser will take place on May 6 and May 7. 
"I really like planting things, but I don't get the opportunity to do it that much. So getting to be outside and meeting a bunch of new people was really awesome. I would say I made friends with someone [from another college], which was fun," said Perkins. 
First-year Sasha Morgan volunteered at the Blue Mountain Therapeutic Riding Center, which provides equine-assisted activities and therapies to people in the community with disabilities.  
"The main thing we did was sort through some things that they had lying around, like old equipment and wood, and after that they let us groom some of the therapy horses, which was really cool," said Morgan. "[My friends and I] all did something with horses in high school, so it was fun to spend that time with them, and also getting to meet people from other schools."
Both Morgan and Perkins said that they would participate in the service day again and that they hoped more Whitman students would participate in the future. 
"I feel like we as a school don't do a great job of meeting people from other colleges [in Walla Walla], and this is a really cool way to do it… everything was super well-run and put together," said Morgan.
Whitman students often bring up the idea of the "Whitman Bubble" and the insular nature of the school. Many students volunteer to break out of the bubble and get involved in the greater Walla Walla community.
"We had a good number of Whitman students, but I wish there were more. I feel like Whitman gets this reputation at the other schools and in [Walla Walla] of not really caring about the community, and I think that that's for several reasons, but we could help challenge [that perception] if we volunteered more," said Perkins.