Whitman celebrates 25th annual Undergraduate Conference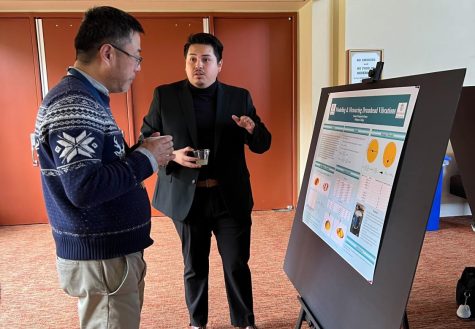 On April 11, the 25th annual Whitman Undergraduate Conference (WUC) took over campus with demonstrations of student research projects in their respective fields of interest. 
Administrative Assistant for Fellowships and Grants in the CCEC Jenny Stratton has been helping with the WUC since the 21st conference in 2019.
"I came on board when oversight of the conference committee had passed to Keith Raether, who coordinated things for over 10 years before retiring last year," Stratton said. "He passed the baton to the new Director for Fellowships and Grants Jess Hernandez in January 2022. There is a committee of nine staff members from across the whole college that organizes the conference day together."
Stratton's main job for the conference is to help give the call for student proposals and then collect, proofread and organize the incoming abstracts that form the program schedule.
"I make sure that everyone has correctly chosen their intended presentation type and shared correct information about their funding sources or associated OCS programs," Stratton said. "I also help connect each presenter with the folks they'll be working with as they prepare, whether that's the WCTS technicians who manage each panel session, Peter Shultz who prints all the posters or the peer coaches who help advise on presentation content and calm any nerves," Stratton said.
Stratton also assists Hernandez in fielding questions and coordinating all of the little details from the schedule, to marketing, to website logistics.  
"I loved that we got to bring back the jazz ensembles to the Reid Coffeehouse this year. We plan to keep fine-tuning the day's details in the future, hoping to accommodate different needs, increase accessibility, sustainability and inclusivity," Stratton said.
Stratton concluded that the conference is an amazing group effort that she's privileged to be a part of. 
"Over 250 individuals contributed, including 116 student presenters and 38 student musicians. I can think of at least a dozen individuals who are hidden linchpins in the planning process – their efforts kept the ball rolling in critical ways that most folks will never know about. I can't thank them enough. I just love working with this community," Stratton said. 
First-year Alice Lanier participated in this year's conference and attended several panels.
"I spent quite a bit of the day in Chism Hall. [During the] 'Achieving Adulthood' [presentations], one panelist talked about the development of disgust that stuck with me," Lanier said. "I [also] really enjoyed the poster sessions in Cordiner Hall because that gave a really good space for students to see what their peers are learning and doing. As a first-year, [I saw] what's possible and what I can do."
Lanier thinks attending the conference is important, especially to promote research so students can learn about what their peers do.
"I think my biggest takeaway is all of the varied interests that all the Whitman students have; they're so broad. I went to one poster about eating disorders, and then I walked a couple rows over and someone was talking about insects and flowers in their native garden bed," Lanier said. "Someone else talked about plastic water bottles. [I observed] variation [with] the amount of different things that can be studied and [the] possibilities."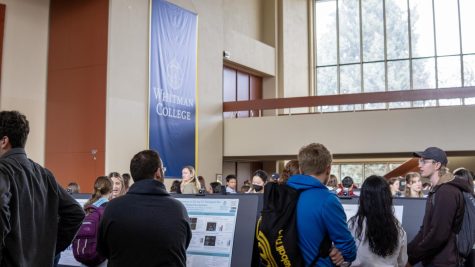 Lanier suggested that the schedule of who's doing what and where could be handed out earlier. 
"I had one professor who still had class planned for Tuesday as of the Tuesday before, and she was unaware that this was happening. So maybe [it would be beneficial to] make it a little bit more known, particularly to first-year students," Lanier said. "It's their first time experiencing the Undergraduate Conference. Maybe [there should be] a formal email that tells you what it's about."
First-year student Maryanne Ndung'u worked as a peer coach for the poster session where she helped the presenters prepare. Ndung'u believes that it is  important to look at the research that people are doing, working on solving issues that are very real and not necessarily contained within your major. 
"I think it's important to try and work towards solving some of the humongous issues that we as a world have," Ndung'u said. "I think doing that with the help of your professors and a great community are great first steps towards being really awesome human beings who are working towards making the world a better place."
Ndung'u commented on some of the projects that stood out to her.
"For instance, there was one [student] who went to Tanzania to do research on small mammals. You could see how much passion these people have. I think coming to Whitman was very impactful in making them make sure that they care about the world and care about the lives of people around them," Ndung'u said. "I think it's very important to see that kind of reflection on the effect that having a Whitman education in a liberal [arts] school had on them, to inspire them to create this wonderful project."
For more information about the WUC, visit the WUC page on the Whitman website.