Sex Week encourages sexual health and positivity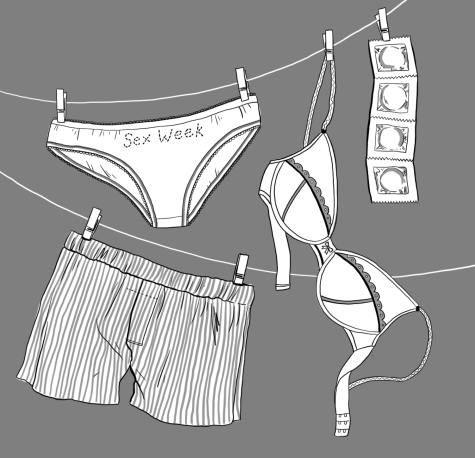 Sex Week, started by Green Dot and the Sexual Health Advocacy Group (SHAG), features various workshops and events throughout the week aim to promote sexual health, education and positivity among Whitman students. Sex week runs from April 24 to 29.
Posters advertising Sex Week around campus described it as "a week geared towards healthy sexual education for college students, including but not limited to consent, masturbation, safe kinks, healthy sexual relations, etc." 
Sex Week has a variety of events scheduled throughout the week, including a student-run kink workshop and a masturbation workshop led by a representative from SheBop, a woman-owned sex toy boutique in Portland. The week ends with Reid Takeover, including a cappella and student band performances. 
One of the main events is Take Back the Night on April 28, which includes a march at 7-7:45 p.m. and a vigil at 8 p.m. Take Back the Night is a worldwide event and organization, and is among the earliest global efforts to combat violence in all forms, including sexual, domestic and relationship violence, according to their website. 
Sophomore Kate Stoops is a member of the Sexual Violence Prevention (SVP) student group, which organizes Sex Week in coordination with other groups such as the Greek Allies Program (GAP). 
"You can't know what's unhealthy if you don't know what's healthy. When you work in prevention, that's the whole point," said Stoops. "You're teaching what's healthy so people know their own boundaries, so when and if—but hopefully not—they're crossed, people know what that is."
Senior Adam Reid, a SVP organizer and former head of Athletes for Consent Education, attended Sex Week in 2019 during his first year at Whitman. 
"A big piece of this is campus safety. When we have a campus that is having educated and healthy sex, is able to talk to each other about what sex looks like and is able to embody consent in their day-to-day lives, we have a campus that looks a lot safer," said Reid. "And people who communicate with each other about what they want and need are able to establish healthy boundaries and relationships."
Whitman recently ended Green Dot, a student-run program that provided consent education and training on bystander intervention, and students have raised concerns about the lack of consent training and SVP programs on campus. According to Stoops, one of the goals of this year's Sex Week is to revitalize the conversation around SVP and sex positivity.
"Bringing this conversation back into the limelight [is very exciting], because it's really been in the background for the past couple of months," said Stoops. 
SVP organizers also hope to open difficult conversations that many students may not have had before. School sex education programs have become a controversial subject, and there are no federal guidelines for what sex education should look like in K-12 schools. 
"There's going to be people there who have never had a conversation like this before, publicly and in the open," said Reid. "For a lot of people, this could be a really eye-opening and potentially transformative experience to have people be honest and open about how normal and safe this can be."