Green Dot is gone. What's next?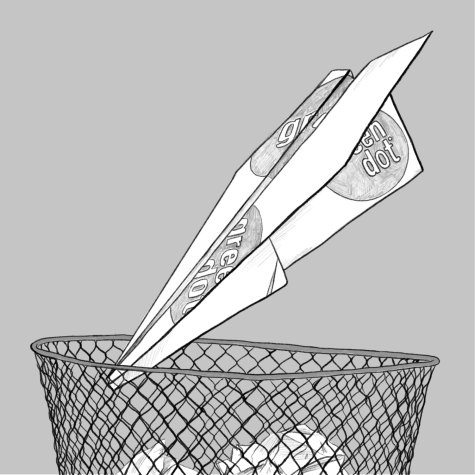 Green Dot was not perfect, but the consent education-sized hole left in the wake of its removal is yet to be filled. 
Consent and bystander intervention used to be much more common words in the Whitman vocabulary. This was in large part thanks to Green Dot, a student-run organization that worked to provide students with consent education and training on bystander intervention. 
Green Dot organized a variety of different programs for the student body throughout each school year. The group held bystander intervention for incoming students during orientation, facilitated programming surrounding consent in residence halls and worked to raise awareness around sexual health and wellness during annual events like Sex Week and Reid Takeover. 
Its programming became one of the main ways students were educated on consent and bystander intervention, two incredibly important concepts to understand in a campus environment. 
However, the licensing necessary to utilize Green Dot's brand and organizational programming was not renewed following the end of the Spring 2020 semester. This decision effectively eliminated the organization on campus, and with it, one of Whitman's main sources of sexual violence prevention education. 
Nell Falvey, a former Green Dot intern, recognizes that Green Dot had its faults, and its controversy was justified.
"It presented sex and consent as a funny and silly thing, which totally did make light of sexual violence and harrasment, and that was something that I always felt kind of uncomfortable with," Falvey said. 
She also pointed out that the framework it provided for bystander intervention tended to oversimplify complex situations. 
"The language of Green Dot, which is green dot [the situation is safe] or red dot [the situation is not safe], is very simplistic, and not everything is going to be totally okay or super bad," Falvey said. 
However, Falvey has continued to remain engaged with the issue on campus as a member of the Sexual Violence Prevention (SVP) team, and points out that some of Green Dot's critical functions have yet to be replaced. 
"I by no means think Green Dot was a perfect program, and I think that maybe it's okay it fell off," Falvey said. "But I don't think it's okay that nothing's been done about it, and that there's been no consent education. I think that's the worst way the college could have gone." 
In the fall, Residence Life put on a mandatory consent workshop for some on-campus residents; however, the program was cancelled before it reached all of the residence halls.
Falvey argues that Green Dot's solid presence on campus created a common vocabulary that students could use to feel comfortable talking about sexual violence. Now, without that common vocabulary, she notes an eerie silence around sexual violence on campus. 
"I feel like [the former culture of care and openness] has been totally lost, and no one talks about [consent/bystander intervention] anymore, which is really sad and scary. It's really weird to know that people aren't having those same conversations and that they don't have that same vocabulary," Falvey said. 
This lack of common understanding around sexual violence is a pervasive problem and not one unique to the Whitman community. Malia Lewis, Whitman's current Sexual Assault Victims Advocate (SAVA), attested to the importance of such an understanding in creating a positive culture that aids in its prevention. 
"It's imperative that you have a community that's aware of the problem," Lewis said. "Everyone needs to have some sort of basis of understanding, in order to address [the issue] appropriately because [it is] so common." 
Furthermore, Lewis stressed the importance of prevention and response programs being "grassroots" in nature. In other words, it is important that they come directly from the impacted communities, so that they are tailored to each community's individual needs and circumstances. 
In this vein, she sees the potential for Whitman students to fill in the hole left by Green Dot, cultivate a common bank of knowledge around the issue and create the positive culture they want to see. But she also affirmed the need for institutional support in such initiatives.
"I think that Whitman has a fairly long-standing tradition inherent to the student population caring and showing up to have conversations [about sexual violence]," Lewis said. "I think that that should be honored and cultivated and supported as much as it can be, to have folks get the information they need, and have students connected with one another." 
Falvey also spoke to this culture among the student body and the importance of drawing from such a culture going forward. 
"The culture around conversations about consent has definitely changed on campus. But the overall culture of campus, of caring about each other and being really close-knit, I don't think that's changed, and I think that's something we need to find again and tap into," Falvey said. 
Student support is a necessary baseline in the cultivation of a positive culture around sexual violence. Both Falvey and Lewis acknowledged the presence of this support in the Whitman community. However, the support and structure required to create a program to take on such a task has been missing. 
Dr. John Johnson, Whitman's Vice President for Diversity and Inclusion, acknowledges that the college has been slow to rebuild the support network for initiatives like Green Dot. But he also sees light at the end of the tunnel. 
"Staff departures and the pandemic severely impacted the institutional infrastructure that sustained [SVP] initiatives," Johnson said. "Efforts are underway to rebuild the network of staff and students who do [SVP] work." 
In particular, Dr. Johnson pointed towards the hiring of a new Director of Equity and Compliance/Title IX Coordinator and the ongoing search for an Associate Dean for Health and Wellness as signs of recent institutional investment and progress. 
Falvey expressed similar optimism about progress, noting that a consent education program was in the works, but she was more hesitant to give the all clear. She recognizes the importance of institutional support, especially after how it lapsed last year, but still sees student involvement as a co-requisite to success. 
"What really needs to happen is younger people need to get involved, and underclassmen should work with them and get them involved in whatever program we chose to do next." Falvey said. 
What will replace Green Dot in educating the Whitman community on consent remains to be seen. However, its success will likely depend on institutional investment, student participation and input from the community.