Wave of book bans hit Walla Walla public schools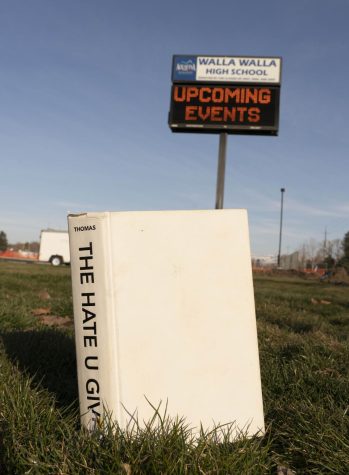 In the past few months, a group of parents have been demanding the removal of four books from the Walla Walla High School library: "Gender Queer: a Memoir" by Maia Kobabe (2019), "The Hate U Give" by Angie Thomas (2017), "All Boys Aren't Blue" by George M. Johnson (2020) and "The Bluest Eye" by Toni Morrison (1970). These texts feature themes and stories of LGBTQ+ and Black experiences.
The Union Bulletin reported that two community members, Sarah Herrera and Cathy Rasley, are leading the effort. 
In an email sent to the Walla Walla Public School (WWPS) Superintendent Dr. Wade Smith, Herrera described "Gender Queer" as "pornographic" and "All Boys Aren't Blue" as "erotica." The books include themes of gender identity and sexual orientation. 
In "The Hate You Give," a black high school student tries to cope with the death of her black friend after he is shot by police officers. Herrera called it "an anti-police book at its core."
Toni Morrison, best selling author and Pulitzer Prize winner for her novel "Beloved," wrote "The Bluest Eye." Walla Walla parents criticize it for the descriptions of a young girl's experience with sexual abuse.
Herrera and Rasley posted a Youtube video on Nov. 14, 2021 asking parents to join them in their effort to control which stories should be available to WWPS students. Rasley sent an email to the Superintendent asking him to take "Gender Queer" off the shelf. 
"If they did not remove the book 'Gender Queer' from the high school library I was going to go to law enforcement and let them know that the school district had a pornographic, pedophilia book that was available to underage children," Rasley said in the video. 
Rasley reported receiving an email back from Superintendent Smith agreeing to remove the book. However, in an interview with the Union Bulletin, Smith said the book was never in circulation to begin with. 
At a Walla Walla School Board meeting on Feb. 15, Rasley read a passage from "The Bluest Eye" without providing the context of the excerpt. The audience criticized Rasley for jeopardizing the district's Procedure No. 2021 which requires the book review committee to "consider the entire work, rather than extracting passages or parts; weighing the values and faults against each other and weighting the conflicting opinions based on the materials as a whole."
Noah Leavitt, Director of the Career and Community Engagement Center at Whitman, attended the board meeting. He read historical quotes that emphasized the need to preserve freedom of expression and access to a variety of perspectives. 
"It's good for people to understand that different people and different families see things and act differently," Leavitt said.
Leavitt emphasized that stories with LGBTQ and non-white narratives can offer support for students who struggle to relate to their immediate communities. 
"The particular books give young people who may feel marginalized a chance to see themselves in works of fiction or nonfiction and kind of understand that they're not alone," Leavitt said. 
The book ban attempt in Walla Walla reflects a national trend: around the United States, religious and conservative groups are rallying school administrators and politicians to ban hundreds of books. 
Organizations like Moms for Liberty and No Left Turn show up at school board meetings and complain about books that oppose their religious and political views. These organizations are backed by religious publishing companies like Brave Books and Heroes of Liberty, who donate their books to libraries. They also encourage parents to attend board meetings, fill vacant school board positions, and fight for the removal of books that have been blacklisted by religious conservative groups. 
Smith has been superintendent of the WWPS for seven years and told the Union Bulletin that this is the first time community members have submitted a request to remove a book. 
"I'm guessing that unfortunately that's something the school board is going to continue to hear about, continue to be challenged about and people in the community will continue to ask that other books be removed from the school libraries as well," said Leavitt. 
The board members decided that the books in question did not meet the criteria for removal, which includes reading level, perpetuation of stereotypes and physical condition, among others. This will prevent these books from being challenged again for the next three years.