"If I'm being completely honest, I volunteered to get vaccinated": Students debate ethics of receiving vaccinations early
As one-sixth of Walla Walla County residents receive their final Pfizer shot, Whitman students question the ethics of volunteering to get vaccinated.
In partnership with Walla Walla Volunteer Corps, many members of the Walla Walla community, including Whitman students and staff members, have volunteered at one of these vaccination clinics and have received vaccinations during their shift. Walla Walla County is currently in phase 1B, tier two of Washington state's vaccination plan. 
Daniel Kaminsky from the Walla Walla County Department of Community Health clarified that volunteers become eligible for the vaccine without meeting any other eligibility requirements.
"Per Department of Health guidelines, individuals involved with COVID-19 testing and vaccinations were designated to be in the 1A vaccination group — the first tier allowed to get vaccinated," Kaminsky said.
Many Whitman students who volunteered and got vaccinated expressed conflicting emotions around wanting to be vaccinated but also wanting to do the right thing while signing up. Senior Pei-Pei Cai explained how the prospect of her housemate signing up to get vaccinated initially upset her.
"My housemate told me I should sign up to volunteer and then I can get a vaccine, and I was actually like, 'Why? Walla Walla doesn't have enough resources. That is not fair,'" Cai said.
Cai was not convinced that signing up was equitable until she heard that the clinic often had extra vaccines that could expire.
First year Kylie Casper had a different perspective. Casper admits that although she had discussions with her residence director and questioned the fairness of this process, she signed up to volunteer primarily to get vaccinated herself.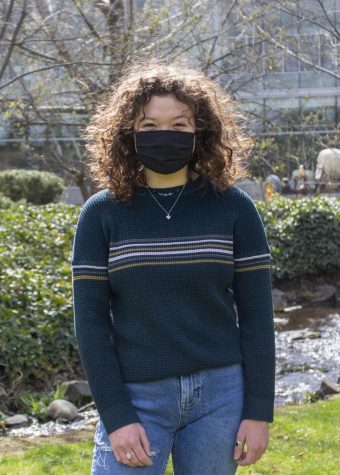 "While I was there I kind of had a realization, because if I'm being completely honest, I volunteered to get vaccinated; that was my intended motive," Casper said. "But when I got there, I realized this is actually such a great opportunity to help out the community during a crazy, crazy time. I was working with these doctors from the Walla Walla area, and they were just so thankful that I was there."
Cai added that she felt like she was helping out the community while she was volunteering and that her presence was appreciated.
"People were really kind about it," Cai said. "Everybody was like, 'Thank you so much for your service.' So, I definitely saw it as being useful."
Noah Leavitt, Director of the Student Engagement Center, believes it is ethical for student volunteers to get vaccinated given Walla Walla's current position. 
"Volunteers getting vaccinated helps accomplish getting individuals vaccinated and also moves us toward community immunity. So, it aligns with the county's goals," Leavitt said. "I'd worry about ethical issues if there was a shortage of vaccines for people in the state's targeted groups who are considered high risk. However, at least so far in Walla Walla, there has not been such a shortage, and there have indeed been enough vaccines for everyone in the eligible categories who have wanted them."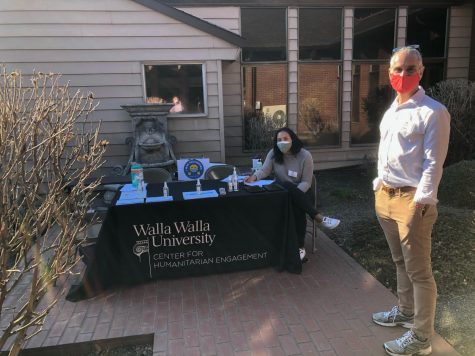 The Walla Walla University Center for Humanitarian Engagement (CHE), Leavitt explained, has invited Whitman to help with equity-focused outreach in partnership with the Walla Walla County Department of Community Health to help coordinate volunteers. Involvement in this effort has been approved by the Whitman College administration.
Community service was a driving force for others to volunteer. First year Olivia De Liberty said she'd like to continue volunteering at the clinic, but feels conflicted about people signing up to volunteer in order to receive a vaccine.
"People are using volunteering to get the vaccine," De Liberty said. "I am conflicted about it because one of the volunteer managers said that they appreciate having people who have worked before come back because they help things run smoother in the beginning." 
"On the other hand," De Liberty continued, "I want people to be able to use this pathway to get the vaccine like I was able to."