Update on Walla Walla book banning efforts
On Sept. 22, the Walla Walla Public School District held its second school board meeting of the 2022-2023 school year.
During the public comment portion of the meeting, several parents expressed outrage over the content of "This Book Is Gay" by Juno Dawson and called for it to be restricted. The book contains stories from Dawson's experience as an LGBTQIA+ individual. The book was never present in the school library.
The book banning effort in Walla Walla mirrors record high numbers of attempted book bans across the United States. In February, The Wire reported that four books were being targeted for bans in Walla Walla Public Schools.
According to a September 2022 press release, the American Library Association (ALA) recorded 681 attempted bans, affecting 1,651 unique books in libraries from Jan. 1, 2022 to Aug. 31, 2022. In 2021, there were 729 attempts targeting 1,597 books.
In Walla Walla, Cathy Rasley and Sarah Herrera have been leading the effort to remove the books. They spoke at the school board meeting and uploaded a YouTube video on Sept. 23.
In the video, Rasley described the book as "graphic."
"They are promoting devious, promiscuous behavior by having a book like this in the library. They are pushing this agenda by allowing, through the school district protocol, the librarians and teachers, without any purview, to order books from the few sites they seem to choose from," Rasley said. "So what we want to do is get on the next school board meeting agenda, have the school board talk on having a discussion on changing their protocol and how books are brought into the school district."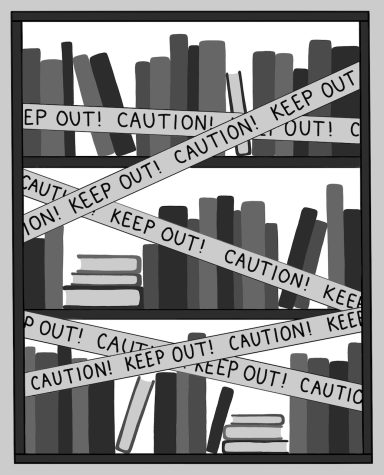 The Wire reached out to Rasley and Herrera for comment, but they did not respond before publication.
Raymond Garcia is a communications specialist for the ALA. Garcia provided a recent statement to The Wire, including a quotation from the president of the organization, Lessa Kanani'opua Pelayo-Lozada.  
"Library professionals trust individuals to make their own decisions about what they read and believe. ALA and our partners in the Unite Against Book Bans campaign are asking readers everywhere to stand with us in the fight against censorship," Pelayo-Lozada said.
Erin Wells is the director of the Walla Walla Public Library, which recently held an exhibit in honor of Banned Books Week.
"[Banned Books Week] is an annual national event that highlights books that have been banned or challenged nationally," Wells said. "It's so that people are aware that these challenges are still happening and [to] give people information about their first amendment right, their rights to read and rights at public libraries."
Although Wells said there have been no formal challenges to books at the Walla Walla Public Library, she has faced concerns from community members.
"With what's happened nationally, [it's] important to highlight [that book banning is happening] because it is not just a national issue. It is a local issue too," Wells said.
Todd Vandenbark is the Director of Library Services at the Columbia County Rural Library District, where he has experienced multiple book challenges and one death threat in the last month.
"The Columbia County Rural Library District welcomes feedback from patrons, community members and others regarding its collections and services. For adding and removing materials from our collection, my staff and I follow the library's collection development policy," Vandenbark said. "To serve our entire community, my staff and I seek materials on a broad range of subject matter that reflect diverse experiences. We do not select materials based on our personal beliefs." 
Many of the books being challenged contain themes of gender identity and expression or have content about the experiences of people of color and the Black Lives Matter movement.
Vandenbark provided a list of challenged titles.
"What's the T?" and "This Book Is Gay" by Juno Dawson.
"Our Skin: A First Conversation About Race" by Megan Madison, Jessica Ralli and Isabel Roxas.
"Yes! No!: A First Conversation About Consent" and "Being You: A First Conversation About Gender" by Megan Madison and Jessica Ralli.
"When They Call You a Terrorist: A Black Lives Matter Memoir" by Patrisse Khan-Cullors and Asha Bandele.
"This Book is Anti-Racist" by Tiffany Jewel.
"The Black Friend" by Frederick Joseph.
"Melissa" by Alex Gino.
"Pink, Blue, and You!: Questions for Kids about Gender Stereotypes" by Elise Gravel and Mykaell Blais.
"When Aidan Became a Brother" by Kyle Lukoff.