"Beyond the Bare Minimum": Power & Privilege Symposium reflections on accessibility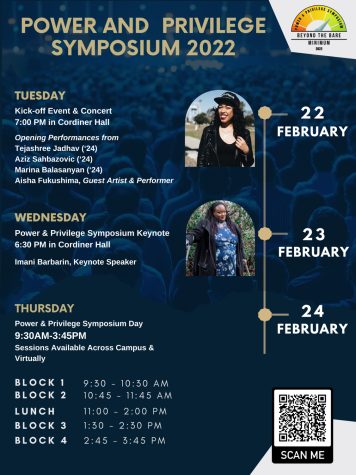 Led by Co-Executive Directors Tejashree Jadhav '24 and Ilse Spiropoulos '23, the tenth annual Power and Privilege Symposium (P&P) is set to kick off on Feb. 22, 2022 with guest artist and performer, Whitman alumna Aisha Fukushima '09. 
Fukushima is a performance lecturer, justice strategist, singer/songwriter and RAPtivist (rap activist). Joining Fukushima as the keynote speaker is Imani Barbarin, an inclusion activist who writes from the perspective of a Black woman with cerebral palsy. Using her platform Crutches and Spice, Barbarin advocates for inclusion, recognition and empowerment of people with disabilities.
This year's Student Executive Leadership Team consists of Jadhav and Spiropoulos, Programming Directors Ategeka Musinguzi '25 and Nishtha Rajbhandara '24, Operations Co-Directors Nomin Batsukh '24 and Eboni Haynes '23 and Marketing & Communications Director Eyleen Menchú '25. They are advised by recent alumna, Dorothy Muskasa '19, the current Associate Director of Student Activities at Whitman.
In an email to The Wire, Spiropoulos spoke about what she hopes this year's P&P will accomplish during a time when many people and institutions, Whitman included, seem to be stopping short of change.
"After George Floyd's death there was a massive spark in activism and demands for change globally, but when people met their 'burden' of protesting and activism things died down. People need to realize the minimum isn't enough, we can't wait for incremental change sparked only by tragedy and death," Spiropoulos said. "We need to move beyond the habit of doing just what we're asked or demanded to by law. We need to go beyond the bare minimum."
Jadhav expanded on the current model of the P&P, which will be both in-person and online.
"P&P is designed to be hybrid for this year. Understanding the current COVID-19 situation we are still hoping to do the majority of our sessions in-person, but those who can't be there physically can choose to tune in to some sessions via Zoom," Jadhav said in an email to The Wire.
Jadhav cited the work of advisor Dorothy Mukasa, the P&P team, the session leaders, volunteers and different departments at Whitman, in her hopes that the community will be present in all possible ways for the P&P.
"P&P has always been about going that extra step, and we hope this year's P&P reflects that too," Jadhav said. "We understand that P&P is indeed a one day symposium, but the impacts of the symposium definitely carry on. I hope people take away something fruitful, something of inspiration, something that motivates us to think about more possibilities than the normative ones."
First Generation/Working Class (FGWC) Inclusion Fellow Tatiana Villegas '23 is facilitating a panel of FGWC students presenting at P&P. Discussing her experiences as an FGWC student and involved member of the Intercultural Center, Villegas addressed the awareness of FGWC student experiences across campus.
"Lots of white, wealthy students on campus don't even know what FGWC stands for or what it means. They also don't realize the barriers that come with that identity," Villegas said. "I'm a queer woman of color, which is an identity I've had for a long time, but didn't really recognize that my identity as an FGWC student would be a lot harder to come to terms with, especially surrounded by a lot of rich white students who don't have to balance school work with a twenty hour work week."
Villegas expressed some of the issues of accessibility for FGWC students she sees at Whitman in places like the Outdoor Program, which requires money, time and experiences that are not always available to FGWC students.
"It's very alienating. Sometimes people will say things that they don't even realize exclude FGWC students like, 'How have you never done this before?' Of course I haven't done that before, I've never even had the chance," Villegas said. "At the end of the day, I just really want white, wealthy students to be aware of the privileges they have, privileges that other students don't."