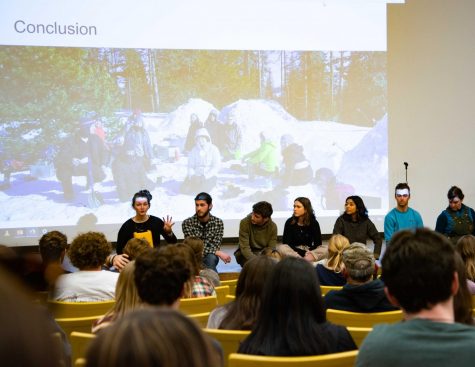 Ryder Brookes, Sports Reporter

February 27, 2020
While many Whitman students benefit from the Outdoor Program (OP), many have questioned whether resources and trips are accessible and, if so, who benefits from them. This was the topic of a session held at this year's Power & Privilege Symposium titled, "Whitman's Outdoor Program: Bridge or Barr...
Christy Carley and Martina Pansze

February 19, 2018
"Assuming that the seriousness of racial issues can be measured by the publicly visible incidents brought to the attention of our entire community is problematic." -Veronica Willeto, published on Nov. 9, 2006 in the "Let's Talk About Race" Pamphlet distributed at the first Race Relations and Community Sy...
Loading ...
SPORTS SCORES
Wednesday, September 25

Whitman College 3 - Whitworth 2

Wednesday, September 25

Whitman College 0 - Whitworth 3

Sunday, September 22

Whitman College 5 - Linfield 0

Saturday, February 16

Whitman College 96 - PLU 78

Saturday, February 16

Whitman College 73 - PLU 62

Saturday, February 16

Whitman College 4 - Trinity University (Texas) 5

Saturday, February 16

Whitman College 1 - Boise State University 6

Saturday, October 6

Whitman College 1 - Linfield 3

Saturday, October 6

Whitman College 2 - 1

Sunday, April 16

Whitman College 8 - Pacific University 1

Saturday, April 15

Whitman College 1 - Linfield 4

Saturday, April 15

Whitman College 15 - Linfield 5