"Something is better than nothing": Whitman announces in-person, graduate-only spring 2021 commencement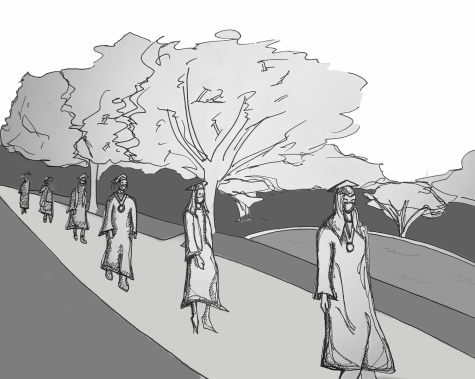 Whitman recently announced that commencement will be in-person for graduating students this spring — but family, friends and other students will need to watch the processions via livestream. Because Washington State guidelines currently cap events at 200 people, there will be two separate ceremonies on Sunday, May 23, each with approximately half of the class. 
"In many ways, this year's commencement will look like the traditional ceremonies of the past," President Kathy Murray said in an email to seniors and their families. "Graduates in cap and gown will line up along the Lakum Duckum path to process with other members of the Class of 2021. On the platform in front of Memorial Building, I will be waiting to greet our graduates, present their diplomas and cheer their many accomplishments."
The Commencement Planning Committee, comprised of staff members throughout the college who have organized the event in years past, has not yet determined whether there will be any college-funded festivities or food or drink involved with the ceremonies. They are also in the process of working with students in the Senior Fund Committee to figure out how the graduating class will be divided.
"At this time, we know that 6-foot distancing and masks will be required for graduates throughout the ceremony," Jennifer Casper, co-lead of the committee, said in an email to The Wire. 
Sharon Ndayambaje, Chair of Events for the Senior Fund Committee, is one such senior discussing the logistics of the atypical celebration with the Commencement Planning Committee. 
"Something I'm looking forward to is just having a new form of celebration because this is not what everybody's used to, so I want to see how this could turn out," Ndayambaje said. "I think with the current situation, everybody's trying to find a way to make things memorable but also be safe." 
As the COVID-19 pandemic set in last spring, the graduating class of 2020 had an all-virtual graduation — and some current seniors would prefer that over the hybrid send-off planned for this spring.  
"Although it was sad that we had an online graduation for the seniors, it was still nice that everyone was just with their friends and housemates and watched the livestream together. Everyone just went through it together," senior Nadia Ganjoloo said. "But with this system of where they divided it into two groups and have it in-person [but] family and friends can't even come to the graduation — I don't really know the point of it."
Seniors are required to purchase caps, gowns and tassels to walk in the ceremonies. The college has yet to announce whether a baccalaureate ceremony will take place, which typically happens on the Saturday before commencement as a way to further reflect on graduation and give students, faculty and staff time to speak.
Jena Griswold '06, the current Secretary of State in Colorado, will speak in-person at both ceremonies as the commencement speaker.
"Jena was a first generation, working class student from rural Colorado who graduated from Whitman with a BA in Politics and Spanish and earned her JD from the University of Pennsylvania Law School," Murray said in the commencement announcement. "As a passionate defender of democracy, she has worked in international corruption law, as a voter protection attorney, in the office of the Governor of Colorado and is now the youngest elected Secretary of State in the country."
Other universities and colleges in Washington are also planning smaller, in-person commencement ceremonies, including the University of Puget Sound and Whitworth University. Many, however, have yet to announce their plans or have already determined that ceremonies will be entirely virtual, including Seattle University and Washington State University. 
"At least you're going to see your friends from a distance [at Whitman's upcoming commencement ceremonies] — your friends that you've been in the same class with, so it's not all negative," Ndayambaje said. "It would have been better if parents could come but since we can't have that happen due to the state laws, I think it's better than nothing. At this point, something is better than nothing."