A country embroiled in protests: Whitman Belarusian students face crisis over undemocratic election back home
Before returning to Walla Walla for the fall semester, Whitman senior Yana Miakshyla spent three days without internet access in her home country of Belarus, starting the eve of the country's presidential election. She learned by word of mouth that protests were taking shape across the country in response to the contested election. 
"That was really scary," she said. "It just proved to me that this election was not going to be fair, because why else would you turn the internet off on the day of the election."
26-year incumbent Alexander Lukashenko, known as "Europe's last dictator," claimed a landslide re-election on Aug. 9. His win is widely seen as fraudulent and was deemed illegitimate by the European Union and United States. Tens of thousands of protestors turned out in August — on an unprecedented scale for Belarus — seeking his resignation, economic and governmental reform and free and fair elections. 
"I've never seen so much unity in Belarus, to be honest. I was so inspired, because I mean it was something out of this world," Whitman junior and Belarusian national Vlad Voinich said. "However, the government decided to deal with the protests very violently."
Sunday marked the 90th day of sustained protests, and over 15,000 people have been detained since the election, including over 100 political prisoners. Protestors have faced police brutality and human rights violations, with the United Nations Human Rights Office reporting 450 documented cases of torture and maltreatment as of September.
Whitman has four Belarusian students, with only one currently residing in Belarus this semester. Greg Lecki, Associate Director of the Intercultural Center, has been in contact with the students and says the college had already committed to bringing all international students back to campus before Whitman's decision to allow all students to return for the spring semester. 
"We made this decision because we realized that a large number of our international students abroad face various hardships that impact their academic experience in a very negative way," Lecki said.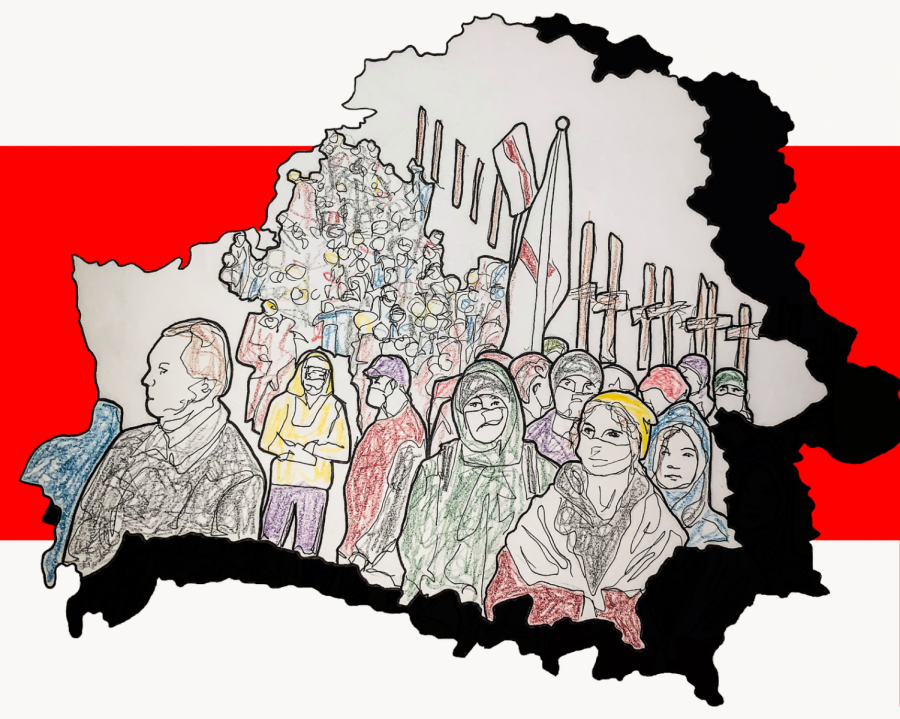 The college, however, has not issued a public statement or held related programming on the situation such as some other national and international colleges and universities have done, including Vermont's Bennington College. 
"Whitman College supports all of our international students and is aware that many of them face unstable political situations in their home countries," Director of Communications Gina Ohnstad said. "Whitman staff and faculty work closely with each student to help them on an individual level based on their personal circumstances. The college does not take stances on the inner workings of individual countries or international politics."
Whitman's Sigma Chi fraternity set up a donation page to financially support protestors and strikers through the Belarus Solidarity Fund. Voinich, who is currently living in Walla Walla, wishes the college would present its own solidarity, educational events or programming.
"My friends at Bennington [College], in collaboration with the politics department, created a course on the history of Belarusian protests, which is actually an open course," he said. "Bennington did that in the span of a couple weeks… I would like to see something like that happening [at Whitman]."
Svetlana Tikhanovskaya, Lukashenko's main oppositional candidate, fled the country out of safety concerns following the election and has been mobilizing protestors and strikers from abroad. Lukashenko has not backed down from his position of power, but new UN sanctions imposed travel bans and froze assets for him and other Belarusian officials.
Lukashenko has been the sole President of Belarus since he won the seat in 1994. He promised to rebuild the country following the collapse of the Soviet Union, but his popularity has been steadily declining. International election observers have deemed his repeated election wins as increasingly rigged.
Lukashenko has kept media outlets and much of the economy under state control, and frustration over his leadership intensified when he downplayed the severity of the COVID-19 pandemic and withheld safety measures. 
Miakshyla says the protests continue to be about much more than Lukashenko's exit from power. Protestors and their supporters are calling for the release of political prisoners, fairer wages and economic reform, as well as truly democratic elections.
"There's so many things that need to be fixed in the country," she said, "but ultimately we want a better life. We deserve a better life, and we just want to see it happen within our lifetime."