Whitman alumni speak on racism in the workplace
On Tuesday, Sept. 29, the Student Engagement Center (SEC), The Intercultural Center (IC) and the Race, Violence and Health committee welcomed three Whitman alumni over Zoom to discuss their experiences with racism and the workplace.
The panel featured Sarah Claxton Deming '10, a San Francisco Bay Area senior brand manager at a healthcare technology company, Adam Delgado '12, a research associate at Instagram and Kayvon Behroozian '14, a King County deputy prosecutor. 
The panel was attended by about 40 Whitman employees and alumni, along with 5 students. Kim Rolfe of the SEC and Laura Sanchez of the IC moderated the discussion. Rolfe and Sanchez asked the panelists audience-generated questions about their experiences.
"Kim and I have been wanting to collaborate on programming for some time and agreed this would be a great way to kick off what will be an ongoing intentional partnership in programming that connects diversity, equity, and inclusion to professional opportunities for our students," Sanchez said in an email to The Wire. 
The discussion began with the panelists discussing how they viewed systematic racism in the workplace. All three agreed that racism in the workplace often comes from organizations that are designed with only white people in mind.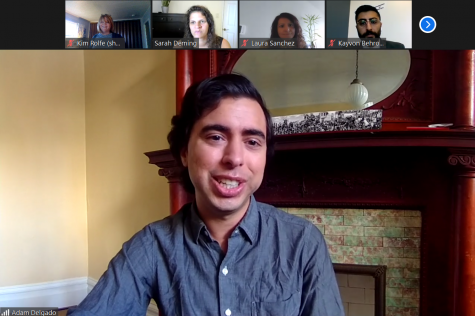 Delgado, who identifies as Latinx, says that "Oftentimes these institutions or organizations or companies were not designed for people like me in mind, and so it's kind of a radical concept that we are occupying space or that we've even entered into these spheres that are predicated on privilege and access to capital and entitlement," Delgado said. 
The panelists also discussed their leadership and advocacy roles on campus and how that has prepared them for confronting racism in the workplace. Deming was the president of the Black Student Union, Delgado was involved in Club Latino (now Club Latinx) and First Generation Working Class club, and Behroozian was president of ASWC. 
Behroozian, who offered the disclaimer that all of his opinions are his own and not a reflection of his employer, said that at Whitman he learned the importance of translating experiences and advocacy work for decision-makers.
"That idea of a translator is essentially what you [have] to be doing if you want to be doing this anti-racist work and break down systems and rebuild them," Behroozian said. "You need to start translating for people, and the way that you do that is you start doing things — and when I say translating I'm not saying something specific like Spanish to English, I'm saying translating experiences so that people in positions of power suddenly feel like 'oh this is an issue' when they didn't before."
He said that he realized the importance of "translating" when he presented an ASWC resolution to the Board of Trustees as ASWC president. Behroozian said he did not translate well for the Board of Trustees and suggested that that was partially the reason why the resolution was not well received. 
Deming offered students two pieces of actionable advice for confronting racism in the workplace. She said after students receive a job offer they should ask "real questions" about diversity and inclusion to show employers that it is something you value and to focus on doing well in a new job as a young professional to gain credibility for activism work. 
Senior Jay Tyson attended the event to learn how to better confront racism in their current and future workplaces. Tyson said their main takeaways were the importance of meaningful representation and confrontation of biases. 
"[A] point that was raised about the importance of continually checking biases — when it comes to race, but also when it comes to gender, heteronormativity, class, etc. — hit home and is something I also need to continue checking while moving around in my current and future environments in order to keep people safe and supported while working to keep negative biases from being perpetuated," Tyson said in an email to The Wire.