Moss and Saturno battle it out over Seat 7 on the city council
This election year, three out of the seven positions on the Walla Walla City Council are up for election. Seat 7 is the only position this year that is at-large, meaning that the candidate can come from any ward in Walla Walla, unlike most of the other seats on the city council. This election year will be the first time in Walla Walla that the ward system is used for city council elections.
Wards are sections of Walla Walla. For positions that are not at-large, the city council member must live within that ward. Language Learning Center Manager and Adjunct Assistant Professor for Encounters Devon Wootten ran for the city council in 2017 and came across the debate over the ward system.
"Wards are a way of distributing representation, of figuring out how to get a more representative sampling of the people who live in Walla Walla," Wootten said. "The conversation a couple of years ago was how to address the balance of ward-based concerns with making sure there were representatives that had the whole of Walla Walla as their constituency."
Seat 7 is currently held by Steve Moss, who was elected in 2015. Moss is being challenged by Julian Saturno, a freelance graphic designer, real estate investor and property manager.  
Moss, 68, worked as the CEO of Blue Mountain Action Council for 22 years before retiring in 2014. He volunteers with the Washington State Rural Development Council and Walla Walla Community Network and is also a member of the Governor's Advisory Committee for Homeless. He worked previously as the state board president for Washington Coalition for the Homeless for two years, and for the Washington State Housing Finance Commission for six years.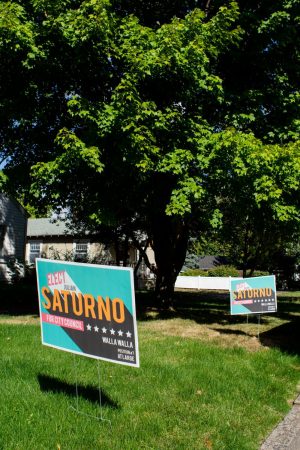 In an interview with the Walla Walla Union-Bulletin, Moss said that the three most critical issues in Walla Walla were critical infrastructure issues for the city, affordable housing and community safety. In the same interview, the Walla Walla Union-Bulletin asked: "Why do you think you are the best candidate for this position?"
Moss said, "I strive to achieve sound, prudent decisions in policy-making, in support of proper growth management of the community and in using finite resources. Given my tenure at Blue Mountain Action Council and the City Council, I have had the privilege of working with various groups: business, city, county, state and faith communities. Therefore, I have the practical experience and I have done my best to listen, to problem solve and to be educated by the citizenry in terms of their priorities."
Julian Saturno, 28, is running for elected office for the first time. In addition to his current job as a freelance graphic designer, real estate investor and property manager, Saturno volunteers for Volunteer for Embracing Orphans Organization and is an Amnesty International Walla Walla University Chapter Officer. When interviewed by the Walla Walla Union-Bulletin, Saturno said that the three most critical issues in Walla Walla are the sleep center, responsible development and housing and fiduciary responsibility in city spending. 
The Providence Sleep Center is a place for homeless people in Walla Walla to sleep, south of the penitentiary. It is run by the Walla Walla Alliance for the Homeless. According to their website, the sleep center "provides a safe place to sleep for about half of the valley's unsheltered homeless population."
In response to the Walla Walla Union-Bulletin question, "Why do you think you are the best candidate for this position?" Saturno said, "I would be proud to hold the opportunity to better our community through local government. The Saturno family has been here for six generations and has a history of always giving back to the community. I have had experience in student politics from middle school through college. I truly love this town and its community and would find serving on the City Council a privilege."
In the August primary, Moss received the most votes with 55.45 percent of the vote (2,697 votes). Saturno came second with 23.6 percent (1,148 votes). The third candidate, Jordan Michaels, was eliminated in the primary after he came in third, with 20.25 percent (985 votes). 
Michaels attributed Moss' lead to his prior experience in an email to The Wire. 
"Moss had a strong lead in the primaries most likely due to being the incumbent," Michaels said.
Incumbents often have name recognition, which can be a major benefit, according to Wootten.
"You know, Walla Walla is a small town. Name recognition counts for a lot… it's hard to fight against that inertia," Wootten said.
Both Saturno and Moss did not respond to inquiries from The Wire for an interview.
The general election will take place on Nov. 6.