WWU Grapples with Blackface Incident
Just before the student body of Walla Walla University departed for Spring Break two weeks ago, a racist photograph with the school's logo circulated through social media.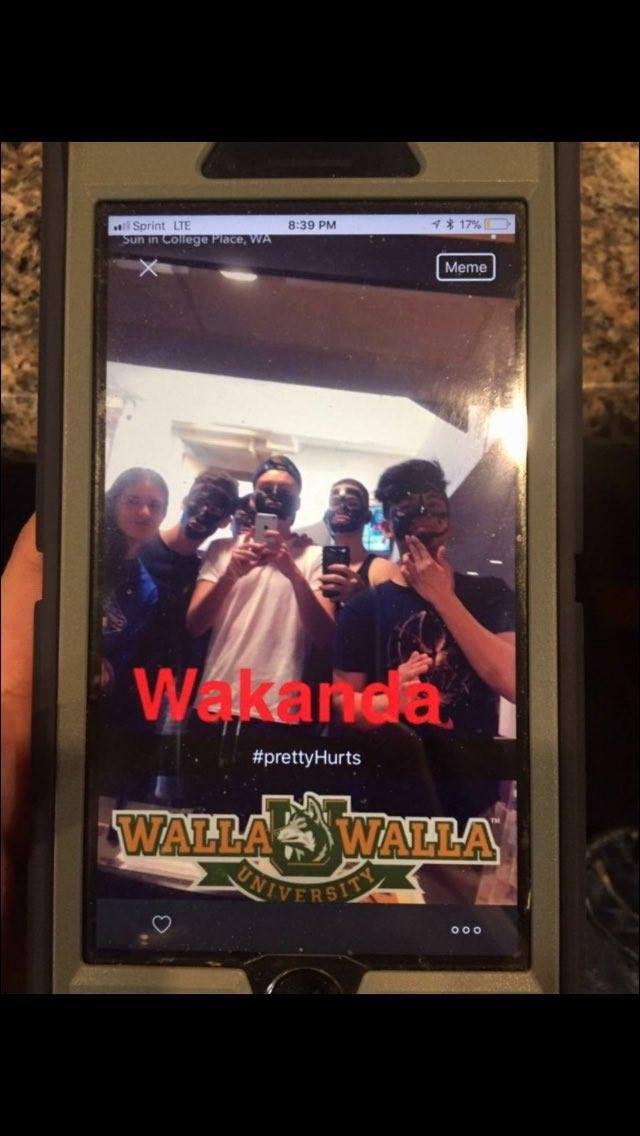 The photo is a publicly posted snapchat screenshot of six individuals, five of them wearing what appear to be black facial masks. The photo has a WWU logo filter and the caption #prettyHurts, as well as the word "Wakanda," the fictional African nation from the Marvel's recent "Black Panther" film, in large red letters.
In an email sent to the students, faculty and staff on March 21, WWU Vice President for University Relations and Advancement Jodi Wagner wrote that administrators had become aware of the post and were investigating the situation through the Student Conduct Board.
"Regardless of its intent, the post was unsettling," wrote Wagner. "Walla Walla University has a deep commitment to the values of diversity and inclusion. Our mission statement declares, 'Every person is created in the image of God as a being of inestimable value and worth, imbued with powers of intelligence, stewardship and creativity akin to those of the Creator.'"
WWU is affiliated with the Seventh-day Adventist Church.
Two statements were also posted publicly on the college's website. "We condemn racism, and we are taking this incident seriously. We see and hear the hurt and anger felt by many in our campus communities and beyond. We apologize, not only for this post, but also for any current or historical racism on our campuses," said one of the statements.
Blackface is a type of makeup with a long and nasty history. The phenomenon was popularized by non-black performers in 18th and 19th century theatre to depict caricatured and stereotyped representations of black people to predominantly white audiences, and was often publicized using slurs.
When two students wore blackface to a survivor-themed Whitman Sigma Chi party in 2006, the incident made national headlines. It sparked student discussion and activism that eventually lead to the annual Power and Privilege Symposium event.
In response to the photo, WWU is offering a number of resources. Firstly, a series of "listening sessions" will be held both privately and publicly so community members can reflect and share concerns. The website noted that counseling and chaplain's office hours will be extended.
"We will also address these issues in our weekly all-campus gathering and will alter our class schedule to accommodate a series of "Let's Talk" diversity-focused educational presentations for our campus community," the statement said.