Draft for New Mission Statement Revised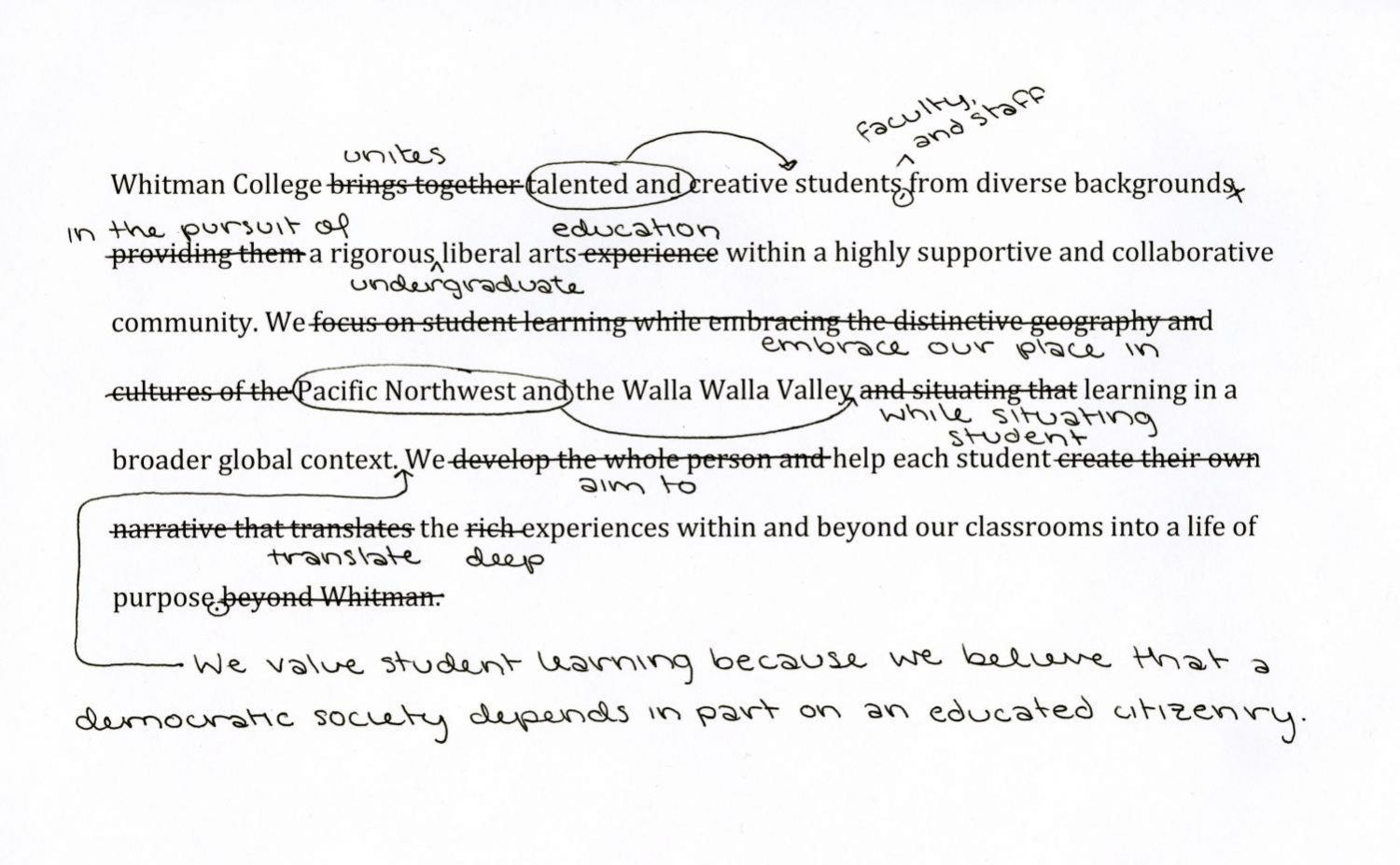 On Tuesday, Nov. 28, President Kathleen Murray sent an updated draft of the college's proposed mission statement to student listservs.
According to the email, the newest draft is based on "extensive feedback received from faculty, staff, and students." The mission statement was also discussed by the Whitman Experience Committee during governing board meetings that took place the first week of November. The email encouraged students to respond with comments and suggestions by Dec. 15.
The statement in the email reads, "Whitman College unites creative and engaged students, faculty, and staff from diverse backgrounds in the pursuit of a rigorous undergraduate liberal arts education within a highly supportive and collaborative community. We embrace our place in the Walla Walla Valley and Pacific Northwest while situating student learning in a broader global context. We value student learning because we believe that a democratic society depends in part on an educated citizenry. We aim to help each student translate the deep experiences within and beyond our classrooms into a life of purpose."
Whitman's Strategic Planning Initiative, developed last academic year and approved in August, identified five priorities for the college to focus on in the next few years: increasing access and affordability; enhancing diversity, equity and inclusion; innovating the curriculum; connecting to life after Whitman; and celebrating our location. The earliest form of the statement–dubbed by Murray a "drafty draft"–was created by the Strategic Planning Committee last winter.
"We did this mostly to test our capacity to develop a statement that aligned with our emerging priorities, which in turn gave us more confidence that the emerging priorities were on target," said Murray in the Sept. 22 email to the community. "The committee recognized that any new statement would need to be vetted by the entire Whitman community and that it would undoubtedly undergo multiple transformations before being finalized."
Reaccredited this past summer, Whitman is at the beginning of its continual seven-year accreditation cycle. The Northwest Commission on Colleges and Universities requires that in the first year of a new cycle, the mission statement of institutions must be either reaffirmed or replaced.
The current mission statement that appears on the college's website reads: "Whitman College is committed to providing an excellent, well-rounded liberal arts and sciences undergraduate education. It is an independent, nonsectarian, and residential college. Whitman offers an ideal setting for rigorous learning and scholarship and encourages creativity, character, and responsibility. Through the study of humanities, arts, and social and natural sciences, Whitman's students develop capacities to analyze, interpret, criticize, communicate, and engage. A concentration on basic disciplines, in combination with a supportive residential life program that encourages personal and social development, is intended to foster intellectual vitality, confidence, leadership, and the flexibility to succeed in a changing technological, multicultural world."
Murray announced in her launch of the academic year address in September that work would begin to develop a new statement. Thoughts about a rewrite, however, were in the works long before the reaccreditation. In a Sept. 22 email to the community earlier this fall, Murray wrote, "When I was a candidate for Whitman's presidency, I told the search committee that I was pretty sure I could put Whitman's mission statement on a slip of paper and put ten other small, residential liberal arts college mission statements on slips of paper, and if I put them all in the middle of the table, nobody on the search committee would be able to select Whitman's."
The statement is intended to be reviewed by the board during their February visit to campus and finalized before the start of the 2018-19 academic year.