Walla Walla calls for hope, action in response to DACA announcement
Smoky skies didn't stop a crowd from filling three street corners at 1st and Main Wednesday to rally in support of immigrants after the Trump Administration's recent decision to rescind the Deferred Action for Childhood Arrivals program (DACA).
Established in 2012 under the Obama Administration, DACA granted undocumented immigrants who arrived in the United States as children deferred action for deportation and eligibility for a work permit for a renewable two-year period. The program, which was passed by Executive Order, was intended as a temporary solution in response to a Congress that had been gridlocked on the issue of undocumented minors for over a decade.
The decision to rescind DACA, announced on Tuesday, came in the aftermath of a threatened lawsuit directed at the Trump Administration from the Republican Attorney Generals of ten states. Trump now faces lawsuits from fifteen states, including Washington, and the District of Columbia.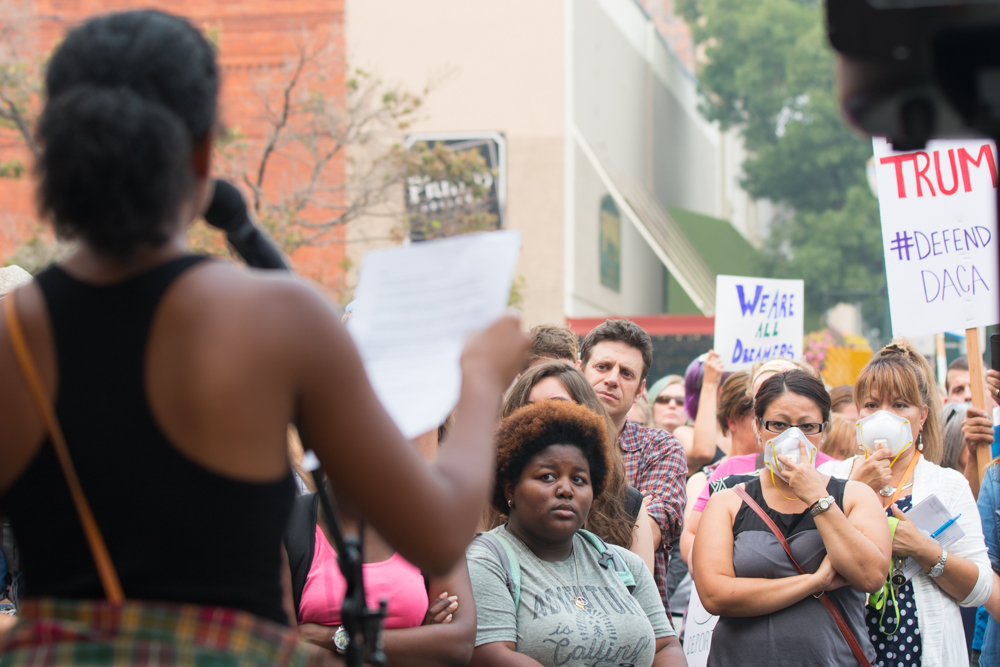 Communities around the country have gathered in support of DACA recipients, hosting protests, rallies and urging their congress members to find a pathway to citizenship for the approximately 800,000 young people that are currently supported by the program. Trump's decision was condemned by President Kathy Murray and ASWC President AnnaMarie McCorvie in emails sent out to the student body this week. 
In Walla Walla, the young and old gathered, smoke masks and all, to stand in solidarity with immigrant communities.
The rally was organized by by the Walla Walla Immigrants Rights Coalition (WWIRC), and featured many speakers affiliated with the coalition who are also members of the Whitman community including Associate Professor of Politics Aaron Bobrow-Strain and Dean of Intercultural Affairs and Chief Diversity Officer Kazi Joshua. Intercultural Program Advisor Jennifer Lopez '13 and a two current students read stories of DACA recipients.
Several speakers quoted Washington representatives who affirmed their commitment to support for those protected under DACA, often referred to as Dreamers, after the Dream (Development Relief and Education for Alien Minors) Act that was first introduced in Congress sixteen years ago. Like DACA, the Dream Act offers protection to those who were brought to the United States as minors, but has repeatedly failed to pass through Congress despite bipartisan efforts.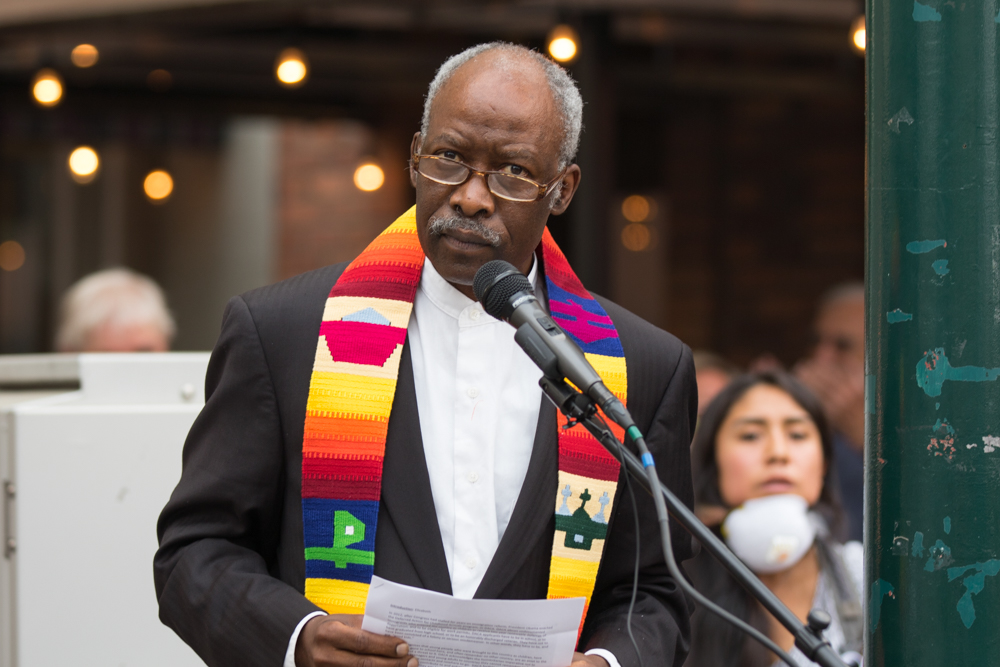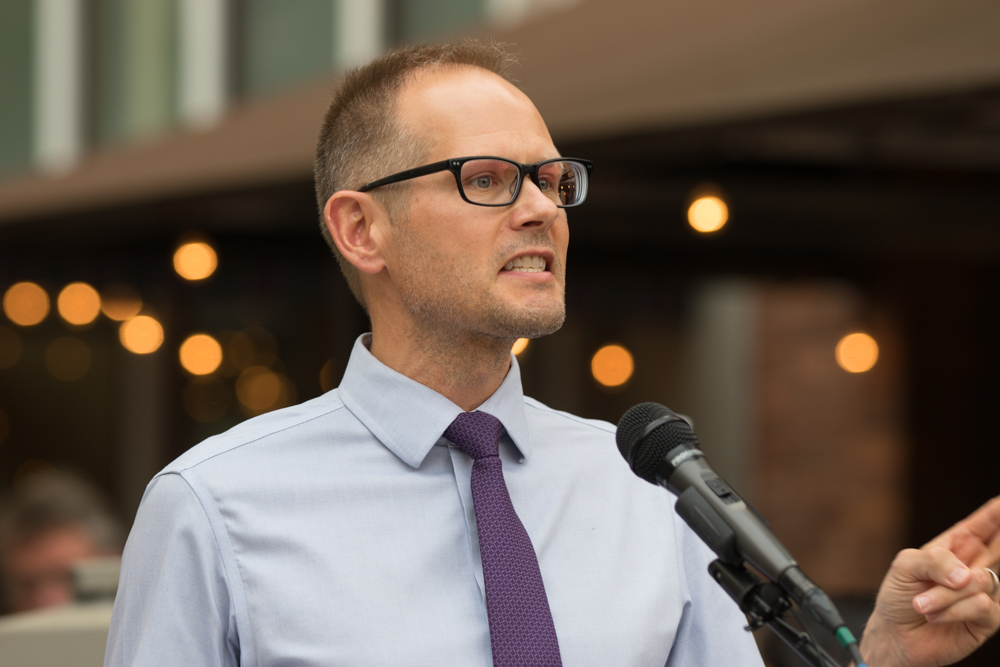 The recent announcement from the White House leaves Congress with a six month period to find a solution for Dreamers before DACA officially expires. While Bobrow-Strain emphasized the importance of pressuring Congress to act, he remains worried that a bill passed by Congress in support of Dreamers could include negative consequences for other immigrant groups.
"I'm very concerned about the possibility of politicians using protection for this really deserving group of folks as a way to make harsher penalties for other immigrants and further militarize the border," Bobrow-Strain said in an interview.
"As we fight with and for DACA recipients we have to remember that DACA is not enough," he announced at the rally.
Given Congress's track record with the Dream Act, it's possible that a bill will not be passed before the six month period ends. In that case, said Bobrow-Strain, "the most immediate thing is that it pushes 800,000 people back into the shadows."
Such an effect, he notes, would make communities less safe and worsen the economy.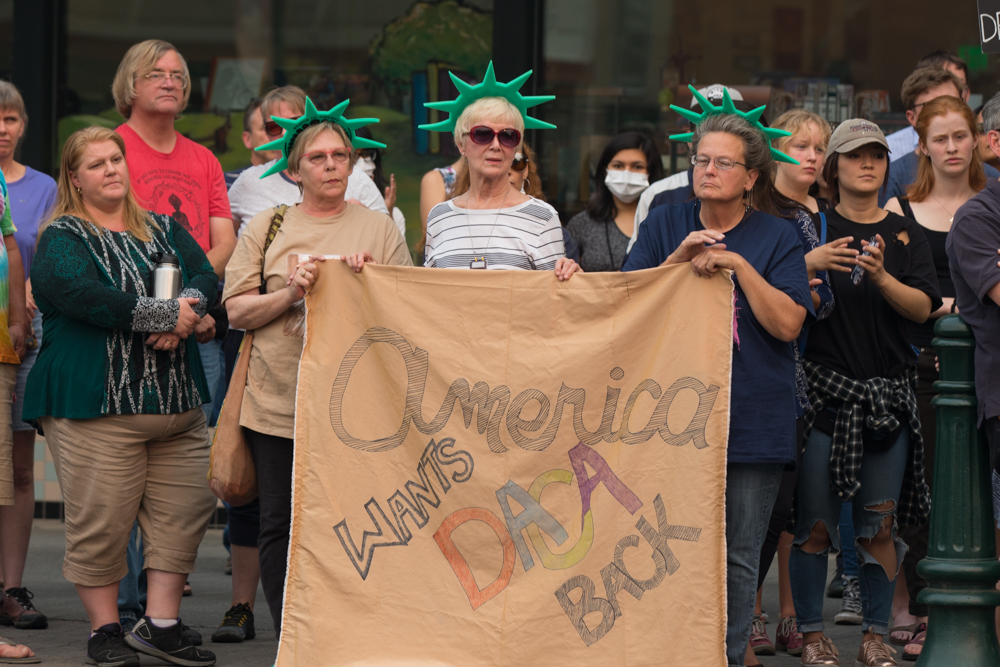 Whitman administration is preparing to support undocumented students through resources available on a webpage specifically designed for such students. Additionally, ASWC accepted a proposal last March that allocated 25% of its Savings Fund to the Borders as Method club in towards a legal defense fund that would support three members of the Whitman community facing immigrant detention or deportation. The money also goes towards the creation of an internship program training Whitman and Walla Walla High School students to respond to such issues.
In her email, Murray announced that "the immigration working group will continue to examine the changing needs of our students who are affected by this decision."
Despite Congress's history of inaction on issues of immigration reform, the tone of the rally remained motivational. Joshua led participants in a chant of "no human being is illegal!" and ended with a quote from Junot Díaz's 2016 post-election essay: "Radical hope is our best weapon against despair … Only radical hope could have imagined people like us into existence. And I hope that it will let us create a better, more loving future."
Those interested in acting in support of undocumented immigrants are invited to attend a gathering at 10:00 a.m., Sept. 16 in the parking lot of First Congregational Church.