EcoChallenge Makes Whitman More Green
The Northwest Earth Institute is currently hosting a two-week EcoChallenge where people change one behavior in order to be more "green." Hundreds of schools, companies, and organizations including Whitman are participating in the challenge. The challenge started on October 14 and ends this Friday, October 28. There are currently 8,122 participants in the challenge. Some of the most popular initiatives involve water, food, and transportation. As a result, so far 25,805 plastic bottles have been saved from the landfill, 275,346 gallons of water have been saved, and 19,568 miles have been traveled by bus rather than personal vehicle.  The idea behind the challenge is that it takes two weeks to form a habit, and once the challenge ends people will continue with the goals they initially set out.
The challenge is rooted in a point-based system. Once someone has decided to participate in the challenge, they make an account online and sign up for pre-chosen categories designed to either make you more "green" or aimed at achieving happiness and mindfulness. All challenges are worth the same amount of points, some are ongoing and some are once only. For example, you could sign up to insulate your pipes as a one-time challenge, or shoot to eat meatless meals everyday for two weeks. To collect points from the challenges, students log-in every day to account for whether or not they completed their daily goal. The challenge is based on an honor system.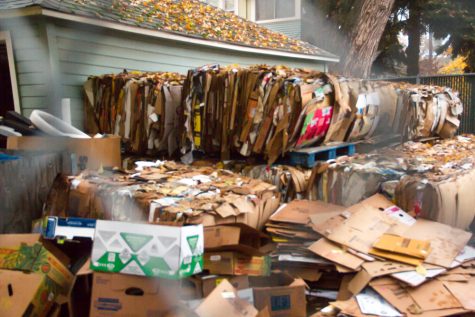 Junior Lydia Petroske found out about the challenge online, and brought it to the Campus Climate Coalition (CCC) as an activity the group could participate in together. From there, group members sent invitations to other Whitman students. This is the first time Whitman students have participated as a team, and they intend to do it again next year as part of an annual challenge. The CCC learned about it late in the year and couldn't dedicate any time to advertising it, but intend to put out the word next year so that more students and faculty can participate. The idea behind the challenge is that it takes two weeks to form a habit, and once the challenge ends people will continue with the goals they initially set out.
"Personally I like the challenge, I think it does take some self motivation to follow through on it but I like the mentality of a two week behavior shift," Petroske said in an email to The Whitman Wire.
 While the idea of changing a trait or two of one person's habits for only two weeks may seem trivial, it can have a lasting impact. It allows those participating to learn more about what they can do as individuals to preserve the environment. 
"The best thing about this EcoChallenge is it gives you ideas in which you could change little things about your life. Now that's you know, not the end all be all to sustainability, we need bigger local actions or bigger movements but it's something that can help you personally and thinking about the ways you can live a better life," Senior Margo Heffron said.
Whitman students are learning about the environment and sustainability through the exercises in addition to creating habits that are good for the environment and their well-being.
"The three challenges I am taking part in are turning off my computer for at least two hours each day, washing laundry with cold water and using cloth napkins instead of paper ones. I was surprised when I learned how much energy my computer uses even when it doesn't appear to be doing anything. By turning it off for two hours, I can save a pound of CO2 from entering the atmosphere," Junior Julia Gratton said.