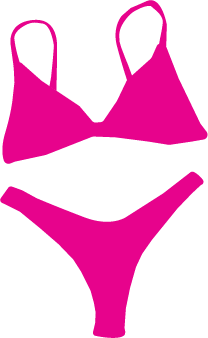 Feminists had been eagerly awaiting July 21, 2023, the day when Greta Gerwig would bestow the Barbie movie onto the world, giving us all the only tool necessary to put a complete end to misogyny. Yet there I was, entering the theater lobby embodying a living contradiction in thin, pink straps.
I ordered my movie ticket with parents shielding their children's eyes and glaring at my ass. Concession workers gawked, cash in hand, clueless as to whether they should put it in the register or my waistband. Popcorn littered the floor like loose change, as people's attention wavered from their mouths to my captivating physique.
Now, I know that Barbie is a feminist movie, but the only pink I owned was a bikini I bought during my freshman year of high school. I would have worn something more formal, but from the looks of my closet, that was the same year I'd grown out of that childish color.
I'm aware that my attire may not have aligned with the ideals of feminism, but the desire to embrace Barbie's symbol of empowerment was sincere. Besides, if Barbie was going to be the ultimate antidote to misogyny, the least I could do for her was wear her signature color, even if it meant showing off my signature legs.
You'd think from the reactions I got that I had unwittingly and single-handedly become guardian of the patriarchy with my little pink bikini. However, deep down I knew that once I marched through the trenches of the male gaze, it would be only two hours until the patriarchy crumbled and no one would care about my outfit choice.
Two hours later, credits rolled and feminists around the world cried with hope that as soon as they stepped outside of the theater, society would greet them with a deep understanding of women's issues and the decision to end all of them. Meanwhile, I left the theater shocked to find that neither Margot Robbie's depiction of Barbie nor America Ferrara's heartfelt monologue had managed to sever the lingering presence of the male gaze trailing behind me.