Whitman First-Years Shut Down School
Anthony Reale, Garbage Collector of the Year, 2014
August 25, 2017
In a stunning turn of events, the Board of Trustees has voted for the immediate closing of Whitman College following a protest by incoming first-year students.  No one expected or was prepared for such a demonstration, as the school had just opened its pearly gates for opening week.
A member of the Board of Trustees–who requested to remain nameless for their own safety–commented on this catastrophe, saying "We only had one option.  The first-years held us at gunpoint and forced us to vote in favor of closing the school!  They were ruthless.  How did they internalize so much hate for a school in just a few hours from when they first stepped on campus?"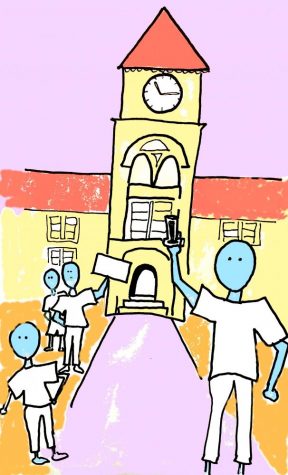 Indeed, nameless Trustee, how did these young people become so cynical so quickly?  How could they have known that the serenity of Lakum Duckum was murdered senselessly with the addition of that eyesore of a fountain last semester?  How did they figure out that Narcissa Whitman's severed head was in the attic of Prentiss and functioned as a good luck charm during finals?  How did they find out that Ankeny is actually the sight of the horrendous Battle of Gettysburg?
According to Whitman College historian Chuckles Clevlant, this was no accident.
"There's no way that these students could have figured out all these secrets without some inside help.  I don't want to point fingers, but I've convened with the D.S.A.W. group on campus, and we can absolutely confirm without any doubt in our minds that The Wire spilled the beans on these secrets," said Clevlant, being held back by various members of D.S.A.W. as he tried to swing at this reporter.
To any readers who might not know, the D.S.A.W. group–or Disgruntled Students Against the Wire–meets monthly in the bell tower of Memorial Hall.  Their group comprises of many fraternity members, politics majors, and various undercover reporters.
And as far as the allegations go, The Wire can neither confirm nor deny that it absolutely is the Whitman tabloid that leaked these secrets.