WWU's ICantori choir showcases stunning new work
On Tuesday, April 11, Walla Walla University's (WWU) choir, ICantori, put on a concert called "A Sense of Place" in the Melvin K. West Fine Arts Center auditorium.
The first half of the concert asked people to think about their physical sense of place. Songs were performed in an order that represented zooming out of one's personal sphere. The songs included: "The Road Home," to illustrate starting life from home; "Moon Flight," a song about taking a spaceship to the moon; "When the Earth Stands Still," a love song; and "He's Got the Whole World in His Hands." This program was sung in traditional choral standing arrangements, accompanied by lighting to evoke different moods throughout the show.
The second half of the concert was about thinking of our sense of place historically. ICantori performed a six-movement work called "Amendment: Righting Our Wrongs," by Philadelphia composer Melissa Dunphy. This was a powerful text about the 13th, 14th, 15th and 19th Amendments. The 13th-15th Amendments, known as the Reconstruction Amendments, abolished slavery, granted rights to those formerly enslaved and gave the right to vote to all men, regardless of race. The 19th Amendment granted women the right to vote. Melissa Dunphy wrote her piece to be premiered in 2020, on the 100th anniversary of the passing of the 19th Amendment.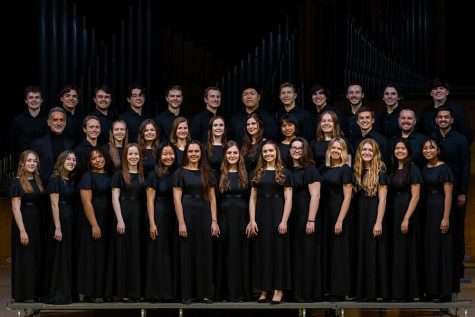 The texts were drawn from the U.S. Declaration of Independence and various state constitutions, citing all of the different stipulations required to be able to vote. The show concluded with the song "Brave," asking the audience to be brave in celebrating the right to vote.
Professor of Music and ICantori Director at Walla Walla University Kraig Scott liked the piece, so he donated $1,000 to make ICantori part of the consortium of choirs that commissioned the piece. 
"The themes in this piece are extremely timely and very important to society, our country and the whole world right now," Scott said.
Jamie Palmer, bass section leader and choral librarian, felt that this piece presented powerful ideas to both the choir and the audience, promoting forward-thinking concepts about racism and sexism in the U.S., while highlighting the importance of making amends. 
"The last line is, 'When we falter we make amends.' That line always gave me chills because we can acknowledge that we have had major faults in the past and still do have major faults, but when we work to [be] greater, we can fix things, even if it's slow," Palmer said.
ICantori studied this piece and topic intensively. One of the history professors at WWU came to the choir's class to provide them with the necessary context to perform the piece and lead discussion about the topic.
"In ICantori, we're constantly being pushed to do difficult stuff; that includes this past weekend, tackling some difficult subjects," Palmer said.
ICantori is made up of 36 singers who all describe their group fondly. 
"It is a safe space for all, fostering a higher level of musical excellence, as well as pushing for a higher level of thinking. Especially for Walla Walla [University] being such a small school, it's a pretty good choir," Palmer said.
ICantori mostly performs sacred texts. This recent concert acted as a fun opportunity for them to perform both religious and secular music. Sophomore and ICantori Vice President Madeline Stone liked how this concert could resonate with everyone.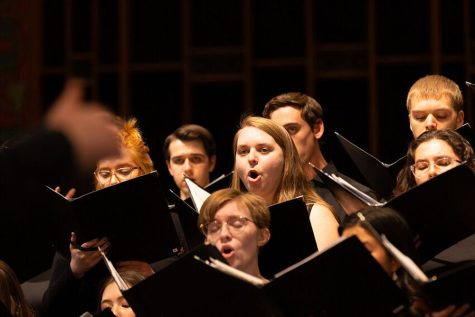 "Some people may not be religious and therefore won't resonate with sacred text. Whether some admit it or not, we have all been affected by the history of our country and are able to connect with the texts through certain experiences of our own or our families," Stone said.
Stone's two favorite pieces were "Amendment" and "He's Got the Whole World in His Hands"
"'Amendment' was propelled by a drive of wanting justice, while 'He's Got the Whole World in His Hands' was inexplicable joy that God has and will take care of us throughout anything. They both showcased passion, which is what moves me most," Stone said.
This concert was filled with passion, both for the important, relevant, heavy topics and the music.
"I don't program music that I don't like; I'm beyond that," Scott said. "All of this music is music I really like that covers a wide range of styles. Life is too short and there's too much good music, so let's do the stuff we really like. Therefore we can perform it with some real commitment."
This show was performed with a level of commitment that created an engaging and moving experience for both the audience and singers.
More information about ICantori can be found online at www.wallawalla.edu/academics/areas-of-study/music/icantori/.