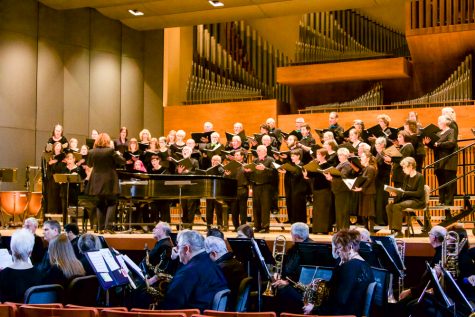 Afton Weaver, Staff Reporter

March 2, 2017

Filed under A&E, Front Page Slideshow
Captivating and collaborative, the "Songs of Youth and Joy" concert showcased the incredible musical talent of four Walla Walla musical groups. Held in Cordiner Hall on Sunday, Feb. 26, the concert consisted of performances by Walla Walla High School (Wa-Hi) Belles Voix and Chamber Singers, Walla...
March 3, 2014

Filed under A&E Blogs, Tuggboat Art Life
Hey. I came across this gem about a year ago during the summer. The song is called "Atmadja Duma Strachilu", sung by a women's choir called Le Mystère des voix Bulgares, or, The Mystery of the Bulgarian Voices. This choir has apparently won a Grammy and been nominated for another. According to my...
Loading ...
SPORTS SCORES
Saturday, October 6

Volleyball

Whitman College 1 - Linfield 3

Saturday, October 6

Mens Soccer

Whitman College 2 - 1

Sunday, April 16

Men's tennis

Whitman College 8 - Pacific University 1

Saturday, April 15

Men's tennis

Whitman College 9 - George Fox University 0

Saturday, April 15

Baseball

Whitman College 1 - Linfield 4

Saturday, April 15

Baseball

Whitman College 2 - Linfield 7

Saturday, April 15

Women's lacrosse

Whitman College 15 - Linfield 5

Friday, April 14

Baseball

Whitman College 3 - Linfield 12

Friday, April 14

Women's lacrosse

Whitman College 16 - University of Puget Sound 5

Sunday, April 9

Women's tennis

Whitman College 8 - Pacific Lutheran University 1