Spikeball becomes a social haven for Walla Walla students
As the weather gets warmer, students flee to Ankeny with a net, some plastic rods and a small yellow ball. Spikeball has taken Whitties by storm and now, more than ever, it has proven to be the perfect socially-distanced outdoor game.
The rules of Spikeball are simple. The unique combination between hacky-sack and volleyball adds the perfect amount of challenge to make the game fun. Players gather around the net in a circle, divided equally by teams. Each team has three touches before they have to hit the ball back into the net. If a team messes up and fails to hit the ball into the net, then the opposing team gains a point. Spikeball ends when one team earns 21 points, winning by at least 2 points.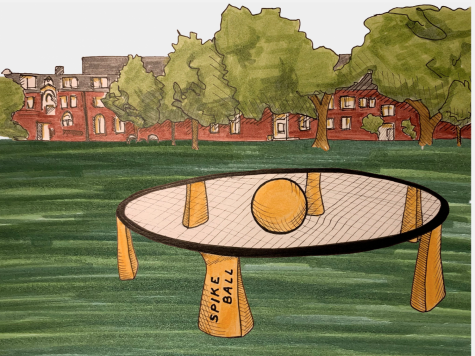 Spikeball originated about 30 years ago, but it has become especially popular at Whitman over the past year. First year Chaney Heinbaugh is one of the many students who has participated in and come to love spikeball.
"I knew about spikeball before coming to Whitman, but I honestly didn't get the hype until I came here," Heinbaugh said. "It takes a minute to pick up and develop a rhythm for it, but then it's a lot of fun!"
Similar to Heinbaugh, sophomore Ben Daume is not surprised that spikeball has been so successful at Whitman.
"Spikeball's appeal to me is that it is an activity that gets a group of people outside and moving, and it can be played in any weather scenario," Daume said.
Because of COVID-19 regulations and precautions, being outdoors is one of the best options for Whitties who are pining for social interactions this semester. Spikeball is perfect for these students, and has proven itself as a worthy sport for anytime of the year.
"Even in this semester we've played a tournament in two feet of snow and also on 70 degree [Fahrenheit] sunny days," Daume added.
While the sport may seem intimidating, Daume and Heinbaugh both noted that it fosters an easy-going community.
"Whether you consider yourself a spikeball pro or a beginner, everyone seems to have a good time," Heinbaugh said.
Whitman students can't seem to get enough of spikeball, and they aren't the only college students enjoying the game. Senior Fred Goodman from Walla Walla University was also enthusiastic when talking about spikeball.
"The spikeball culture at Walla Walla University is growing pretty rapidly. Friday to Sunday in just about any open green space you can find people playing, and at one point last school year we even had spikeball intramurals," Goodman said.
Goodman added, "Spikeball definitely takes more skill and practice than I anticipated, but once I got the hang of it, it became a regular weekend activity for me."
"I actually got introduced to spikeball while hanging out with some Whitman students," Goodman said.
Regardless if you're a Whittie or a WWU Wolf, spikeball never fails to bring out enthusiasm and positive energy. Athlete or not, anyone can play.
"It really never fails to deliver a great time, and lots of grass stains of course," Heinbaugh said.