SASA holds luminous Diwali celebration
Zac Bentz, Campus Life Editor
November 11, 2021
Thanks to the efforts of Whitman's newly revitalized South Asian Student Association, the Reid Ballroom was transformed into a sparkling celebration of South Asian culture on Saturday in observance of Diwali, the annual festival of lights.
Diwali is traditionally observed by those who observe Hinduism, Sikhism, Jain Dharma and some forms of Buddhism, and lasts for five days during the Hindu month of Kartika. According to Britannica, "the name is derived from the Sanskrit term 'dipavali,' meaning 'row of lights.' The festival generally symbolizes the victory of light over darkness."
Sophomore Tejashree Jadhav, co-president of the SASA alongside sophomore Nishtha Rajbhandari, described the process of putting on the event as relatively stressful, but was ultimately more than pleased with the way the club's hard work came together. Jadhav, Rajbhandari and sophomore Pavita Sidhu had come together with the intention of resurrecting the SASA from its two-year dormancy a mere two weeks before Diwali. As a result, planning for the celebration, finding funding for the club and recruiting members to fill important leadership positions all had to happen simultaneously.
"A lot of us miss home a lot during that week, because it's probably the biggest festival we celebrate, and it is such a cultural thing, because no matter if you're Hindu, Muslim, any religion, you do celebrate it if you're in India," Jadhav said.
The event included a myriad of activities, including a spice contest, a chai corner and a Bollywood dance performance that culminated in everyone joining the dancers in the middle of the ballroom to joyfully let loose.
"When you talk about celebration in our culture, dance is the first thing that comes to mind…we were thinking the celebration is not complete without dance," said junior Kainat Ansari, one of the performers in the dance piece. "Initially we were thinking we could just have a small party, but then it was, like, no, I think people should know how we celebrate!"
The event was also catered by Bon Appétit staff, who prepared tikka paneer, chicken biryani, gulab jamun and a number of other traditional South Asian dishes. Ansari praised Bon Appétit for their willingness to take on the challenge and for working closely with the club to ensure their culinary vision came to fruition.
According to Jadhav and Ansari, after the rousing success of the Diwali celebration, the SASA is eager to plan more events in the coming months—especially now that the club has been officially established.
"I think we can go ahead and have chai sessions at the GAC, we're definitely thinking of having a Holi celebration next semester, which should be really big again. And other Pakistani, Bangladeshi, and Nepali festivals, since South Asia is not just about India, but a lot of other countries," Jadhav said.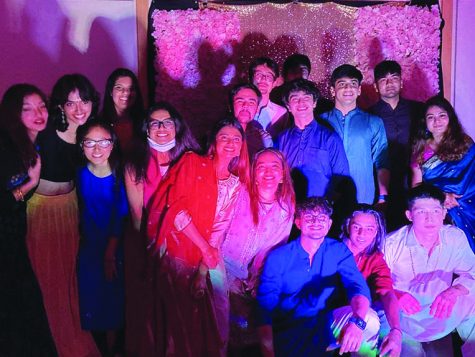 Going forward, Jadhav would like to see Whitman continue to offer the same support to other student initiatives that they offered to the SASA, and for the college to do their best to make sure students feel empowered to share their cultural traditions, which can be difficult to pull off on a large scale without support. For Nidji Jaltare, who graduated in spring 2021, this year was the first time she was able to celebrate Diwali since 2016. While she was not here to attend SASA's celebration, she did manage to dress up, eat some Indian food and play board games with her cousin. 
"I think this is the first class at Whitman with so many South Asians, and it warms my heart!" Jaltare said. "For me, Diwali is about brightness, prosperity and love for family. I was homesick throughout this past week, and I'm so grateful that my family sent me Faraal, which is just an assortment of Indian snacks usually eaten during Diwali! I miss the lights and the smell of incense. I miss the lanterns and I miss the shopping that goes into it before Diwali starts."
In addition to Jadhav, Rajbhandari and Sidhu's hard work, the Diwali celebration was able to come to life so quickly as a result of eager cooperation from WEB, the Intercultural Center, Juli Dunn, Adam Kirtley and the Bon Appétit staff.
"I'm really grateful that we were supported in our efforts…and I would really want to see more events where we celebrate what international students bring to this campus," Jadhav said.
Overall, given the high turnout and overwhelmingly positive community feedback, Saturday's Diwali celebration made for a successful kickoff to the new iteration of the SASA.
"I would say that this is the highlight of my semester, because this is, like, the closest it gets to home, honestly," Jadhav said. "Because not a lot of these things are celebrated at Whitman, not a lot of things happen where I feel like I have a space to celebrate my culture and what I bring to this campus. But during that event, I felt like I had this whole Reid Ballroom space."