Love after graduation
As graduation approaches and seniors are forced to consider the trajectories of their immediate future, some will inevitably be tasked with figuring out how to maintain their relationships.
Seniors Olivia Bell and David Sandoval have been dating for two and a half years. Their relationship began over the summer of 2020. They messaged one another as the pandemic unraveled, which eventually led to Bell visiting Sandoval.
"And the rest is history," Bell chirped with glee.
They had been longtime friends prior to dating, which Bell says helped them smoothly transition into a more serious relationship. She gives Sandoval credit for making the first move: after months of COVID-texting, he convinced her to drive up to Walla Walla.
"I was still living at [Sigma Chi], and then she decided to come visit," Sandoval explained. "I was there when she got out of her car, and then we played beer pong in the basement. We lost, which was fine, and then the dudes left."
Bell picked up the story from there. After being offered to go upstairs for "alone time," she admitted to feeling giddy.
"Before he could finish his sentence, I was like — 'Yes!'" Bell said. "So, we go up to his room, and he was trying to show me music. Then I stopped him to give him the kiss upon his lips."
After hanging out together for a few days, Bell returned home but grew dissatisfied living with her parents. To this, Sandoval floated an idea,"Why don't you just get a job in Walla Walla and move back?"
"I was like, 'That's a fantastic idea!'" Bell recalled.
They took a year off from school together, opting instead to work in Walla Walla. Bell reflected that the two of them felt like a working couple, and others seemed to agree.
"Everyone thought we had dropped out of school, and we were like, 'We're just taking a long break!'" Bell said.
Fast-forward two and a half years, and now Bell is graduating with a history degree in May, while Sandoval is graduating next year. Bell plans to teach in Spain for a year through the NALCAP program. Sandoval plans to visit Bell in Spain with his family. 
When asked if they've made future plans, Bell answered cautiously: "We've just floated ideas to each other."
Hearing this, Sandoval laughed.
"Olivia's always like, 'when we get married, can we have blah blah blah,'" he said.
Bell clarified that they do have a timeline for when they want to get married, envisioning themselves to be somewhere in their late twenties. Sandoval added that for now, they are not in a hurry, but are instead taking the time to figure themselves out.
"I grew up Mormon, so it is unprecedented for a long-term relationship where you're not already married," Bell said. "My whole Mormon side of the family married after six months of knowing their partner, so they're always like, 'When are you going to get married to David?' I'm always like, 'Not yet!'"
(Interestingly, a 2013 analysis by Facebook Data Science found that while 28 percent of married college-graduates attended the same college, that percentage seemed higher amongst colleges with a religious affiliation. For example: Brigham Young University clocked in at around 60% percent. Too bad we're no longer Whitman Seminary.)
The current focus for both Bell and Sandoval seems to be their careers. Bell stated that the goal is financial stability.
"I've been thinking about going back to school after undergrad, maybe going for a doctorate," she said. "I've also been floating ideas of going back for an MFA [and] maybe going into publishing. There's just too many options … I really have to think about it. [That] is the good thing about this Spain program because it gives me some time before I have to make the next big decision."
Sandoval still has a year of college, but once graduating, he hopes to make use of his film and media studies degree.
"It'll be cool to do something with film, but I'm also not putting myself in one path," he explained. "I'm just kind of figuring it out."
As for their relationship, they didn't appear too worried about going long-distance.
"Whenever we're apart, it can be hard because we just miss each other so much," Bell said. "But we FaceTime all the time."
Sandoval added that he believes they are both great at communicating.
They both expressed excitement about spending the upcoming summer together. As a final thought, Sandoval offered, "I want the record to show that I think Olivia's pretty damn cool."
Bell laughed, as she did at most of Sandoval's answers.
"And likewise to David," she replied.
***
Senior Lucy Davis is excited to graduate but also finds it bittersweet. She considers Whitman a home that has provided her the means to figure herself out. Growing up with strict parents and a controlling ex-partner, she found college to be a breath of fresh air, with the freedom to live on her own schedule.
After graduating, Davis will move to Seattle and live with her boyfriend.
"We just officialized an apartment, so we've got a place," she shared.
Her immediate goal is to apply to veterinary school, which she'll work on over the summer, as application deadlines are in September. 
Davis' boyfriend is a year older and graduated from Whitman a year ago. He has been working in Portland as a financial analyst but plans to relocate for a new position in Seattle. 
The couple started dating when Davis was a junior and her boyfriend was a senior. This meant that they had spent a year together on campus, and the past year long-distance. When asked about differences between in-person and long-distance dating, Davis emphasized the concerted effort it takes to share quality time. When they were both on campus, it was easy to create time to stop by and hang out, to watch a TV show or even if busy during the day, to spend the night.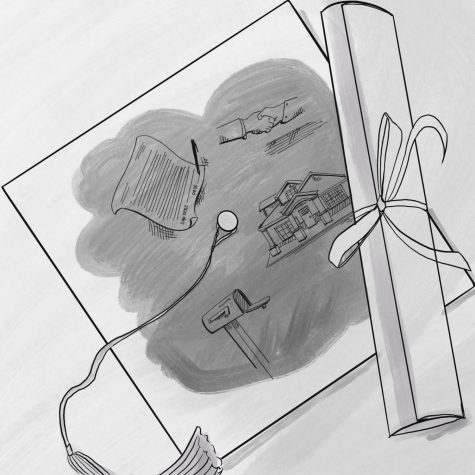 "With long-distance, I can't see him," Davis said. "I have to do everything over the phone, but it's hard to have phone calls when you're so busy and your schedules don't align. He's working 9 a.m. to 5 or 6 p.m., and I'm at the library all night. So, we usually only call once a week, which sucks."
While they're both very busy, Davis describes them as both goal-oriented, which helps them understand each other. Understanding each other's goals is crucial, Davis says.
"We don't get into fights about how much we care about each other," she explained. "Or we don't have to question that."
Davis compared the dynamics of long-distance dating to having a really old friend: even if you seldom meet or call them, when you do catch up, it's like no time has passed.
"With my boyfriend, when he's working really hard and he can't call me during the week, it's not heartbreaking because I know he's trying to put himself in a good position so that he can actually be there for me more," Davis said.
A self-proclaimed planner, Davis has mapped out the next several years of her future. Her twenties will be dedicated to her veterinary career, as she cannot imagine herself doing anything else. The same goes for her boyfriend.
"I can't really picture a future without him by my side," she said. "Of course, you never know what's going to happen. But the plan is to have him by my side when I get those [DVM] letters."
As for whether returning to an in-person relationship will feel new or familiar, Davis assumes that it will feel completely new.
"We've never lived together," she said. "My space is his space; his space is my space. There's no more separation, and it is intimidating. But it's also exciting because I've never completely meshed my life with a person, and the thought of that sounds really nice."
As Davis prepares to move beyond Whitman, she has found a lot to say goodbye to.
"I'm saying goodbye to a life that I've grown comfortable with," she said. "I'm saying goodbye to a lot of friends that I love. I'm saying goodbye to a lot of great opportunities to learn new things and participate in clubs. I'm saying goodbye to a home that I've had for four years. But, the home that's waiting for me is really exciting; it's one step closer to my goals, and I don't have to do long-distance anymore. It's bittersweet."