Culinary connections: the love our meals give us
The first time I remember missing India was when I was licking brownie batter off of a wooden spoon in my apartment in Los Angeles. I was four when I left India, but I still remember my grandmother would use a silicone spoon to make brownies. There was something about the silicone flavor I missed. Maybe it was how it complemented the density of the flour in the batter, or maybe it was the fact that my mom only had two wooden spoons, which inevitably had the faint smell of dahl cooked into it. Maybe it was because I missed my grandmother: the way she made the brownies and the utensils she used in the kitchen where her magic happened. 
Food shapes some of our earliest memories, along with our relationships with people and places. The food we ate, the food we hated and now love and the food we choose to make all serve as markers of growth, love and experience. 
"I feel like when I think of food, I think of being with family," junior Gabe Wasserman said, recalling the sweetness of coming together for Jewish holidays. He describes the tasteless, flavorless nature of traditional matzah and other foods he ate during Passover when Jewish law forbids leavened bread.
Food is also a big source of comfort for Wasserman. I asked him to close his eyes and imagine the food he needed, made by someone he loved, after coming home from a long and difficult day.
"I love eggplant parmesan, so that is definitely just delicious food," Wasserman said. "But also … it's very comforting because my grandma is very comforting, and it just would be a wholesome moment that would make me feel better."
Wasserman's love for food quickly bloomed into a love of cooking, something that he's enjoyed since childhood. Cooking is a big part of his family: his mother even makes little cookbooks of her own to distribute to her loved ones. Wasserman uses her recipes often, but her cooking intuition sometimes poses challenges.
"[A recipe] will just be like, 'Add some garlic,' and then I'll have to call her to be like, 'Mom, what is 'some garlic'?'" Wasserman said.
Food has also been a source of reflection for Wasserman.
"I've gotten increasingly competitive with running; viewing food as a very intentional fuel source has transformed my relationship with food … which has had its challenges," Wasserman said.
Additionally he reckons with the unique position he's in when it comes to food and family.
"Not everyone can have the food opportunities that I have had where I know that I'm going to have that next meal when I want," Wasserman said. "I just have an understanding that [having a positive relationship with food] comes with a lot of privilege, so I'm very thankful for that."
Not everyone has the relationship with their family, food or even themselves to have such experiences and form these connections. Though, everyone needs it to stay alive and together. 
My upbringing was entirely shaped by food. Our apartment in Los Angeles was filled with sounds of tadka sizzling, my sneezing when we forgot to open the windows, spices taking up our air supply and my father calling me to the table so that we could savor a family meal. This tradition of a family meal was one his father embedded into our family values, but it was difficult to uphold when we grew older and work pulled my parents away.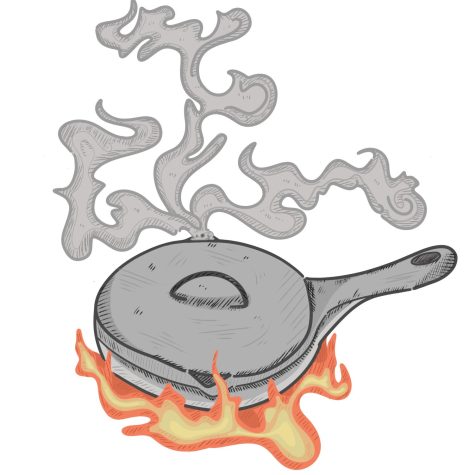 My aunt would send us her cooking recipes she built through her relationship with my grandmother, and even my grandmother would send my family her homemade atta ladoo. Even when separated across the world, my family found a way to share their love through food.
Senior Marc Anthony Hidalgo's relationship with food is similarly tied to their family and their home in Houston, Texas.
"Growing up, my grandmother swore it was her duty to make sure people were always fed," Hidalgo said. "Food is essential, food is sacred [and] food is home. Food reminds me of home [in] Houston, Texas. It is where my family is, it is where I grew up and food helps to remind of those wonderful memories." 
Hidalgo's childhood was shaped by the food their grandmother made and the stories that came with it.
"My family are foodies," Hidalgo said. "I think this has more to do with how my family grew up poor, and how food was something that was scarce. My grandmother tells me how back in Mexico, where she is from, they would have to break a loaf of bread amongst her siblings for dinner and that [was] it."
Food holds special significance in Hidalgo's heart, but its sacred halo led to complications of its own.
"To my family, eating little is a sign of sickness or illness," Hidalgo said. "Not eating meat is a sign of insanity. Choosing to try a different dietary system is to say that the food from home is not good. It has caused … internal battles of my own with food and how I choose to consume it." 
Apart from the role food plays in connecting Hidalgo to their family and location, providing for themselves has also made them more conscious of how food shapes a relationship with themselves.
"Whenever I feel like I want to be closer to my family, I try to cook something my mother or grandmother would cook," Hidalgo said. "But food has also made me more conscious of how I want to live my life. Certain foods I cook require time and a lot of energy to make. It makes me think of how I want to spend my time, money and energy. It has definitely made me cognizant of my food consumption."
Food is healing for Hidalgo: it allows them to feel grounded and close to others, and it's a resource for homesickness.  
Growing up in Los Angeles — a city with a 49 percent Latinx population —as an Indian migrant living in Koreatown and going to school in Chinatown, I had a world of cuisines at my fingertips.
Coming to Walla Walla, my biggest source of homesickness was the lack of opportunities to connect with different communities through the love and expertise poured into their authentic food. In response, I began to take risks in the food I was making for myself and sought to share it with others. Cooking for and with people has become an essential part of how I take care of myself and share the stories of my upbringing as it's shaped by food. 
Bon Appetit chef Jon Sodini used to be a picky eater, recalling that he found issues with what he was served despite curiosity about food. It was gnocchi with white truffle that ultimately changed this for him.
"It blew my mind," Sodini said. "As a kid raised eating really, really dry pork chops and just really lumpy and bland mashed potatoes, this little potato pillow of heaven put a spark in my heart — in my mind. Ever since then, my curiosity about food just went haywire."
Sodini's earliest memory with food is eating cookie dough and experiencing the complexity that salted butter brought to this uncooked, dense bit of heaven. As a chef, much of his interest in food comes from the science of how different flavors compliment each other. 
While his mom was not his favorite cook, Sodini still had people in his life that taught him about his relationship with food, such as a close family friend and neighbor Bonnie. Her cooking was not just a site for learning for Sodini — it was also a site for connection. 
"She was an excellent cook. Whenever they invited me to go over to have dinner with them, I always just jumped at the opportunity," Sodini said. "She would use salt, and she would make everything with love."
There are so many different stories and perspectives to share about food. The stories shared here have been about connection, family, location, growth and access. These stories also shed light on the privilege that comes with the ability to explore where others might not be able to.
Coming to college and gaining more financial independence and freedom, I found cooking to be not just a form of expression. Like my family, I found cooking to be a way to show my love to the people around me. The way our relationships with food have changed along with our relationships with ourselves, the people around us and our location reflects how food moves the world.