Hard at work: uncovering on-campus jobs
Whitman students fill a multitude of jobs, from the banal to the extraordinary, on campus every day. From serving food with Bon Appetit to feeding mice to snakes, from leading tours to maintaining campus grounds, Whitman students play a surprisingly important role in keeping the school running.
The science building:  a circle of life
Entering the science building can feel like arriving in a mini museum of extraordinary creatures: from the other-worldly and adorable axolotl to the large boa coiled in its tank, this place can feel worlds apart from the rest of campus.
Senior Eva Geisse plays an essential role in maintaining this mini museum. She is the caretaker of the science building's terrariums, whose inhabitants include two poison dart frogs, two crested geckos, two day geckos, one corn snake and one red tail boa. Geisse is responsible for feeding, watering and doing whatever it takes to keep the animals healthy.
For Geisse, who did not grow up with a lot of pets, the best part of the job is spending time with the animals.
"Just being able to be around [the animals] all the time, that's what I love…it's really fulfilling to take care of living things," she said.
Through her time spent with them, Geisse has begun discovering each of the animal's personalities.
"The little poison dart frogs, they get so animated and jump up and down when I feed them fruit flies. The crested geckos are kind of moody…I see them as moody teenagers," Geisse said. "It's just an ongoing slew of highlights just getting to know these animals."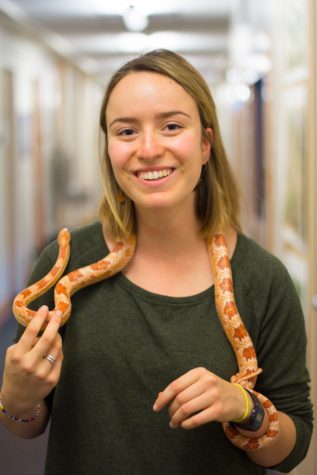 In particular, Geisse enjoys handling Cookie, the red tail boa, and Candy, a smaller, reddish-pink corn snake. Both snakes are used for outreach to local elementary schools, so spending time with them gets them used to human contact.
"It's not part of the job to handle Candy and Cookie…but they want to be handled, you want to socialize them [and] they're used for outreach," Geisse said.
While she acknowledges the job includes some unsavory tasks, like picking up snake poop, Geisse does not think there is really a downside to the job.
She emphasized, however, that because the job deals with living creatures, things can go wrong.
"One of our leopard frogs just died, through no fault of anyone," Geisse said. "It just happens. It's the circle of life."
Geisse finds her job most fulfilling by putting in some time to learn about the animals.
"You could do this job by putting in the minimum effort and…these animals would live, but if you really want to get everything you can out of this job…you want to put in the extra effort," Geisse said.
Although junior Max Sheffield does not formally care for the snakes, he has grown quite close to them through years working in the science building. In fact, for the duration of our chat, the five foot long boa called Cookie remained draped around Sheffield's neck and shoulders, panning his head back and forth to take in his new vantage point.
As part of Max's unofficial capacities, he brings Cookie and Candy to local elementary schools for the science department's outreach program.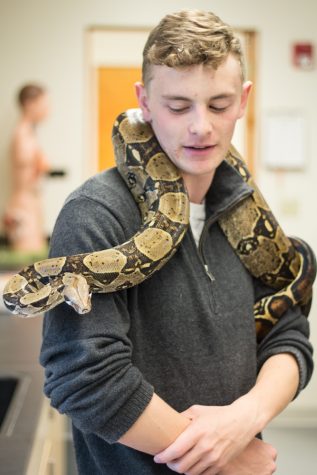 "Some kids that have held snakes before or held Cookie before, they know him and they're really calm with him…and some people are very scared," Sheffield said. "The funniest thing is seeing a parent that's scared of it, and then seeing a little girl just run up to the snake and be like 'I want to hold him!'"
Sheffield spent the past summer working as a lab aide to Emily Hamada, the Biology Lab Coordinator. His job included some tedious tasks, but getting to spend time with the snakes made it worth it.
"I got to hang out…and listen to my own music and hang out with the snake, and that's always a blast," Sheffield said.
Cookie, looped around Max's limbs and flicking his tongue out to smell the air, seemed to agree.
Bon Appetit: have your meal and eat it, too
Working for Whitman's food service provider, Bon Appetit, isn't typically thought of as the most exciting or glamorous job on campus.
Junior Miya Frank, who has worked for Bon App since her first year at Whitman, agreed.
"It's pretty tedious," Frank said. "It's not the most rewarding job; it's definitely a job you do for the end of money, not necessarily for the job."
However, Frank appreciates that Bon App's late shifts give her flexibility to work around classes and her other on-campus jobs, both of which occur between eight a.m. and five p.m.
"It's nice because I can go after class and work at night at the dining hall," Frank said.
Junior Noah Schlenk, on the other hand, considers the free meal that workers are allotted the biggest perk of working for Bon App.
Schlenk explained that as a sophomore on the meal plan, he didn't really appreciate the free food all that much.
"But living off campus this year, getting that free meal, that's a couple dollars right there that you can save and then you can take home the leftovers…and that's another three or four meals right there," Schlenk said. "So it's a huge time saver."
Schlenk, who also works as a lifeguard and athletic trainer, noted that his job with Bon App is more intense than his other jobs. Salad bars, dessert trays and hot food are constantly replenished, and at the end of the shift, all the dishes have to be washed and everything put away before workers can leave.
"There's just a lot more moving around, and it's for the whole time," Schlenk said.
Despite the tedium and intensity, Frank and Schlenk seem to appreciate some aspects of the work.
"Sometimes I think it would be good for everyone to work the job just so they understand that it sucks…I think people might be a little more respectful," Frank said.
Schlenk recalled being pleasantly surprised at the kindness of his non-student coworkers and the relationships he formed with student and non-student workers.
"Everybody who works there is really nice to you and that kind of surprised me a little. I didn't think you would have enough time to interact [with coworkers] but you actually interact more than you think, so definitely the personal relations of the job were completely unexpected for me," Schlenk said.
Guiding prospies toWhitman
For senior Nathan Gruenberg, the decision to become a campus tour guide started with his first time attending college tours as a prospective student.
"[It looked] like a fun way to connect with people," Gruenberg said.
Since January of his first year at Whitman, Gruenberg has led parents and students around campus and sought to positively influence their time at Whitman.
"The best part of the job is being able to interact with the prospective students and parents, and being responsible for shaping their experience here," Gruenberg said.
Because college tours have a set route and manual they must adhere to, tours can be somewhat formulaic. To avoid this, Gruenberg seeks to bring in personal experience as much as possible. His anecdotes stem from his genuine appreciation for Whitman.
"Obviously there are flaws at every place but [Whitman] has been fantastic for me personally, and so it's really easy for me to speak positively about it," Gruenberg said. "I don't even have to think about it because I can just say things that I really…have done in real life or things that my friends have done that I think are very positive and would be appealing for other people."
When difficult questions crop up, Gruenberg does his best to answer them.
"There are some hard questions that I think are really valid to ask, like diversity at Whitman and what they mean by diversity," Gruenberg said. "It's necessary to have a conversation."
Gruenberg's job as a tour guide has heightened his desire to make visiting and prospective students feel welcome on campus.
"I'm really interested in making people feel comfortable and like they're wanted in the space, and I think that just being a tour guide and an advocate for the school kind of furthers my desire to do that," Gruenberg said.
The shrubs and the trees: keeping campus beautiful
Sophomore Zaynab Brown worked for the Grounds Crew both semesters of her first year at Whitman. She remembers admiring Whitman's landscape during orientation week in her first week at the college.
"There's a lot of really mature trees that are taken care of really well, and there's a lack of flat fields with the exception of Ankeny," Brown said. "There's a lot of contouring, and there's a lot of thoughtful landscaping."
When she saw on a student digest email that the grounds crew was hiring, she jumped at the opportunity. It seemed like a perfect fit.
"I really enjoy gardening, I really appreciate the landscape on campus, and it's a good reason to get outside," Brown said.
Brown worked under landscape specialist Steve Thompson to maintain the landscape near Prentiss, Douglas, Reid and Anderson. Her work included raking, hula-hoeing (used for weeding) and trimming shrubs. One of her proudest accomplishments was trimming the rose bushes in front of Prentiss.
"I felt pretty proud walking past there like, 'I did this,'" Brown said.
Although Brown appreciated the independence she was afforded when working, there was something she regrets not being able to do.
"One thing I was a little disappointed in was that they didn't let me use any power tools," Brown said. "It was kind of frustrating because I wanted that experience for a resume."
Brown formed close ties with the staff and still greets and hugs them when she sees them around campus. While it is easy for most Whitman students to take the campus's landscaping for granted, Brown has first hand experience with the work that goes into maintaining it.
"There is a large crew of people who work 40 hours a week maintaining it, and I think people take that for granted," Brown said.
"Don't complain about the sprinklers, they try their best," she said. "Just be grateful. And smile at them, and thank them. Because that would make them very happy."