"The Invisible Vegan" explores the relationship between BIPOC communities and veganism
To complement Bon Appetit's five-day "Plant-Forward" challenge, Campus Sustainability Coordinator Elissa Brown encourages the Whitman community to watch Jasmine Leyva's 2019 film "The Invisible Vegan." 
The film, according to its synopsis, "centers Black voices and reveals how interconnected the history of slavery, 20th century socio-economic inequalities and the rise of 'Big Food' is, with unhealthy dietary patterns in the African-American community, foregrounding health and wellness enabled by plant-based vegan diets and lifestyle choices."
The "Plant-Forward" challenge, held between April 19 and 23, served as an opportunity for the Whitman community to sample various forms of plant-based gastronomy and challenge themselves to try a vegetarian or vegan diet.
"We were looking for a film related to plant-based food that we could easily invite members of our community to watch remotely," Brown said. "'The Invisible Vegan' stood out because it centers Black voices, and it's particularly relevant within the context of Whitman's 'Race, Violence and Health' academic theme."
Brown's hope is that the film not only inspires reflection on the ways that food intersects with race, but also sparks an interest to fundamentally reshape our food systems in a way that perpetuates justice, access and wellness rather than causes disproportionate harm to Black, Indigenous and people of color (BIPOC).
"Plant-based eating can be delicious, nutritionally adequate, grounding and empowering. Stepping outside of our comfort zone, especially with something as personal as food, can feel like a challenge, but there are so many resources available to learn from. Those of us who are privileged to be able to make choices about our food have a chance to give it a try each time we eat and work toward a world where every person can choose to do the same."
First year Jessica Hernandez was in charge of facilitating the discussion session that took place on Monday, April 26. She found the film to be invaluable not only as a historical resource but also as an encouragement to those who might not normally seek out plant-based options for their day-to-day lives.
"I definitely think that for whoever watches it the biggest takeaway would be that a plant-based diet is not necessarily difficult, but it can also be something that is rooted in history, too," Hernandez said. "Like, your body was kind of meant to do it from the start."
For Hernandez, the film also shed light on some of the ways the contemporary education system perpetuates the omission of vital elements of Black history, especially in the realm of food. For example, no high school teacher or college professor had ever made clear that enslaved Black people had been forced to eat table scraps.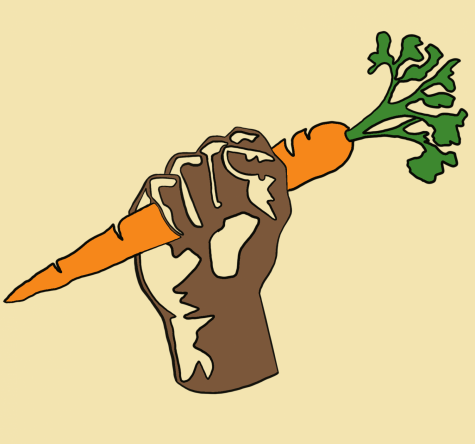 "My biggest takeaway probably had to be the history that went behind Black people and plant-based eating… that's not something I learned in any of my classes," Hernandez said.
Junior Gavin Victor has been a vegan since he arrived at Whitman, and for him the film also opened conversations about plant-based diets he had never thought about.
"I have come at veganism mostly from the perspectives of personal health, animal rights and sustainability, and this movie basically approached veganism from those perspectives, sort of, but also from a massively important cultural lens. I happen to be a white person that's vegan, and the director of the film is pointing out exactly that. Vegans tend to be white people, and it's associated with whiteness," Victor said.
Victor praised the film's exploration of how diet has played a key role in various forms of systemic oppression against BIPOC.
"If you want to be a good vegan activist, then you have to grapple with the connotation it has and understand how to change the movement in order for it to be better adapted by everyone."
As for the "Plant-Forward" challenge, Brown hopes that the conversations started during its five-day run are continued.
Brown said, "We are fortunate to have Executive Chef Jon Sondini and General Manager Shannon Null leading Bon Appétit at Whitman, because they are incredibly supportive of feedback and positive change. Please let them know how you feel about expanded plant forward options. I also welcome further discussion with any member of the Whitman community and hope to build on this event with more opportunities to come together around plant-based food in the future."