Mapping the history of the Walla Walla Blue Mountain Railroad
Clark Colahan, a retired Spanish Language and Literature Professor at Whitman College, likes to describe his story about stumbling across the forgotten map of the Blue Mountain Railroad and the adventures that followed as would a treasure hunt or a children's story — one akin to Robert Louis Stevenson's "Treasure Island." 
On Sept. 24, he retold this story at the online event Detecting a Ghost: 1879 Blue Mountain Railroad, a webinar hosted by Fort Walla Walla Museum.
"This [event was] really a retelling of, or telling the story of my discovery that there was this railroad that's almost forgotten, and how I tried in various ways to learn more about it," Colahan said. "[I] got lucky, stumbling on the original map of where it was going to be made… then I read up a lot on why did this railroad get built and who were the… most important people in making that happen."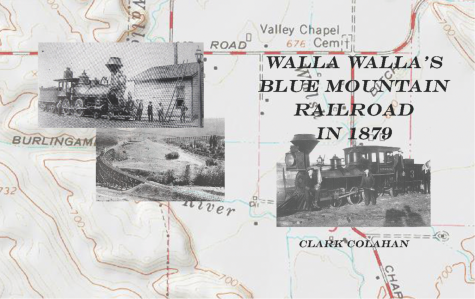 Colahan discovered the map within the Penrose Archives. Ben Murphy, the Archivist and Head of Digital Services in the Whitman College and Northwest Archives, explained the role that archive staff plays in discoveries like Colahan's.
"I do want to emphasize that this sort of discovery — like most discoveries in archives — are made possible by the staff who process, preserve and make available archival records and special collections," Murphy said. "This labor is often invisible, but is crucial for this kind of local history research."
In this case Murphy said that it was his colleague Dana Bronson who helped Colahan identify the map, found within the Baker Family Collection.
"Of course, Professor Colahan and the people he worked with had the knowledge and expertise to interpret and understand the significance of the map, but Dana worked to make sure they could access it… Since she came to Whitman in 2017, she has worked to process a huge amount of archival material that was previously undiscoverable for researchers," Murphy said.
After Colahan found the map and did more research, he brought it to his friend and neighbor Randy Reese, who took the map and went out to see what he could find.
"It was interesting to me, what Clark had going," Reese said. "He showed me the map, and I thought that maybe I could use my metal detector to find remnants of the rail."
Reese went on to explain that the previous history of the rail had placed it farther to the east, but he suspected that that wasn't quite right. He picked a place out in an alfalfa patch that looked like it might have been a good place for a train to run through, and went to that spot.
"He got out with his metal detector," Colahan said, "he got out there with that map and he guessed maybe where there could still be narrow gauge railroad spikes, where nothing much had changed, and bingo! First time he went out he found the narrow gauge railroad spike right where the map said it was going to be. So that was, as you can imagine, a pretty exciting kind of treasure hunt."
Colahan and Reese were both very excited about this find, and Reese went on to find several other artifacts, although he added that he was not done looking. He still goes out to look when he gets the chance.
"The hunt is still ongoing for me — I'd still like to know where the log dump was [and] where the train track lay going further south on the line," Reese said.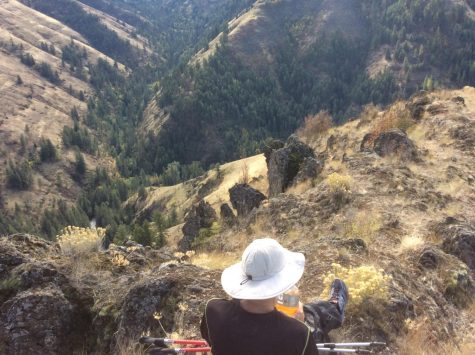 After these exciting discoveries, Colahan ended up writing a series of articles for the Walla Walla Union Bulletin, and eventually a book titled "Walla Walla's Blue Mountain Railroad in 1879." This book is available for sale at the Fort Walla Walla Museum.
Groover Snell, the Executive Assistant at the Fort Walla Walla Museum, explained that the webinar they hosted is part of the Museum After Hours series, which was forced to move online back in March. According to Snell, he and his colleague Jennifer Pecora, the museum's Communications Manager, have been working on this monthly series for years, and this event had a particularly high number of attendees.
"I've been getting a lot of emails afterward — people asking for the recording and saying they liked the talk," Snell said. "The railroad topic seems to be super popular and people seemed to like Clark's presentation of it a lot."
Part of this may be that these events are now virtual and thus more accessible. According to Snell, the event had people watching from all over.
"We are reaching some new people… I know somebody was watching from California… and afterwards another person said he was watching from Rhode Island and liked the talk," Snell said. "So, we are getting a wider range of people this way."
The Fort Walla Walla Museum has more Museum After Hours events planned for the coming months, including an event in October about the cemetery in Weston and an event in November that will focus on the Women's Airforce Service Pilot program during WWII. Attendance to these events is free to the public, and you can register for them here. If you are interested in learning more about the Blue Mountain Railroad and Colahan's findings, his book "Walla Walla's Blue Mountain Railroad in 1879″ is still available for purchase at the museum.