Fort Walla Walla Museum explores the history of Parisian fashion in Théâtre de la Mode lecture
 Twenty miniature mannequins stand, posed on the stage, wearing the latest Parisian fashions from the mid-1940s, with colorful dresses down just past the knee and tiny hats at a slight angle. The picture is of a historic Théâtre de la Mode display, and on Thursday, April 29, it was a part of a presentation by the Fort Walla Walla Museum After Hours Program, which is a free series where the museum invites speakers from the community, universities, nonprofits and cultural institutions to speak on various topics.
Steven Grafe, the Curator of Art at the Maryhill Museum of Art in Goldendale, Washington, presented this particular event. In 2019, Grafe gave an After Hours presentation in person on Indigenous beadwork from the Columbia River Plateau, and when the museum was scheduling its 2021 After Hours speakers, Grafe was asked to present on the Théâtre de la Mode.
Jennifer Pecora, the Communications Manager for the Fort Walla Walla Museum and the museum host for the event, explained that it was challenging to find speakers for After Hours events in 2021, because they need to be comfortable presenting on Zoom.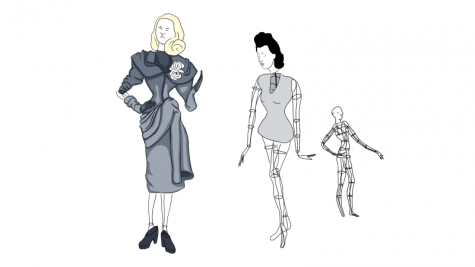 "We were very fortunate that Steven Grafe from Maryhill Museum of Art was willing to share background information and context about these objects they have on exhibit. We try to support other institutions, giving them the space to tell Walla Walla residents about their projects and research, especially after being closed for much of 2020," Pecora said.
In his presentation, Grafe explained what exactly the Théâtre de la Mode is: a touring exhibit from the 1940s of tiny mannequins, each dressed in miniature creations created by Paris' top designers. Although these dolls were crafted more than seven decades ago, they continue to inspire people today.
"The Théâtre de la Mode was conceived of and created in 1944-1945 as a way to raise funds for those in post-war France who were in need of relief. It was an ingenious response to a challenging situation, and when the COVID pandemic kept Paris fashion houses from hosting runway shows last year, a couple of them drew inspiration from fashion history and the [Théâtre de la Mode], with interesting results," Grafe wrote in an email to The Wire.
Grafe explained that the recent shows have generated new interest in the Maryhill collection, and he pointed to the 2020-21 displays from Dior and Moschino as examples of designers who took inspiration from the Théâtre de la Mode.
The Théâtre de la Mode has been at Maryhill Museum of Art since 1952, as one of its major collections. Grafe explained that the museum has nine stage sets that recreate the 1945 versions, with three sets always on display at a time, containing about 50 to 60 mannequins. These displays are rotated every two years.
"As Curator of Art at Maryhill (since 2009), I must maintain a fair amount of knowledge about all of our collecting areas. So, learning about [the Théâtre de la Mode] was inevitable. When the pandemic started, I began creating online exhibitions for the museum. We didn't have any in-person visitors for about six months, and online exhibitions were a way to keep people engaged and learning," Grafe wrote. 
The online exhibition overviews the history of the Théâtre de la Mode and includes pictures of the mannequins. Even though the museum is now open at limited capacity with reserved tickets, the online exhibition is still available to access.
Meanwhile, the Fort Walla Walla Museum is moving on to future events, planning one for each month. Groover Snell, the Operations Manager for the museum, explained that although the shift to Zoom may have been challenging, the museum is reaching a larger audience than ever.
"People from around the country and even around the world… are watching [the events] now because they're on Zoom, because they're on YouTube," Snell explained, adding that they've even had viewers as far away as Germany. 
The After Hours presentations are also available to watch on the museum's YouTube channel, as well as through their website. The past recordings, as well as upcoming events, are free to view and are open to anyone. As the school year turns to summer, these virtual talks, as well as other virtual exhibits, are the perfect way to keep exploring new topics and learning new subjects.
Current Fort Walla Walla Museum events can be found online at https://www.fwwm.org/virtual-events, and the Maryhill Museum of Art can be found online at https://www.maryhillmuseum.org/.