One Act Play Festival Addresses Contemporary Issues
Thursday, Feb. 15 marked the first evening of Whitman's annual One Act Play Festival performances. Thirty years after its inception, the festival continues to be an opportunity for student performers, designers and directors to bring three, student-written plays to the stage. This year, the three plays were "Spoon," written by sophomore Rose Heising Lindstrom, "More is More," written by senior Jordan Miller and "Hand of a Star," written by junior Dani Schlenker.
The evening kicked off with "Spoon," that was directed by junior Donovan Olsen. Olsen described the premise of the play.
"'Spoon' is about how a slightly dysfunctional family tries to comfort their recent college graduate, Peter, after he's rejected for a job as an astronaut due to being a chain smoker," Olsen said. "While his mother, Judith, tries to calm him down, his sister Leann suggests they burn his NASA tattoo off with a hot spoon, which ends up being the climax of the play."
Unfortunately, Olsen suffered a concussion the first day of dress rehearsal. This did not stop the success of the performances, though, that emerged as humorous and witty.
"The best moment of directing 'Spoon' was the first performance I saw, which was actually the final Sunday matinee show," Olsen said. "It was amazing to come back to the show after missing a week and see how well the actors and stage manager had maintained the piece we'd created together. That was also my first time watching the show with other people, so getting to see audience reactions was gratifying and encouraging. When I saw the cast after the show, I said, 'You made people laugh! We did what we set out to do!'"
As another student director, sophomore Kate Swisher had the joy of adapting "More is More" from script to stage performance.
"It doesn't really have a clear plot," Swisher said. "[Jordan Miller] described it more as a stream of consciousness when he was writing it. It explores themes of body image and inequality about how people who are bigger are targeted and made to feel bad. So my take on it was very creative and imaginative."
While Swisher's fellow directors were given clear stage directions to go along with the dialogue, she was not. She often had to adapt a line to her own stylistic choices.
"At first I was very nervous about it," Swisher said. "My style of directing in the past has been more realistic then abstract than this. It was a super abstract script and I was super nervous. I called him and I had all these questions. He was like, 'you need to figure it out, it's in your hands; do what you want with that line or that character.' It was a lot of pressure."
While "More is More" was a particularly abstract play, it offered a strong discourse on weight and what it is to be "more than normal" or even "normal." Despite the seemingly playful nature of its setting, this was a piece that resonates in a country that has, and will continue to contend with issues of body image.
In contrast, the script of "Hand of a Star" was well-detailed and allowed director senior Kristina Roy to focus more on casting and trying to communicate with the writer, Schlenker, who is currently studying abroad. While this may have hampered the necessary conversations to bring "Hand of a Star" to the stage, the Orwellian future offers a topical critique.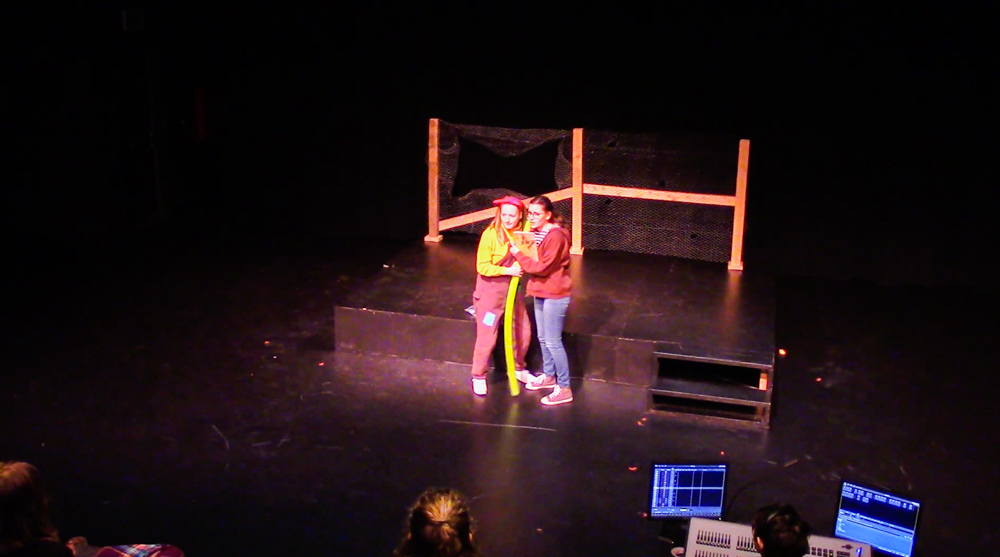 "It's about two young women who are trying to find their important place in the world," Roy said. "They find that they care too much about everything that happens around them and they encounter some characters who want them to stop caring about everything so much."
She went on to praise the writing of Schlenker, as well as the efforts of her cast and crew.
"It's a really great script; I had a fair vision of the characters from the script," Roy said. "I think it really all came together once we had it cast."
"Hand of a Star," with its dark neo-English future, medicine men selling apathy, brainwashed soldiers, fourth wall-breaking dialogue and two women craving adventure, was a passionate appeal to the politics and nature of the real world.
Overall, the One Act Play Festival offers a space where students can experiment with their own ideas and bring them to life on the stage. The three plays that filled out the 2018 festival showed a want to engage with contemporary issues, and while each was unique in its artistic vision and its writing, they came together as a cohesive discourse.