Whitman Hosts Film Festival Branch
Over four-day break, many students who stay on campus notice the unsettling absence of those who are traveling. On Oct. 10, however, an especially eerie ambiance emanated from Olin Hall, where a crowd of horror, science fiction, and fantasy movie-lovers gathered for the Tri-Cities International Film Festival.
This year, the festival extended its reach from within the Tri-Cities (Pasco, Richland, and Kennewick) to open a fourth location on Whitman's campus.
The event, which was sponsored by the Whitman College Film Department, ran in the Olin Auditorium from 2:00 p.m. to 10:00 p.m. Viewers were welcome to come and go throughout the eight-hour festival.
The Tri-Cities International Film Festival (TRIFI) runs independent and student-made films and is the first film festival Whitman has ever hosted outside of screenings of work created in Intro and Advanced Filmmaking.
The Whitman branch of the festival was entirely orchestrated by senior Film and Media Studies majors Noelle Butler, Meg Logue, John Lee, Emma Casley and Nate Fleming.
John Lee reached out to his classmates for help organizing.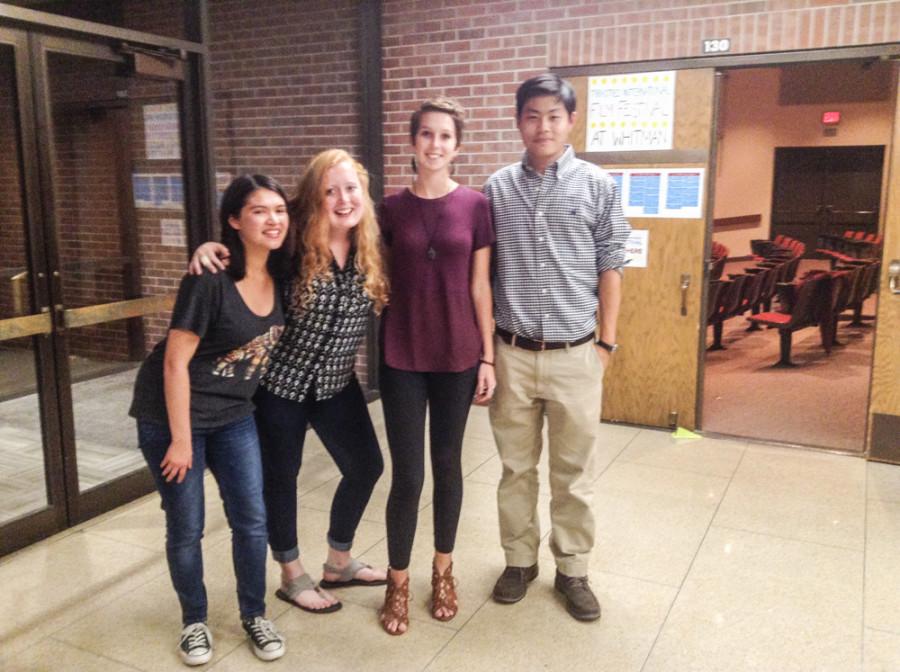 "When [Lee] told me about the possibility of hosting a film festival at Whitman I was immediately all in," said Logue. "We have a strong department here at Whitman, but we are fairly isolated from the rest of the filmmaking world, so I didn't want to turn down an opportunity to bring independent films from all over the world onto our campus."
Lee worked on an independent film with the Director of the festival Nat Saenz last spring. The pair decided to try to host an extension of the festival in Walla Walla.
"It really just came down to wanting to bring in new films for students and the greater Whitman and Walla Walla Community to watch," said Lee.
The team has been collaborating on the project since mid-summer. Coordinating with Saenz, the five students organized everything from advertisement to tech to carting a popcorn machine across campus.
Thirty-five films from around the world were shown in all, ranging from three or four minute shorts to an hour and a half-long documentary about the impact of Blues Music in America.
The festival was broken into four categories: Documentary Features, Community Shorts, Science Fiction and Fantasy (SF&F) Shorts and Horror Shorts. Each category was a two-hour block.
The Community Films block took place from 4:00 p.m. to 6:00 p.m. and featured films submitted by Whitman students, one by a Walla Walla Community member and one from a Walla Walla Community College student. The Community short films were nearly equal parts narrative and documentary.
Meg Logue's submission is a film that she made during her study abroad program in Prague.
"[The community shorts] will feature a wide range of genres and experience levels, which I am really excited about," said Logue before the event.
Several of the Whitman films were made in filmmaking classes. There were even Q&A sessions with some of the filmmakers after the screenings.
The community films cover such topics as documenting the squirrels of Whitman in 'Squirrels Will Be Squirrels,' an RV adventure in 'Mobile Stripper,' and what happens after the apocalypse in 'Chips.'
Noelle Butler helped plan the community and student block of films.
"I feel like there is so much amazing, quality filmmaking going on in the world, so it is a really special and unique experience to be able to see some of it that you may have never been able to see otherwise," said Butler. "I love that film can connect people, and bring us all together to enjoy something that can ultimately teach us about the world and our fellow humans."
The annual TRIFI Festival has screened over 750 short and feature indie films since the festival's inception in 2008.
"This is the first time we have done this collaboration to put on this particular film festival here, but I hope someone decides to continue the tradition after we graduate," said Butler.