OP spring break day trips prove to be helpful resource for Whitties
On Wednesday, April 7, Whitman students celebrated their spring break day by riding bikes through the wheat fields and participating in a range of activities organized by the Outdoor Program (OP).
Senior Adam Rooney is a trip leader for the OP who enjoys planning trips for students and creating spaces in which to meet new people. This semester he led a meditation walk in the snow to the aviary in Pioneer Park, a meditative bike ride and he will lead a trip focused on painting and art.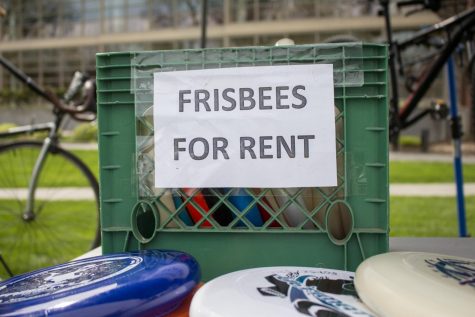 "These trips can be a good way to learn new outdoor skills and are a great way to meet people," Rooney said.
As a trip leader, Rooney enjoys seeing leaders and participants getting to know each other and sharing an exciting or enjoyable experience. He also recommends overnight trips in the future because he believes they have similar benefits as do other trips but to a greater extent.
First year Sam Allen is still discovering Walla Walla, and the trip organized by the OP for spring break was a perfect opportunity for him to explore. Allen describes this trip was wonderful because he was able to enjoy it without any pressure.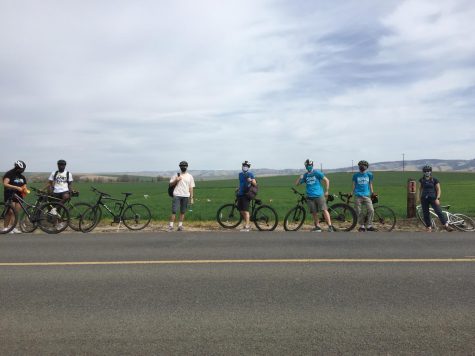 "We rode to the south end of Walla Walla, through some fields and vineyards where we could even see the base of the [Blue Mountains]. The impressive winery houses added extra beauty as we rode past them," Allen said.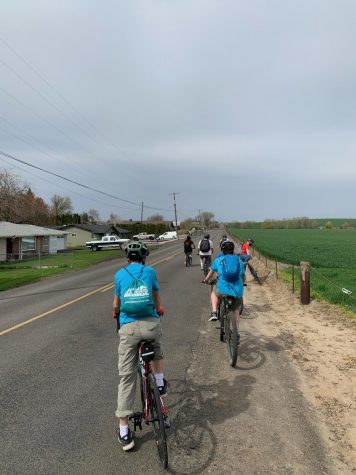 Allen also had the opportunity to get to know other participants and leaders. Considering the unique circumstances on campus this semester due to COVID-19, Allen was uncertain about what to do during spring break days. This is part of the reason why he was so ecstatic about the trip.
Another participant in the Bike the Wheat Fields OP trip was first year Odin McDermott. McDermott has always enjoyed biking and wanted to go somewhere in Walla Walla that he hasn't been to yet. The spring break trip was a perfect opportunity for him to see more of Walla Walla.
"My favorite part of the trip was going through Mill Creek Road. It was so beautiful and calming to bike on," McDermott said.
McDermott rode for 11 miles with his group and describes the trip as fun and enjoyable as well as good exercise. As a new student at Whitman, McDermott got to meet new people and have a great time without worrying about academic assignments, and he recommends that students take full advantage of these spring break trips.
This semester spring breaks look different than usual, and many students are uncertain about what to do with a one-day break in the middle of the week. The trips organized by the OP are proving to have positive impacts on students, especially first year students who are getting to know and explore Walla Walla.
Going on a bike ride through the wheat fields on spring break was relaxing and fun for first year Jacqueline Luna. Luna saw it as a wonderful opportunity to get out of the town for a while, and she believes that this trip helped her clear her mind of academic stress.
"I felt like I was flying as I rode down the hill, and all I could think about was that moment," Luna said.
The OP put a lot of effort into organizing these trips, so that the students were fully equipped for them. The spring break trip participants seemed to use this opportunity to meet new people and explore the beautiful wheat fields of Walla Walla.
"The ride was long and beautiful, and worth it. I intend to participate in more spring break activities in the future and encourage others to do the same," Luna said.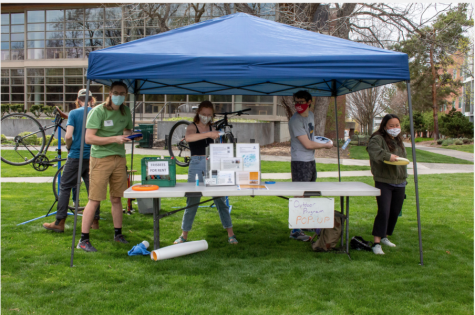 Luna, as well as the other participants, encourage more students to participate in trips organized by the OP because it provides an opportunity to expand your social circle and enjoy beautiful areas in Walla Walla. During a time with restrictions on meeting new people, these trips have proven to positively impact students by enabling them to meet more people and relieve them from academic stress.