Whitman athletics teams spread the importance of voting
With the presidential election right around the corner, Whitman College's athletes have been encouraging their teams to register and vote.
Recently, the women's soccer and lacrosse teams publicly posted on their social media accounts that their teams are fully registered for the next presidential election on Tuesday, Nov. 3.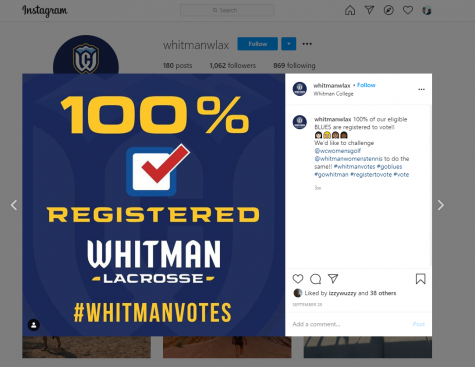 Senior Sage Ali, along with the rest of her lacrosse team, have discussed and educated each other on the importance of voting.
According to Ali, "We have a lot of open conversation around the importance of voting, especially for our generation … We try to ask and answer any questions our teammates may have in regard to voting."
Sophomore and fellow lacrosse teammate Amelia Leopold credits the team's determination and desire to get involved in voting as the reason they accomplished 100 percent registration in just a few days.
"Teammates encouraged each other by sending reminders out until we achieved 100 percent participation," Leopold said.
For the women's soccer team, registering was also a high priority. 
Senior Dani Espinoza credits her coach Michelle Voiland with driving the team's initiative to get everyone on the soccer team registered. 
Due to the evolution of politics within this country, Espinoza and her team decided to do what they could and took their voice to social media to encourage fans and the community to vote and participate in the country's future.
"It is super appropriate for our team to use our platform to talk about really important political and social justice issues," Espinoza said. "I think we've done a really good job of that in 2020."
Leopold and Ali shared similar sentiments as Espinoza. The athletes at Whitman have a strong connection to the Walla Walla community and agreed that their platforms as athletes could be used to encourage and educate others.
"Our platform as women's lacrosse at Whitman does not have the biggest platform alone," Ali said, "but all the sports teams at Whitman together have the opportunity to have a larger impact on other teams, groups or individuals in our community to encourage them to vote as well."
By having their team fully registered, they can show that Whitman athletes are invested in the political issues of the country as much as they are in their respective sports.
"The lacrosse team wanted to set a good example," Leopold said. "We believe 100 percent voting registration shows that we are an active part of 2020's motivated young electorate."