Climbing club: A history of champions
Over the last decade the strength of Whitman's climbing team has increased and they have reached new heights in competition. However, this has not altered their emphasis on having fun, building community and growing the sport in an inclusive way.
For Noah Lani Litwinsella, class of 2018, collegiate level climbing played an important role in his decision to attend Whitman. Climbing had always been a part of his life, even before he was competing in local and national competitions, and he wanted to pursue the sport further in college. However, it eventually became apparent to him that the structure of the team could improve and that he could play a role in its development.
"The team that I joined was very much a casual group. It was really focused on doing a little bit of training and just going to competitions for fun," Litwinsella said. "My sophomore year, when I became a captain, my two co-captains and I really did a lot to restructure the team to make it a lot more competitive while still trying to preserve the fun aspects that had been there before."
Their restructuring involved splitting the team into three separate training groups based on skill level and adding a variety of different training practices among other changes. These changes quickly began to show dividends, with the team placing second in the Northwest Collegiate Climbing Circuit (NC3) competition that year. Litwinsella attributed this immediate turnaround to three main factors: increased involvement in competition, a successful fundraising campaign and a women's program that quickly became a powerhouse.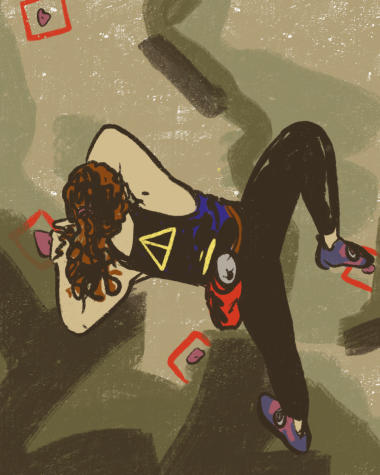 In 2018, the Whitman College Climbing Team won their first NC3 Championship.
"It was a really big deal for Whitman to win, because it had been a really short turnaround, from being a really low ranked team in NC3 to taking the championship," Litwinsella said. "I really wanted to get that NC3 Championship win. I think that it really cements Whitman as a school that is competitive in NC3. It shows that this model of training and teambuilding we implemented works."
Women on the team played a large role in the victory. According to Brooke Terkovich, class of 2018, and a co-captain of the team at the time, an emphasis on functional strength training and an abundance of strong role models helped push the women's program forward. Furthermore, she noted that the team played an important role in making the sport more inclusive on campus.
"Climbing, like a lot of sports, has been a male-dominated space for a while," Terkovich said. "[The] climbing team gave a space to women at Whitman who wanted to learn how to climb or who were already interested in climbing. Because we did have practices outside of regular gym hours, it limited that [male-dominated] culture and that environment."
Mackenzie Kuller, a senior and a current co-captain of the team, echoed this sentiment.
"For the team going forward, I really just hope they are able to continue the momentum they have. Obviously this year I'm hoping there will be competitions but I'm not so sure with COVID-19 restrictions," Kuller said. "For future years I hope that they're able to continue this really supportive environment where anyone's welcome to come and try this incredible sport and get super excited about it together."