Whitman varsity athletes discuss crucial lifestyle balance
Varsity athletes are often associated with their respective sport, but their peers often forget that they have a life outside of the athletic bubble.
Many athletes spend their free time on hobbies and other extracurricular activities just like every other student. This includes playing other sports, volunteering or even practicing a skill that's not usually associated with the athlete persona.
Kai Strawn, a junior on the varsity tennis team, takes the same focus and passion from tennis and translates them into playing and making guitars. Tennis has become a part of Strawn's identity; playing and making guitars balances it out.
"As cliché as it sounds, playing the guitar takes me away from the everyday and allows me to [be] in tune with myself, no pun intended," Strawn said. "The same goes for making guitars."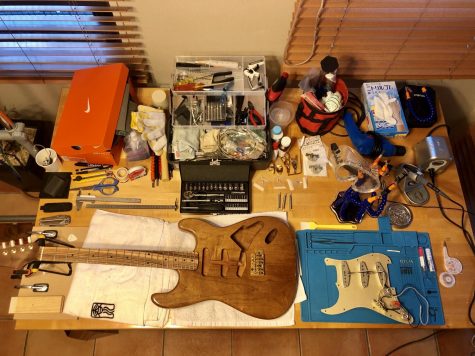 Strawn also offered some advice for fellow athletes spending all their time on their sport.
"I definitely recommend finding a hobby or activity that you can casually do for fun. Balancing studies and serious athletics can be tough without another medium to work your brain in different ways, as well as help it relax," Strawn said. "Whatever it may be, it's definitely important to get the creative side of your mind going."
That feeling of breaking away from the routine of athletics via extracurriculars resonates with many athletes within the department. It can often help them reconnect with the sport they love.
Andei Fukushige, a sophomore on the varsity tennis team, shares similar sentiments to Strawn and ensures that she dedicates time to a range of activities.
"I used to spend a lot of time on the tennis court, and at one point I felt forced to play and wasn't enjoying it anymore," Fukushige said.
Off of the tennis courts, Fukushige enjoys the outdoors, including activities such as hiking and swimming.
"I thought it would be best for me to also make time for the things I enjoy," Fukushige said. "Because I was able to take time off the tennis court and explore my interests, I learned how to love the sport again and got my motivation back.
Being an athlete requires a lot of dedication and commitment that can be very exhausting. Extracurricular activities are a great way for them to balance a life that focuses on athletics.
"I think my activities compliment my sports life because I am the type of person that gets stressed out when I'm in one place for too long," Fukushige said.
Sylvie Corwin, a junior on the cross country team, creates that balance by mixing her love of cross country with her love for drawing.
"I love cross country and running because you do get to be outside and enjoy what's around you, but you also move past it quickly," Corwin said. "Drawing slows me down and allows me to really observe and appreciate a place."