Blues cross country success continues in regionals, nationals
Hang on for a minute...we're trying to find some more stories you might like.
The women's cross country team had a strong showing in the Northwest Conference (NWC) Championship, placing first amongst some very talented conference competition. It is the first time they have accomplished the feat since 1999.
The Blues' efforts at the NWC Championship propelled them to Regionals in Claremont, California. The efforts of two runners in particular stood out during the Regionals race. Senior Whitney Rich won the race, placing first with a time of 21:12.00 in the 6k, cementing her status as the region's top runner. Senior Kristen Wanke finished twelfth in the race with a time of 22:58.10. Both Rich and Wanke's finishes earned them a spot at the national race in Louisville, Kentucky.
Head cross country coach Scott Shields emphasized just how difficult and special qualifying for nationals was.
"Kristen had to run the guttiest race of her life to qualify for Nationals and she showed how strong she was that day. And Whitney executed a perfect race from start to finish to be the Regional champion and the first one since 2003," Shields said.
In Louisville, Rich again had a strong showing, finishing fourth in the NCAA Division Three National Championship race — the best finish in the program's history. Rich said the key to her accomplishments come down to a classic method — hard work.
"My first place at Regionals and fourth at Nationals was achieved with a lot of hard work throughout the summer and season. I owe a lot of my success this season to my coaches and teammates. Our team atmosphere was very supportive and competitive. We set big goals that pushed us to do our best in every race," Rich said.
With the regional race taking place in Claremont, California, and the national race taking place in Louisville, Kentucky, the settings for the two races couldn't have been more distinct. However, Rich approached each race in a similar manner.
"My strategies for the two races were similar. I wanted to get out of the box fast in order to put myself in the front pack. At Regionals, there were two Pomona-Pitzer runners and I in that pack," Rich said. "At Nationals, I got into the front pack of about 15 women. Three runners took off before the first mile, they held their positions and finished as the top three. With about 600 meters to go, the pack that I was in started to string out and I was able to pass five women in the last 200 meters to finish fourth." 
Rich finished with a time of 21:23.60 in the 6k in Louisville with Wanke running a 23:14.10, finishing 156th in the National Championship. It was the first time the Blues had sent multiple runners to Nationals since 2009.
Speaking of Rich's and Wanke's success, Shields said that it was a record-breaking season for the Blues.
"They could not have done it without the support from their teammates," Shields said. "Whitney getting fourth overall at Nationals is unbelievably special and shows what an amazing athlete she is. With her incredible performance at Nationals plus the entire season of race victories, she is officially the best female distance NCAA runner we have had at Whitman."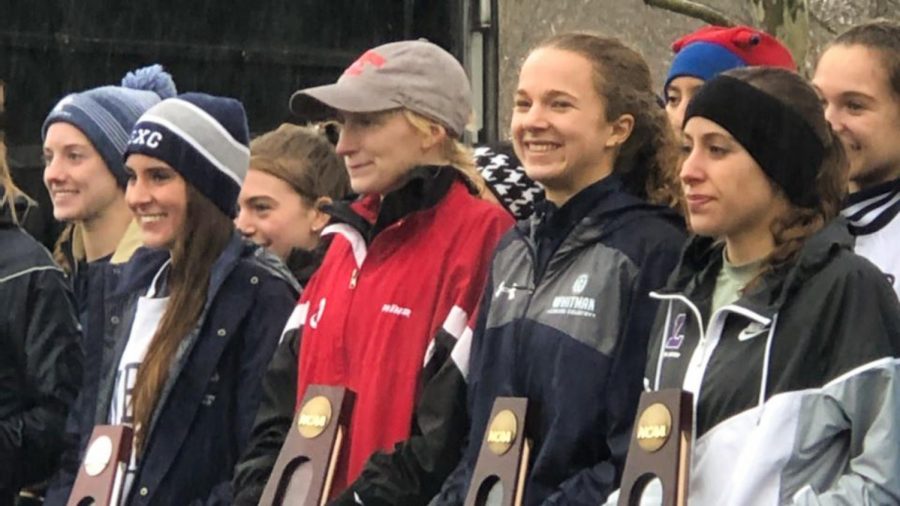 Typically, cross country may not draw as much attention compared to sports like basketball or soccer, but now with the extent of the team's success on the regional and national stage, the team has drawn some attention. Sophomore Jacob Nam says the cross country team's efforts in regionals and nationals has caught his attention.
"The team is now on my radar. It's not just Regionals — it's Nationals. You're competing against the whole country. It's such a big achievement," Nam said.
With the season coming to a close, the Blues cap off a record-setting year for their program. However, before the team can hang up their shoes for the year, they will be running one last event. On Thursday, Dec. 5, the team will be running their seventh annual Cancer Awareness 24-hour run around Ankeny field. The team will have someone constantly running around Ankeny field from noon Thursday to noon Friday. All proceeds received go to support the Mayo Clinic and the fight against all forms of cancer.