Blues' basketball teams come back ready for 2019-20 season
Last Tuesday, Oct. 15, marked the first day of practice for both the Blues basketball teams and the beginning of a season full of high hopes.
The women's team began with two consecutive 5:30 a.m. practices, though senior forward Lily Gustafson hasn't given too much thought to the bright and early start to their season.
"Over the course of the season, we are going to face adversity that is much more challenging than just waking up early. Had we made excuses for that, it becomes easy for us to fold when things get hard later on," Gustafson said. "Fighting through adversity takes practice."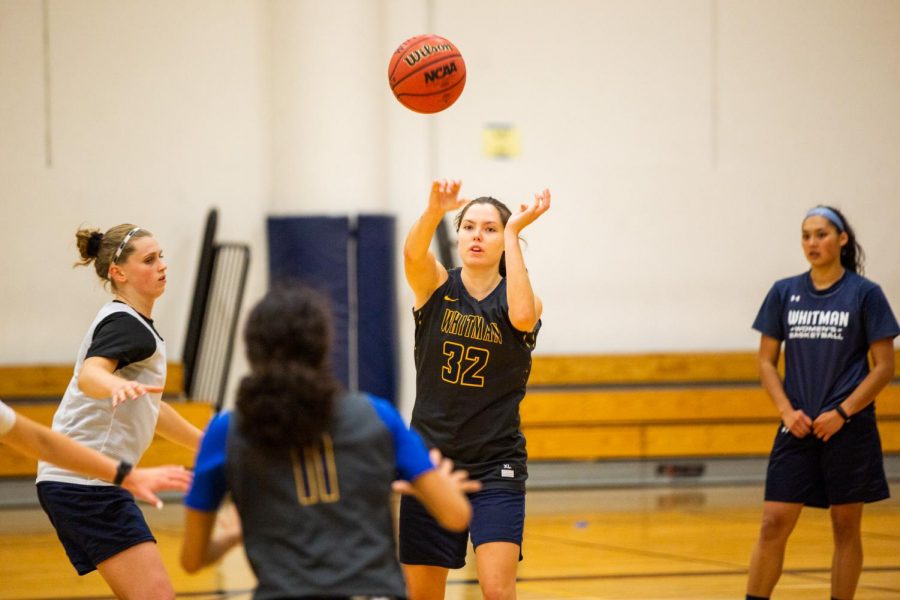 Gustafson expects things to get harder later on in the season when the Blues face George Fox University and the University of Puget Sound (UPS).
"George Fox and UPS are always big ones for us. Those two teams and us have been consistently been the best in the conference the past few years, so those games are always intense," Gustafson said. "Both teams generally know what is coming, so you have to run plays right and make secondary reads to score consistently."
Wins against George Fox and UPS will be important for the Blues to realize their goals, and the bar is set very high.
"We want to win a conference championship and make a deep run in the NCAA tournament," Gustafson said.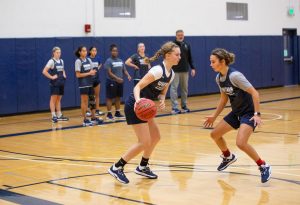 While there is no feeling quite like getting a win after a hard game or hoisting that trophy up at the end of the season, Gustafson just wants to ensure the Blues leave everything on the court.
"If at the end of the season I feel like we made the most of the talent we have, I'll be happy. I don't want to feel like there was more we could have done to become a great team," Gustafson said.
Assistant Women's Basketball Coach Kayla Engelhard knows the team has high expectations for the season. Engelhard stresses that the results of games are also going to come down to what the Blues can accomplish between games, during practices.
"A key component in meeting these expectations is the mindset we approach practice with each day. Maintaining competitive practices throughout the season will help prepare us for a tough preseason and Northwest Conference schedule," Engelhard said.
As to what the keys are for increasing the number in the 'W' column, Engelhard says it's some good old-fashioned defense.
"[The team needs to] extend pressure defensively. Depth at all positions in addition to a high level of fitness will be important in doing this effectively," Engelhard said.
Last season, the men's basketball team went 28-2, undefeated in the Northwest Conference (16-0), earning themselves a second overall national ranking. Team expectations were high for the NCAA tournament, but Whitman fell to Williams College in the third round, falling short of aspirations.
For senior guard Jaron Kirkley, last year is mostly a distant memory.
"[We] don't think about the results of last year at all. [The] only thing we think about from last year are the lessons we learned from last year's journey to have another amazing journey," Kirkley said.
Whether this year's journey takes the Blues to a national championship or somewhere far from it, that's not what is important for Kirkley. Instead, it's all about improving with his team, day in and day out.
"[Its about playing] the game we love and [enjoying] every second of the brotherhood we have on this team, while getting better one percent every day," Kirkley said.
The women's basketball team plays their first home game against Eastern Oregon University on Nov. 5 at 7 p.m. The men's team will play their first home game against the University of St. Thomas on Nov. 14 at 7 p.m.