Super Bowl LII at Whitman: Lifelong Eagle and Patriot Fans Reflect on the Super Bowl
The Super Bowl is a true American tradition. Every February, hundreds of millions of football fans gather around their televisions to watch the final game of the NFL season. This year was historic in more ways than one; the Philadelphia Eagles squeaked by with a 41-33 victory over the New England Patriots, the first Super Bowl title for the Eagles in team history. In addition, the Eagles pulled off the win with their backup quarterback, Nick Foles, who took over after the first string quarterback and MVP candidate Carson Wentz went out with an injury in December. Needless to say, the Eagles were underdogs who, with a little luck, were able to take their moment and run.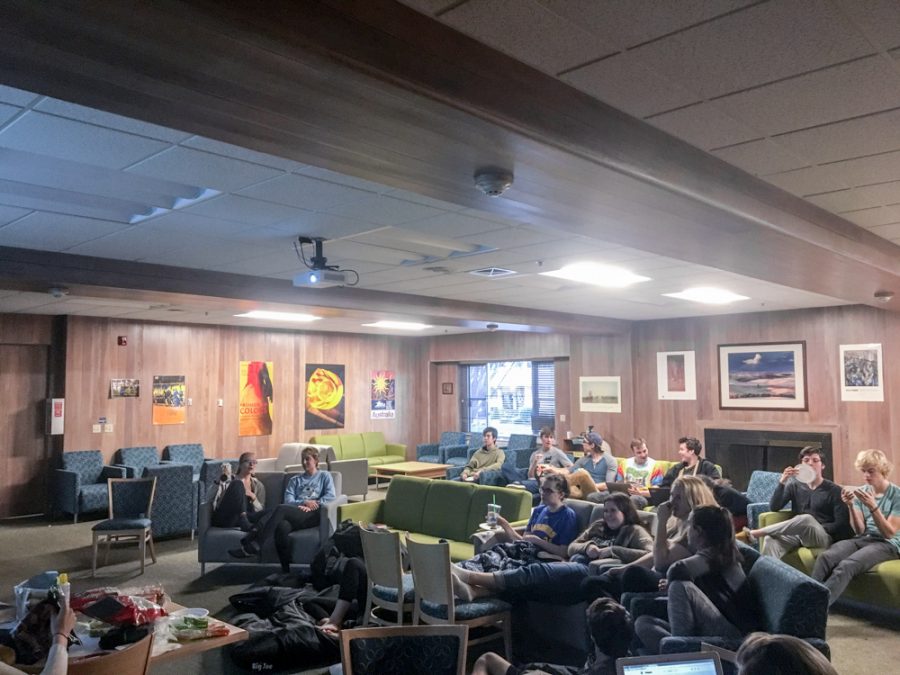 This week, I spoke to two students, Sherwin Amsbaugh and Alyssa Taylor, in addition to Professor of Sociology Keith Farrington about their experiences this year watching Super Bowl LII. Professor Farrington and Sherwin are both lifelong Patriots fans, with Alyssa being native to the Philly area and a fan of the winning Eagles. Sherwin recalls the moment he became a Patriots fan:
"I became a fan of the New England Patriots because when I was young my family was in Denver and took me to a Broncos-Patriots game. Before the game they took me to a jersey store and told me I could get any jersey in the whole store. For whatever reason I chose a Brady jersey, and the rest is history. I still have that Brady jersey hung up at home," Amsbaugh said.
Professor Farrington had a more personal connection to the Patriots, also recalling the not-so-glamorous streak the team has had until relatively recently: "I'm from Massachusetts … and as a kid enjoyed Boston sports in general, like the Red Sox and the Celtics and the Patriots. The Patriots had a really miserable history … they were not run effectively as a business; they had all kinds of crazy things happen to them. When it finally felt like they were going to reach legitimacy, they would lose a coach or there would be a big scandal. So, they never quite reached a level of legitimacy like other teams such as the Green Bay Packers and Miami Dolphins or the Pittsburgh Steelers. And so, the last 15 years or so have been remarkable. It makes everything else worth it," Farrington said.
When all three fans were asked what was their favorite part of watching the Super Bowl this year was, Alyssa was of course proud of the fact that her team had finally won a title: "The Eagles have only been in the Super Bowl one other time while I've been alive, I think around 2004 … [so my favorite part was that] my team won," she said.
Professor Farrington was optimistic and appreciated "the consistent excellence demonstrated by the coaching staff and the players. I mean they have been to seven Super Bowls in the last 10 to 12 years and every one has been a close game … Of course the Patriots have lost several of them (including this one) but they have lost to really good teams playing very well and the ones they have won, they have played very well against good teams," he said.
Finally, I asked the three what they thought about football's importance in American tradition. Professor Farrington recalled the time when it seemed there was a shift in popular sport culture:
"It's been interesting because as I said I have been around for a while and watching sports for a long time. Baseball was the national pastime when I was a kid. I remember kids taking off from high school to watch the World Series or sitting there with a little transistor radio to do so. But football has surpassed baseball in the public mind and it is fascinating to wonder why. I wonder if maybe somehow it fulfills a lot of the same urges and satisfactions that military activity used to; it's very strategic, it's a battle, it's physical and really very masculine… I'm not sure it's a good thing necessarily and I'm not sure it's going to sustain itself indefinitely in the future, but I think it's a huge part of culture," Farrington said.
Sherwin felt football "has provided so many role models and teaches people of all ages about hard work and overcoming adversity."
Alyssa, similarly felt football was important ultimately because "it can bring family and friends together, unite cities and it makes people feel connected to the place that they come from even when they're far away."
All in all, the future for American football seems bright as Eagles fans celebrate and others look forward to next February.