Whitman Alum, Walla Walla Resident Competes in Ironman World Championships
Mario Santos-Davidson, Sports Writer
October 29, 2017
Completing an Ironman Triathlon is considered one of the most difficult accomplishments in the world of sports. The 2.4 mile swim, 112 mile bike ride and 26.2 mile marathon run has a completion time limit of 17 hours, and the latest World Championship winning times for men and women were 8:01:40 and 8:50:47 respectively.
Marcella Rietz, a Walla Walla resident and Whitman College alum from the Class of 1995, has dreamed of competing in the World Championships her whole life.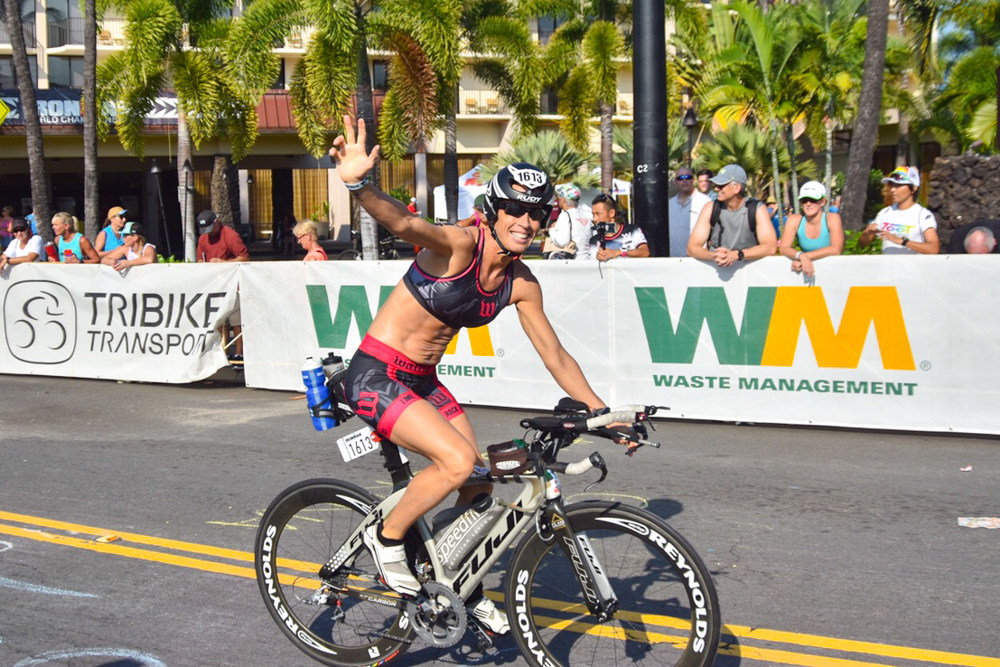 "Finishing an Ironman was a huge childhood dream; qualifying to race in Kona felt surreal. Yes, it has been a long time goal of mine. I have waited over 8 years to be able to say 'I am Kona bound'. I was beyond thrilled and humbled with the opportunity," Rietz said.
The World Championships, which take place annually in Kona, Hawaii, have a grueling qualification process for each division, as only the top athletes get to qualify and travel to Hawaii. Rietz raced in Whistler, Canada in July to clinch her spot in the World Championships. Competing in the female 40-44 division and needing to finish in the top 2 to qualify for Hawaii, Rietz finished the course in 11:14:44, over 20 minutes ahead of the runner-up.
She has been running and biking all around the Walla Walla Valley, often with her children, training for the chance to compete with the best in the world. She credits all this hard work—averaging about 18 hours a week of training—for her recent success.
"What happened at Whistler was born of hours, days upon weeks, upon months of consistency in training and hard, hard work. I didn't always meet the goal the first time around, but I always tried. 'NGU' was a common mantra, never give up," Rietz said.
Rietz's family—consisting of her husband Doug and her two kids Makena and Blaz—and even some friends were able to travel with her, all in celebration of her remarkable accomplishment and in support of the trials to come in Hawaii. Balancing family with all the time required to train is not easy, but Rietz has been able to do it, and she praises her husband in helping make this possible.
"Racing is my passion and I do it because I love it. But I love my family immensely, and my kids are my priority. Raising a family and being an Ironman in training are each considered a full-time position and require ample dedication," Rietz said. "I am thankful for the support my husband Doug gave me upon this journey of many years. He has been there since my first triathlon. He picked up the slack when I stumbled and dealt with my sometimes grumpy mood from the hours upon hours of training," she continued.
The race itself figured to be physically and mentally demanding, not only due to the competition, but also because of the harsh conditions in Hawaii.
"The elements in Kona are raw, relentless and will come for you mile after mile. The desert environment is one of the most inhospitable climates for racing," Rietz explained.
Rietz battled admirably through the tough conditions and her own health issues, and while not slightly disappointed in the result itself, she knows there are many positives to take from the whole experience.
"For me, it was so much more than a race. It was an opportunity to dig deep within myself and reflect on all the trials I've overcome to get to Kona and rejoice in the accomplishment," Rietz said.  
This positivity will serve Rietz well as she moves forward looking to qualify and compete in Kona in the future. She is an inspiration and a testament to the value of hard work and dedication in achieving your goals.