Cycling Hosts Omnium
Due to the school's recent mascot change, the Whitman Cycling team had the privilege of hosting the first annual Blues Omnium in Walla Walla last weekend. The omnium, meaning a multiple race cycling event, consisted of a long distance road race, team time trial and short course race. Large schools from the Northwest Collegiate Cycling Conference showed up, including the University of Washington and the University of Idaho.
Both the road race and time trial took place Saturday in the wheat fields north of Walla Walla starting on Lower Waitsburg Road. With five separate heats of riders, the distance of the road race ranged from a 30-mile race all the way up to a 75-mile race that was 5 laps of the course.
Senior captain Zander Guzy-Sprague competed in the 75-mile race, though exited the race after 60 miles.
"I felt strong so I took a big tactical gamble that didn't pay off.  On the first lap of five I attacked with one other rider right before a crosswind section. We worked together and managed to open up a gap of over a minute, but after over a lap off the front we were slowing down and the pack got organized to chase us down. At that point I had put a ton of energy into the failed move and didn't have enough strength to stay with the main group for much longer, and I pulled out of the race a lap later," Guzy-Sprauge said.
The Whitman men's team had a dominant win in the team time trial, finishing with a final time of 18:52.78, almost 40 seconds faster the second place Oregon State University.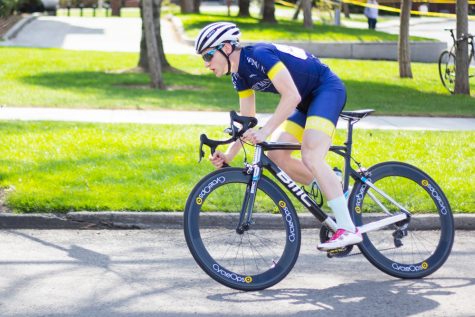 The short course race, referred to as a 'criterium,' took place Sunday morning right in the heart campus. With a short and flat course, more technical skill is required than the road race, and it usually features a series of all-out efforts. The 0.7 mile course looped past Reid Campus Center, down Boyer, across Mill Creek, and back up Alder. In past years the course had cut directly through the Anderson parking lot, but due to the new residence hall construction a new course had to be planned.
"Figuring out how to include Alder street in this year's criterium was certainly very challenging as it is such a busy road. However, working along with the city we developed a traffic plan and detour route that could accommodate the closure," Race Director and Whitman junior Lucas Napolitano said.
Criterium races are based on a 30-60 minute race duration rather than laps. As the race officials get a sense of how long each lap is taking, they start to count down the number of laps remaining.
"I absolutely adore our criterium and the fact that it runs right through the heart of campus. This was the first year we had the course cross Mill Creek twice, and I think we are the only team with bridges in our race," senior captain Fiona Bennitt said.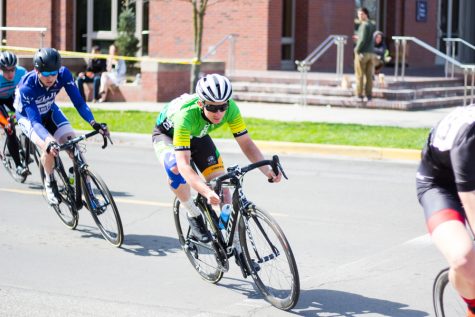 Notable criterium performances came from team newcomer and senior Collin Faunt, who finished ninth in the men's C heat, and sophomore Maddie Ortenblad, who finished fourth in the women's B heat.
Whitman Cycling is run entirely by students, meaning organizing the race took a significant amount of volunteer effort from the team. Some members woke up at 3:30a.m. to put up signs, close down roads and sweep gravel off of corners.
"I was proud to watch everyone step up and pitch in to make it happen. Several folks from other schools came up to me and said they had a great time, which is all that I can hope for," Bennitt said.
With team membership down not only across the conference, but nationally, the team is working hard to introduce new cyclists to the sport.
"New folks are trying out racing on the bikes we bought to loan annually, and we have several others who weren't able to race this year but are looking forward to the 2018 season… I am completely optimistic that the club will carry on because riding a bike is just so much fun," Bennitt said.
Next weekend the cyclists have the opportunity to compete at both a Washington State Road race and a criterium and team time trial at the University of Idaho. The team's top riders will begin to prepare for nationals, held April 27-30 in Colorado, in the coming weeks.