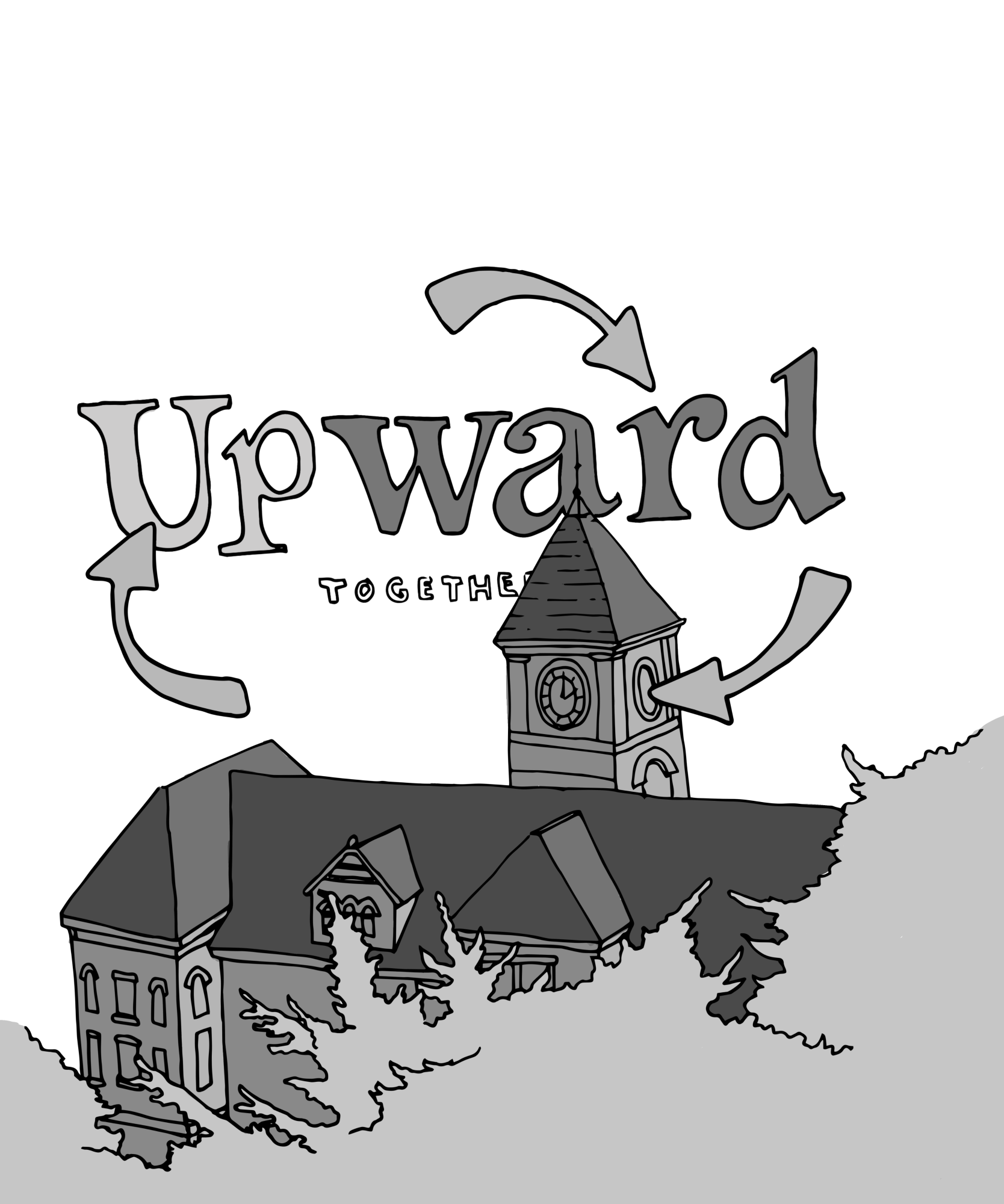 The Upward Together campaign is Whitman College's largest fundraiser ever, with a goal of $200 million. Whitman is looking to target six pillars with the new campaign: "Expand Access & Affordability," " Academic Excellence & Distinction," "Vibrant Campus Community," "Advancing Diversity Equity & Inclusion," "Strong Graduate Launches for All Students" and "The Whitman Fund." These pillars support Whitman's new junior/senior housing development, enhanced scholarship opportunities, a bolstered career center and revamped athletic facilities in addition to other important goals. 
Keen observers will notice that these campaign pillars overlap heavily with Whitman's strategic priorities, newly updated and approved by the Board of Trustees in June of 2023. In fact, four of the six campaign pillars are taken word for word from the new priorities. Two strategic priorities are missing from the campaign pillars, however. Unlike their fellow strategic priorities, "Connecting Whitman, Walla Walla and the World," and "Environmental Justice, Sustainability and Climate Action" are not standalone pillars of the Upward Together campaign. 
In what the college is calling the biggest philanthropic investment in our community ever, the absence of environmental justice and sustainability in the campaign messaging appears strange in a time where Whitman is putting renewed emphasis on its environmental efforts. A recently earned Silver rating from The Association for the Advancement of Sustainability in Higher Education, native plant restoration around Treaty Rock and a newly debuted educational program called EcoReps throughout residence halls demonstrate this emphasis. 
Just last week, Whitman began building a new Campus Sustainability Plan, an overdue update to its 2016 Climate Action Plan. The update includes a campus-wide facilities evaluation and decarbonization study, and will give the college an array of concrete investment opportunities to propel Whitman further along the path to a carbon-free campus. Wouldn't the college like to build up the financial resources at its disposal to invest in these forthcoming sustainability goals?
Steve Setchell, Vice President For Development and Alumni Relations and a leader of the Upward Together campaign, agrees. He points to Whitman's new "Sustainability" giving category under the Whitman Fund as an important avenue for campus sustainability projects to receive funding. 
"We have a designation area for sustainability within The Whitman Fund, which is a campaign priority, are exploring solar arrays for the junior-senior village and will be looking for other funding opportunities that arise from the new Campus Sustainability Plan," Setchell said. 
While Setchell notes that sustainability is included in the Upward Together campaign via the Whitman Fund, its exclusion as a main campaign pillar conveys a priority hierarchy among Whitman's six strategic priorities, with environmental justice at the bottom. 
Elio Van Gorden '23, a recent Whitman graduate and a member of the steering committee that was in charge of updating the strategic priorities, was a major advocate for the inclusion of the environmental justice priority. Van Gorden had restarted the Campus Climate Coalition (now named Climate Justice Coalition) after the club's hiatus during the COVID-19 pandemic, and saw the strategic planning process as a key arena to push for change on an institutional rather than individual level. 
"I was looking at the resources around me, the people around me, knowing we had big ideas and big ambitions … The critical thing to do is to say, 'what power do we have as an institution?' Instead of all these mini-campaigns that are just greenwashing, [adopting the Environmental Justice priority] is a true institutional move," Van Gorden said. 
While the environmental justice priority was eventually approved alongside the five other priorities by the trustees in June, it took lots of public pressure and advocacy from Van Gorden and other students, faculty and staff. Posters calling for a sustainability priority went up on bulletin boards across campus, people attended community feedback sessions and ASWC passed a resolution calling for the adoption of a climate action priority. All of these efforts were necessary to convince the steering committee, which was skeptical about adding a sixth priority specifically dedicated to environmental justice.
"There were five priorities, and now there are six. That was such a big deal, people were like, 'can we handle it?' and I was like, 'I think we can, you guys,'" Van Gorden said.
In the background of the strategic priority revision process, the private phase of the Upward Together campaign, what Setchell calls the "leadership" phase, was completing its fifth year, and the campaign pillars were already set in stone. According to comments made by Jeff Hamrick, Vice President of Finance and Administration, at a public sustainability forum on Oct. 24, the campaign pillars were approved 24 months prior to the strategic planning process. Adding a priority dedicated to environmental justice and sustainability was not an anticipated outcome by the institution. 
The difference in timeline between the strategic planning process and the Upward Together campaign launch process is the reason for sustainability's exclusion as a campaign pillar. Hamrick said at the Oct. 24 event that when the next campaign rolls around after the conclusion of Upward Together, sustainability would play a more significant role. 
Despite sustainability not being a central focus in current fundraising efforts, some sustainability groups on campus are searching for financial resources and looking to the Development office for more assistance. The Native Plant Restoration Coalition, a group of students interested in replacing English Ivy with ecologically and culturally significant plants on campus, worked with the Development Office and the Office of Sustainability to receive resources through the All-In for Whitman 2023 campaign, which happened Oct. 25 and 26. 
The All-In campaign is an annual two-day event where donors can select from a wide variety of different initiatives and groups across campus to directly support, such as scholarships, athletics, ASWC, the Outdoor Program, student media outlets and sustainability. This year, the sustainability category received $1,055, with the money being split between the Office of Sustainability and the Native Plant Coalition. 
Senior Sam Allen, the vice president of the coalition, was involved in setting up the funding opportunity for the club. He hopes with additional funding and support, the club can purchase its own tools, more plants and more materials like mulch to help support the plants after they are in the ground. 
"I'm really happy with some of the sustainability portion of the fund going towards our project. It's not a very expensive project to maintain the native plant site that we have going. I've been really happy with how [Sustainability Manager] Sarah Williams and Jeff Hamrick have been supportive of the project, and been willing to give us what we need to keep it going," Allen said.
Moving forward, Allen sees room for growth when it comes to financial support for sustainability initiatives on campus. He notes that other sections of the All-In campaign, including academics and athletics, received significantly larger support than sustainability. There was only one other project included under the sustainability section of the All-In campaign, the Office of Sustainability's new EcoReps program. 
"For All-In for Whitman, I was really disappointed. There was little mention of other sustainability projects happening on campus. There was no attempt to sell any other stories about sustainability improvement," Allen said.
These two campaigns showcase just a small portion of the sustainability initiatives on campus. Upward Together's seemingly narrow focus on new solar panels and All-In for Whitman's limited sustainability options for donating demonstrates a need to recognize and incorporate the smaller sustainability and environmental justice projects into the sustainability story Whitman will tell. 
In addition to Allen's club dedicated to native plant restoration and the programs managed by the Office of Sustainability, the Climate Justice Coalition is working on environmental justice initiatives across campus, staff in the Outdoor Program pushing for sustainable and equitable outdoor recreation, and Whitman's food provider, Bon Appétit, frequently collaborates with students and the community on projects dedicated to food sustainability and equity. 
This is the spirit of the "Environmental Justice, Sustainability and Climate Action" priority that Van Gorden and others fought so hard for Whitman to adopt. Expanding and strengthening existing collaboration among the Whitman community is something that both he and Allen emphasized when discussing their hopes for the future.
"What I'm looking to see is true institutional moves, shifts and investment, financially and culturally, into climate action and climate justice, in the region, not just on campus. I want to see true investment in that. Whitman is powerful, the students are exceptionally driven and passionate, and there's always room for collaboration," Van Gorden said. 
"One of the things that fundraisers can think about is whether or not they want to involve more students in the kinds of sustainable work that needs to happen on campus, making use of our labor and time," Allen said.
Integrating the "Environmental Justice, Sustainability and Climate Action" priority into the fabric of Whitman's daily institutional operations in the same way as the other priorities is still a work in progress. The powerful and uplifting stories that the Upward Together campaign can highlight about scholarships, academics and athletics also exist in climate action projects at Whitman. Holding people accountable to the institution's strategic priorities is a big part of how lofty ideals become a new standard across the community. After the community's push for Whitman to adopt Environmental Justice, Sustainability and Climate Action as a central priority of the college, many people are waiting for promises to become a reality.