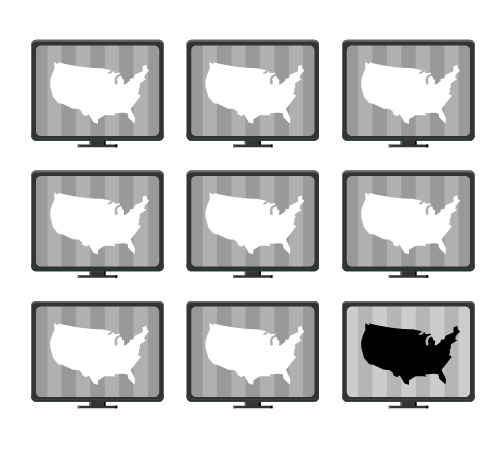 Illustration by Eddy Vazquez.
"OK, so I'm just your standard, regular old, incredibly handsome, unbelievably charismatic black dude."
From the get-go, ABC's new sitcom "Black-ish" pulls no punches about the racial identity of its protagonist: Andre Johnson is black and unapologetically proud of it. And yet, even though he is a successful advertising executive and family man, he is bombarded with reminders that race defines his life.
At work, he longs to break free from being pigeonholed for his knowledge about "black issues." At home, he worries that his children aren't conscious enough of their blackness, which will lead to the horrors of color-blindness and preppy white activities like field hockey.
As an upper-middle-class black man living in a white community, Andre engages in a perpetual high-wire balancing act between insisting on the importance of his blackness and being defined by it, between teaching his children to be appreciative of black culture and forcing them to conform to it.
Andre is a complex character, sympathetic and abrasive by turns. He is also an uncommon one, given that it's so rare to see people of color on network sitcoms these days, much less for them to lead an entire cast. At best, one might hope for a token minority supporting character such as Gloria on "Modern Family" or Raj on "The Big Bang Theory."
Surprisingly, network sitcoms haven't always been as whitewashed as they are today. The 1970s and '80s were a fruitful time for the black family sitcom. "The Jeffersons," "Good Times," "Sanford and Son," "A Different World," "Frank's Place" and "The Cosby Show" all enjoyed commercial success with white and black viewers alike, each appearing in the top 10 of the Nielsen ratings during their run. "The Cosby Show"was particularly successful, appearing at number one in the Nielsen ratings for five straight years and winning six Emmys.
"The Jeffersons," "Good Times" and "Sanford and Son" –– like "Black-ish" –– confronted racial issues head-on, with a disregard for political correctness that puts modern network television's "edginess" to shame. Even so, their black characters had purpose beyond proving political points about racism.
Like Andre, they were complicated, realistic, human characters who had to confront their own prejudices even as they confronted the prejudices aimed at them. Other sitcoms, such as "Family Matters" and "The Cosby Show," were apolitical, traditional family shows featuring characters who happened to be black.
However, by exemplifying black attainment of the elusive, exclusive American dream, the middle- and upper-middle-class Winslow and Cosby families inspired hope in economically disadvantaged African-American viewers.
The '90s saw a few hit black sitcoms, including "Moesha" and "The Fresh Prince of Bel-Air," but by the 2000s, such shows were nearly non-existent. So what happened that caused this dramatic change in the television landscape?
In a 2013 interview with The Grio, an African-American-oriented news website, comedian and talk show host Loni Love speculated that the decline in the black sitcom is linked to the shuttering or reconfiguration of networks like UPN and the WB, which previously offered opportunities to up-and-coming black comedians.
I would point also to the rise of "Seinfeld," whose absurdist humor shifted away from the more politically-minded humor that often characterized TV shows in the '70s and '80s. Finally, over the past decade or so, the success of cable TV and online streaming services has gutted network television ratings, leading to a climate in which network executives are less willing to sponsor "risky" programming such as minority-led shows.
It's a shame, because America needs diverse programming now more than ever before. According to the United States Census Bureau, people of color comprise 37.4% of our population, yet our TV doesn't reflect these demographics –– nor, really, does any form of American entertainment. Shouldn't we grant our citizens the basic dignity of seeing themselves accurately represented in our media?
What's more, the aftermath of Ferguson has shown that many white Americans lack the ability to empathize with people of color, preferring to remain in denial about the existence of racism. It would be naïve to think that producing more television shows featuring people of color will single-handedly solve racial problems; however, erasing people of color from television contributes to false narratives which posit that race is no longer an issue worthy of discussion.
As it stands, ABC has ordered a full season of "Black-ish." I only hope that other networks will have the courage to follow ABC's lead and make an effort to diversify their programming in the future.