This story was originally published in The Mooring Mast of Pacific Lutheran University on November 15, 2014. It was written by PLU news writer Genny Boots. This story is printed here through the Northwest News Network, a collaborative project between many northwestern collegiate newspapers.
"Thank you for your service" was an expression that rang throughout Pacific Lutheran University and around the country Nov. 11. Veterans Day is a chance for Americans to commemorate the 20 million living veterans of the U.S. Armed Forces.
Nearly 150 people gathered in PLU's Lagerquist Concert Hall for the university's celebration and remembrance.
The master of ceremonies for the Veterans Day event was PLU Director of Military Outreach Michael Farnum, who said the service this year was outstanding.
The event speakers included PLU President Thomas Krise, professor of military science and Commander of the ROTC battalion Lt. Col. Kevin Keller and student Steve Shumaker.
Shumaker's speech was the highlight of the ceremony. Shumaker served four combat tours, two in Iraq and two in Afghanistan, and is now a junior Political Science student at PLU. The audience listened in reverence and awe as he tearfully spoke about his time in the service.
"What am I willing to die for? What am I willing to live for? Why am I here?" said Shumaker recalling the questions he often asked himself as a helicopter crew chief flying in and out of dangerous combat zones.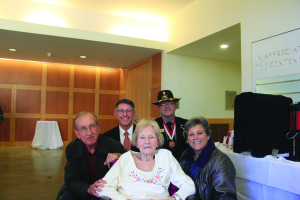 Shumaker's voice stammered with emotion as he spoke about the tragedy and violence he experienced. He also spoke about the social problems facing veterans today.
"There are 300,000 homeless veterans, countless addicted to alcohol and drugs, and 22 veterans commit suicide everyday" Shumaker said.
"The service was very touching," Patricia Krise said. "Steve is a great inspiration for us all."
The audience erupted in support and a standing ovation after his speech.
PLU has a long history supporting the military and veterans. Campus is located five miles from Joint Base Lewis-McChord (JBLM) and was recently ranked fourth among regional universities in the West in the 2015 U.S. News Best Colleges for Veterans.
PLU is part of the Yellow-Ribbon GI Educational Enhancement Program. Working with the U.S. Department of Veteran Affairs, PLU offers full scholarships to qualified veterans.
"PLU values global education and having veterans in class brings experience and that global education to the classroom," Farnum said.
Following the Veterans Day celebration was a viewing of the Veterans photo gallery wall.
Members of the PLU community with military ties submitted photos that were hung in Kriedler Hall's first-floor lounge.
The university is hosting other events celebrating veterans later this month, including a Thanksgiving meal for 120 active duty soldiers from JBLM.
Veterans Day was a time for thanking and honoring the service people of the Armed Forces.