Walla Walla City Council debates reintroduction of plastic recycling
Walla Walla's City Council is considering reinstating plastic recycling as a goal for sustainability. 
Shane Prudente, Public Works Communications Coordinator and the main proponent for the reintroduction of plastic recycling, explained that plastics were initially removed from Walla Walla's single-stream recycling in 2020 after a high level of contamination was observed among recycled materials.
"What [recycling contaminated materials] does is take what should have gone to the landfill here, trucked it all the way across the state to Tacoma and then landfilled it. You're just creating a bigger carbon footprint and paying for the transport of something that should never have been in the recycling bin in the first place," Prudente said. 
To combat continued contamination of the recycling stream, Prudente and his team began an education campaign to inform residents of what is and is not recyclable. They mailed informational packets to residents detailing new recycling guidelines and created labels for every recycling bin.
After a year and a half of monitoring contamination via random audits, as well as weighing bales of recycled materials to estimate the presence of non-recyclable materials, Prudente believes that the educational campaign has been successful. 
"The goal was always to reintroduce plastic into the stream because currently it's just going into the landfill," Prudente said. "We went to the council and gave them the data and asked them to consider reintroducing plastics. They are currently in that space of considering."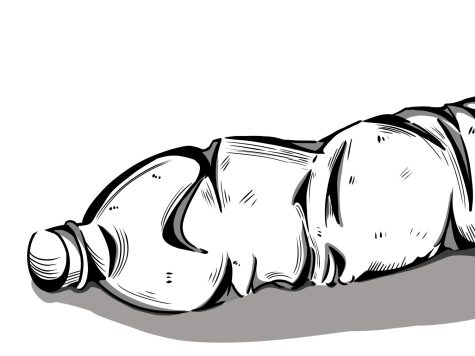 Before plastics can be reintroduced, the council requires more detailed information about where the materials are going, who is buying them and what will happen to them. If they approve the reintroduction, #1, #2 and #5 plastics will once again be recyclable in Walla Walla.
New developments in recycling are not limited to Walla Walla; they are also a subject of debate in the House and Senate. Two bills, House Bill 1131 and Senate Bill 5154, were recently proposed. 
Public Works Director Ki Bealey attended Walla Walla's City Council work session on Jan. 23 to discuss changes to the recycling program. According to Bealey, the goal of the bills is to focus on producer responsibility and to create an organization managing the collection of recyclable packaging materials.
"With recycling, the regulations and the systems seem to be continuously changing," Bealey said.
Prudente expressed similar sentiments, explaining how new developments in recycling technology are continually emerging. One example Prudente gave is the proposed construction of a glass recycling facility east of the mountains, which could make glass recycling feasible in Walla Walla.
As the state of Washington continues to reinvent its recycling landscape, many at Whitman are pushing to advocate for more sustainability efforts on campus. 
Anna Shimkus, a member of the ASWC Sustainability Committee, suggested that Whitman should focus on climate justice and sustainability by first acknowledging the impact the campus is having. The Sustainability Committee is currently advocating for the creation of a 'strategic priority' for Whitman to adopt these goals. 
"We are trying to get a strategic priority specifically for climate action because we recognize that it's about more than just recycling. It's about preventing these environmental disasters that displace people from their homes, which can be difficult to perceive in a place like Whitman where we don't really face things like that," Shimkus said. "Whether or not we realize it, we're contributing to our environment in a very large way."
Shimkus suggested that, rather than simply participating in plastic recycling, Whitman should focus its efforts on the reduction of plastic consumption. On an institutional level, she argued that it would make more sense to ban certain types of plastics in retail or restaurant settings than to use large amounts of energy to recycle a portion of that waste.