Decolonizing Whitman: Rethinking the landscape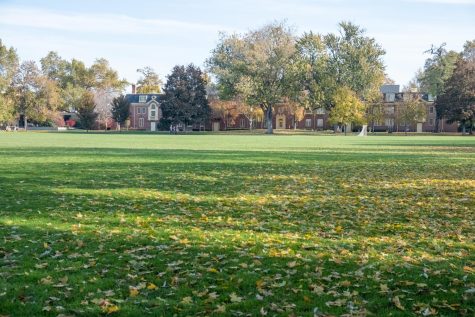 Whitman's landscape is typically advertised as idyllic scenery amid the arid Walla Walla Valley. With creeks meandering through campus and trees towering over sidewalks, Whitman embodies a lush "park aesthetic." The history of Whitman's landscape is not so picturesque.
The advent of missionaries Marcus and Narcissa Whitman in 1836 on Cayuse land led to centuries of contention between Native tribes and White colonizers. The Whitman myth has contributed to a long-standing narrative that sensationalizes settler colonialism and disregards Indigenous history.
Junior Quinn Miller worries that the "beautiful" aesthetic of Whitman's landscape is not entirely eco-conscious and may come at the expense of others, namely those who identify as Indigenous, working class and people of color.
"In terms of Whitman's landscape, not only is it not ecologically sound, it is also very alienating to a lot of students here because our landscaping does come from that East Coast White privilege," Miller said. "It's an aesthetic, but we're living out here in a place that is technically high desert."
Whitman College is located on traditional Cayuse, Umatilla and Walla Walla homelands. Though Whitman has signed a memorandum of understanding with the Confederated Tribes of the Umatilla Indian Reservation, the entirety of the college and all land management is controlled by non-Natives.
Whitman alumnus Dana Stotsky '80 worked at the Environmental Protection Agency (EPA) for 27 years. Once, Stotsky advised the Navajo Nation on how to work with the federal government in the context of getting funding to address legacy damage from uranium mining. During his time with the Navajo Nation, Stotsky noted the vastly different mentality many Navajo people held when thinking about land ownership.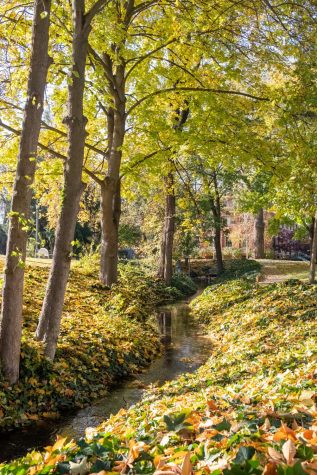 "No one owns land on an Indian reservation because the U.S. government actually holds it in trust for the benefit of the tribe," Stotsky said. "There's just an unbelievable amount of connection to that land that is so fundamentally different from [that of] the White world."
Located in the old boiler house on Penrose Street, the facilities management department of Whitman, called the Physical Plant, provides landscaping, waste management, transportation fleet maintenance and other related services.
The Whitman grounds crew devotes countless hours daily to maintain the artificially cultivated landscape and make it appear more natural. Miller cites how the landscaping team hand cuts each branch to make it look like the bushes are untouched, calling it "a natural façade."
Miller acknowledges the value of spaces like Ankeny Field as a hub for sports and outdoor congregation, but he believes that smaller patches of grass around the college grounds are a waste of lawn maintenance and water.
Sophomore Owen Jakel is a member of the Associated Students of Whitman College (ASWC) Sustainability Committee and Treasurer of the Indigenous Peoples Education and Culture Club (IPECC). Jakel sees the addition of native plants as a starting point to make the landscape more environmentally friendly and inclusive to Indigenous students and people. He wants to encourage more conversations about intersectional and intentional interactions with the landscape at Whitman.
"I think there are real positive and important correlations to be made about landback, land conservation, land preservation and land stewardship that intersect with both sustainability and environmental justice, as well as Indigenous [topics]," Jakel said.
Landback is a political movement aimed at restoring stolen land to Indigenous tribes and reestablishing Indigenous sovereignty. The campaign seeks to restore political and economic control of the land to the peoples who historically occupied them prior to colonization.
Stotsky likens the management of Whitman as a private college to many national and international corporations. He sees danger in the lack of environmental accountability from an enforcement standpoint.
"Enforcement is the ultimate accountability. Accountability has to be truly significant. It has to be some serious consequence that will alter decisions and conduct going forward," Stotsky said. "This is the issue of your life and your children's lives. Whitman should impose consequences for failing to follow through on and implement sustainability."
Jakel and Miller both advocate for greater student involvement in environmental programs on campus. 
"People should have a certain amount of commitment toward at least educating themselves about issues that are going on [on] this campus," Jakel said. "I don't expect everyone to be an organizer, but people need to have a certain commitment as community members while they're here on this land."
Those interested in environmental activism on campus can reach out to the Campus Climate Coalition and attend ASWC Sustainability town hall meetings and Trees and Landscaping Committee meetings.